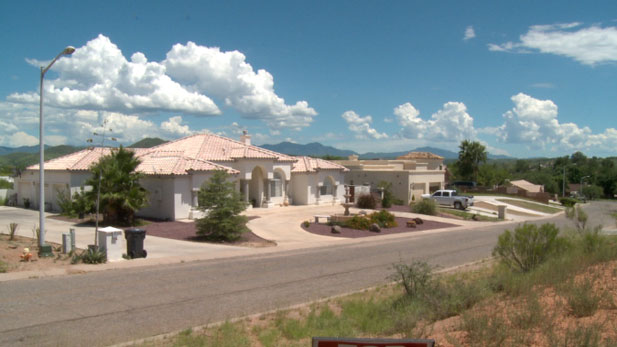 azpm
The murder, kidnappings and other crimes in Mexico are making many people nervous and some of those with the economic means are looking for homes in the relatively quiet and safety of communities north of the border.
Sonorans finding buying homes in Arizona
azpm
Real estate agents in Santa Cruz county are noticing a growing number of professional and wealthy clients from Nogales, Sonora, Mexico who are looking for homes in Nogales or Rio Rico, Arizona. But the buyers are choosing to remain discreet, since they don't want to draw attention to themselves or their families. "It comes up in conversations and it also comes up to I don't want this to be spread because I own businesses over there and I still have my family over there and I don't want people thinking that I'm moving over here because of violence and leaving them there, it's hush, very hush hush at this point," says Gabriel Gastelum, a broker at Century 21's Success Realty in Nogales, Arizona.
Gastelum says he's come across a few examples of people who want to move their families to Santa Cruz county, where crime and violence are much lower than its neighboring community to the south. They include a client who couldn't move to Arizona personally, but was looking for a home for his family. "The house next door was shot by 17 bullets and we sold a house to his wife and his mother in law right here in a local neighborhood called Meadow Hills and the other one we had is kind of a sale based on that but there was a need for him to move over here before the violence started over there so maybe that pushed it a little bit," says Gastelum.
Still, Gastelum and others point out that the situation in the state of Sonora is not as bad as it appears, and they believe some of this quiet migration has been propelled by the media in Mexico. Jose Dabdoub lives in Nogales, Sonora but he crosses the border for one of his jobs in Arizona. "The violence is there, the drug wars are happening and it's not only drugs but also human trafficking as well," Dabdoub says. However, Dabdoub also adds that he has financial and personal investments in Mexico and isn't planning on moving. "Personally I still live in Mexico and I live a very comfortable and peaceful life across the line and I come over every day, I own two small businesses across the line and I feel just fine."
Real estate agents say they don't have any statistics about the number of wealthy Mexicans who have bought or are planning to buy in Santa Cruz county, and clients have been very discreet about their purchases, not wanting to share their stories with the media.