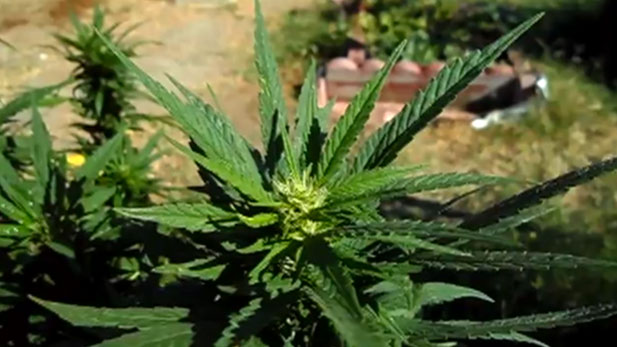 Arizona residents are getting to vote on medical marijuana as part of Proposition 203.

AZPM
Voters in Arizona are hearing very different arguments about marijuana and its benefits or dangers, and they'll be able to make their own decision on Tuesday November 2nd.
Proposition 203, the Arizona Medical Marijuana Act is supported by people who say, among other things, that marijuana helps relieve pain and anxiety from debilitating diseases, that patients should not risk arrest for trying to alleviate their pain, and that marijuana has already been legalized in some fashion in 14 other states.
However, opponents believe that marijuana is harmful, that there are alternatives patients can use, and that it can lead to more users who may then move on to stronger and dangerous drugs.
One such opponent is 21 year-old Zack Golsdtone who says he started using marijuana as a teenager in high school and then experimented with other drugs such as methamphetamines and heroin. Goldstone received treatment at Journey Healing Centers in Scottsdale and has been drug free for more than three months. Now he is speaking out against Prop 203 and marijuana.

"I'm against it. It's a big controversy whether it's addicting, not addicting, gateway drug, not gateway drug but you know from my experience and from experiences of others that I've seen it's definitely a gateway drug because it will lead to other drugs which will lead to other drugs which will lead to combinations of drugs which will lead to you being six feet under in a little wooden box, " says Goldstone.
But Lily Rose Krugly is a strong supporter of marijuana use for medical purposes and she doesn't believe it will lead to harder drugs unless people have addictive personalities to begin with, since she's been using marijuana and hasn't been interested in harder drugs. Krugly was diagnosed with breast cancer a couple of years ago.
"I can't even express the words to tell you how traumatic hearing those three little words, "you have cancer" impact your life. I don't know how I would have gotten through treatment or any of this, without medical marijuana," she says.
Official supporters of medical marijuana include AZ Marijuana Medical Policy Project and AZ4Norml: The National Organization for the Reform of Marijuana Laws.
Opponents include Journey Healing Centers, which provides treatment for people with addictions, Keep AZ Drug Free, the Arizona Department of Health Services, and Pima County Attorney Barbara LaWall.
Arizona residents are getting to vote on medical marijuana as part of Proposition 203.
AZPM