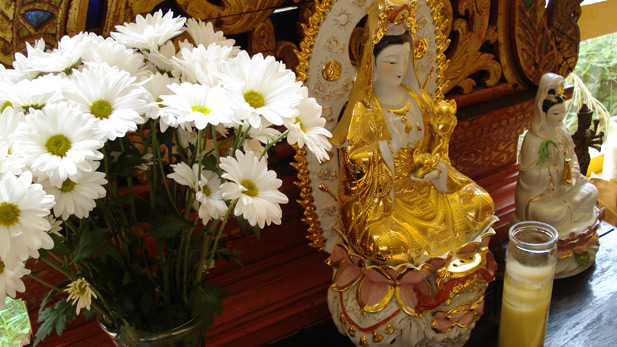 Ajahn Sarayut, the leader and teacher at the Buddhist temple, moved to the United States from Thailand in 2000 and worked at another temple prior to opening Wat Buddhameta on Swan Road just north of 22nd Street. Sarayut says the name of the facility means "loving kindness of the Buddha" or "the temple of loving kindness," and he hopes it inspires many people in Southern Arizona to come by and pay a visit.
"My goal is to expand the community to American people here in Tucson and to maybe give the opportunity to American people in Tucson to be able to appreciate the teaching and the practice in Buddhism, especially meditation," says Sarayut.
The temple offers various services including a study group, a chanting class and the meditation. Tucson attorney Ken Goldberg heard about the temple and decided to take part. He says he's glad he did. "I had a business, lost my business and it took my life savings with it and that was excruciating emotional pain, and I found out through meditation it really wasn't that important. I found out by studying Buddhism that it really didn't mean anything, that money was going to come and go anyway. So I found great solace."
Local nurse Mary Ageton agrees because she had been dealing with very challenging experiences. "It's really brought me a lot of peace in my life. I was going through a very difficult time in my life a few months ago in closing my retail business and had a lot of frustrations and some anger and resentments, and it's really helped me let go of all of that and it's made my transition much easier," says Ageton.
The temple is also a welcome facility for many immigrants from Thailand, such as residents from Sierra Vista who previously had to drive to Phoenix to congregate with other Buddhists.
Buddhist Temple and Meditation Center