Paul Durham won the Democratic primary election for Tucson City Council in Ward 3, based on preliminary results.
Paul Durham
The unofficial results show Durham leading with 46 percent of the first round of votes counted. Felicia Chew has 32 percent, and in third is Tom Tronsdal with 22 percent of the votes in that ward's Democratic primary.
The race is the first step for voters to replace outgoing Councilmember Karin Uhlich, a Democrat who is not seeking another term in office. Durham is poised to be on the November general election ballot with independent candidate Gary Watson.
Durham thanked his opponents in a statement released shortly after results were posted.
"I campaigned on a plan to make Tucson a leader in sustainability and stand up to the Trump administration," Durham said in the statement. "Councilmember Karin Uhlich leaves behind big shoes to fill, but I hope to earn the respect of Tucsonans that she has earned."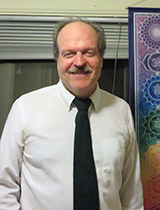 Mike Cease
In the Ward 6 Green Party primary, Mike Cease leads with 51 votes to Michael Oatman's 26 votes. The party has 290 registered voters in Ward 6, though independents who live in the ward were also able to vote in this primary race.
Cease will face Republican Mariano Rodriguez and incumbent Democrat Steve Kozachik in the general election. Rodriguez is running for the first time, while Kozachik seeks his third term.
The city conducts its council elections entirely by mail, so the results show most ballots that were mailed back. Ballots turned in by hand Tuesday may take longer to verify and count. At 8 p.m. Tuesday, the city had counted 15,939 and estimated voter turnout at 20 percent.
In the November general election, all registered voters in the city can weigh in on the two contested ward seats. Democrat Richard Fimbres is also up for re-election, with no opponents on the November ballot.