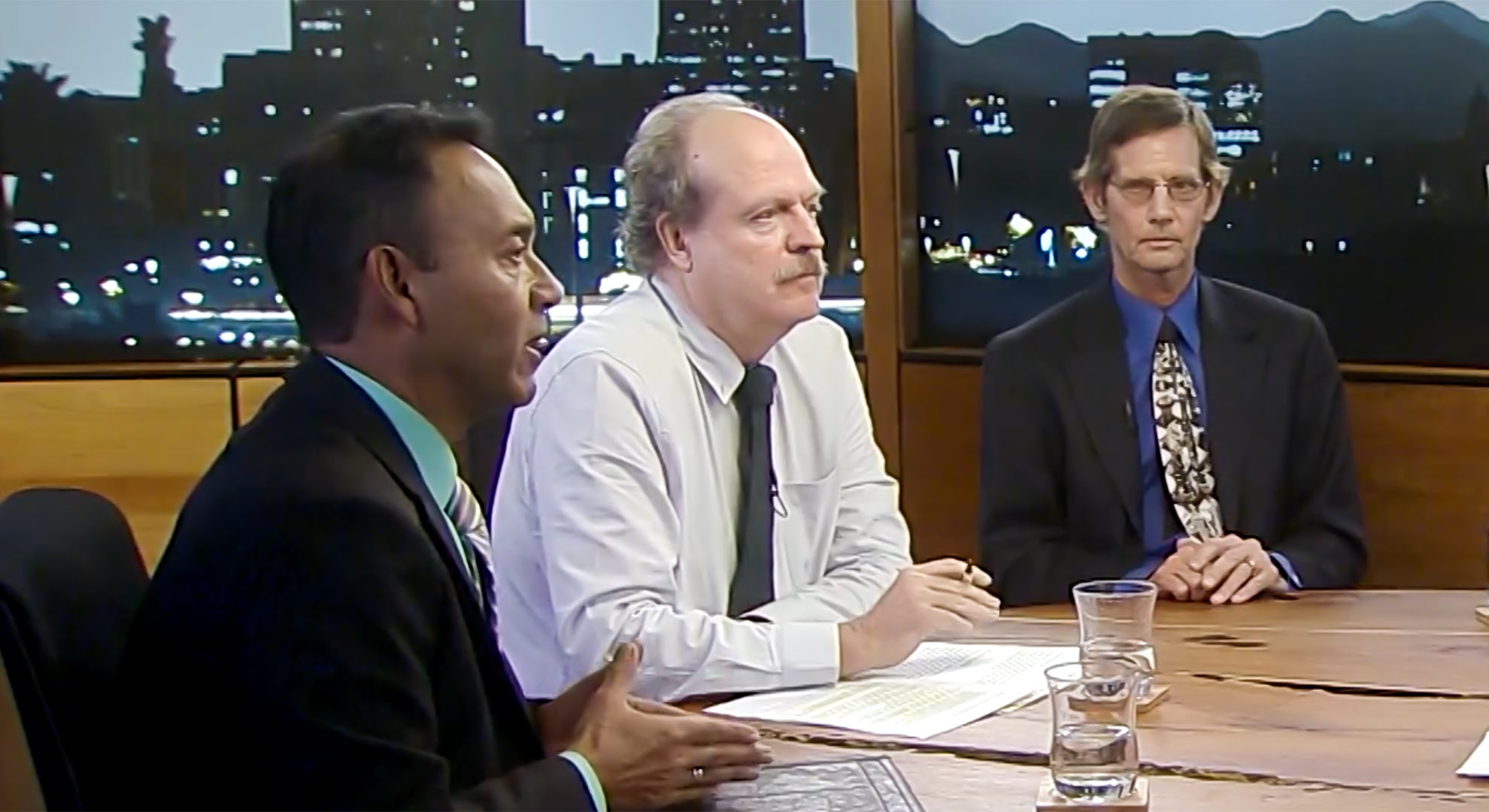 Left to right, Mariano Rodriguez and Mike Cease are challenging Steve Kozachik in the Ward 6 race for Tucson City Council in November.
AZPM
Tucson's Ward 6 sits in the middle of town, including a portion of downtown and the University of Arizona. Democrat Steve Kozachik has been the ward's representative on the city council for the past eight years.
What does Kozachik think are some of the main problems facing the council and the city in general?
"Budget and water security are the two biggest issues that we have to deal with in the city of Tucson right now," he said.
Kozachik said the council has taken solid steps during his time on the first of those issues. It now has a balanced budget, compared to the $44 million deficit it was running when he came into office.
For him, water is another salient issue due to the city's location.
"We live in a desert," he said. "Water security is a huge issue in this state, in this region, in this city. We are a leader statewide and a leader nationally in terms of how we manage our water resource. To continue that is a huge deal."
For the race's Republican challenger, Mariano Rodriguez, dollars and cents is a top issue, but in a different way.
"We have a very high poverty level in this town right now, and I believe that is probably one of the biggest concerns," he said.
Rodriguez is focused on raising incomes and improving economic prosperity. He also worries about crime.
"With the rise in crime in our city, we really need to speed up the process to actually get the police that we really need in here to make this city more secure," he said.
Statistics from the Tucson Police Department disagree with Rodriguez's assessment. They show 2016 saw the fewest reports of criminal incidents of any year in the 2000s, and have dropped by 30 percent in the past 15 years.
For Green Party candidate Mike Cease, the top priority is what he calls "The Green New Deal for Tucson."
"We're going to create jobs — local, fair-wage jobs — to retrofit thousands of homes and businesses with energy conservation, water harvesting and solar," Cease said.
He added that the plan also includes what he called a strong and substantive "sanctuary city" ordinance and a minimum wage hike.
"We believe in workers' rights, so we're going to pass a strong $15-an-hour minimum wage citywide," he said.
The growth of Tucson's business sector is a topic all three candidates discussed, but they disagreed on how to get there.
For Rodriguez, the city and county tactic of offering items such as tax incentives to national and international employers who are considering a move to Tucson does not make sense if the government is doing its job.
"Because, to me, if this city is in good shape, and we have good security and good roads, that should be enough to attract outside industry to this town," he said.
He took umbrage with portions of the deal made to entice Caterpillar to open an office in Tucson. He said officials should have worked to ensure the company also brought manufacturing and supply chain work to the Tucson area.
Kozachik disagrees.
"You don't require of a major employer like that, who's going to bring in 600 high-paying jobs, or Raytheon, who's going to bring in 2,000 high-paying jobs, ... 'Before we deal with you, we're going to require that you identify those horizontal providers that you're going to bring in behind you.' You'll never get them."
He added that the deal was done within the constraints of the gift clause in the state constitution.
Cease thinks a better path for economic development is to help locally grown companies expand rather than seek out businesses from elsewhere.
He said his plan to use government money to do environmentally friendly work on thousands of homes and businesses would be done by Tucson companies.
"We're going to subsidize local businesses, local first, to do these retrofit projects," said Cease. "That's a start, but it's not the entirety of it."
Cease also proposes that zoning laws be changed so any new building would be required to include solar power, water harvesting and energy conservation features.
His plan to favor Tucson companies could run afoul of state law, though.
In 2012, Tucson passed an ordinance favoring local businesses in the bidding process on city contracts.
The city was forced to rescind that policy two years later after a judge found in favor of a group represented by the Goldwater Institute sued and won on the grounds that the law violated the Arizona Constitution.
MORE:
Arizona
,
Business
,
Pima County
,
Downtown Tucson
,
Economy
,
Election 2017
,
Environment
,
Government
,
Jobs
,
News
,
Taxes
,
Tucson
,
U.S.