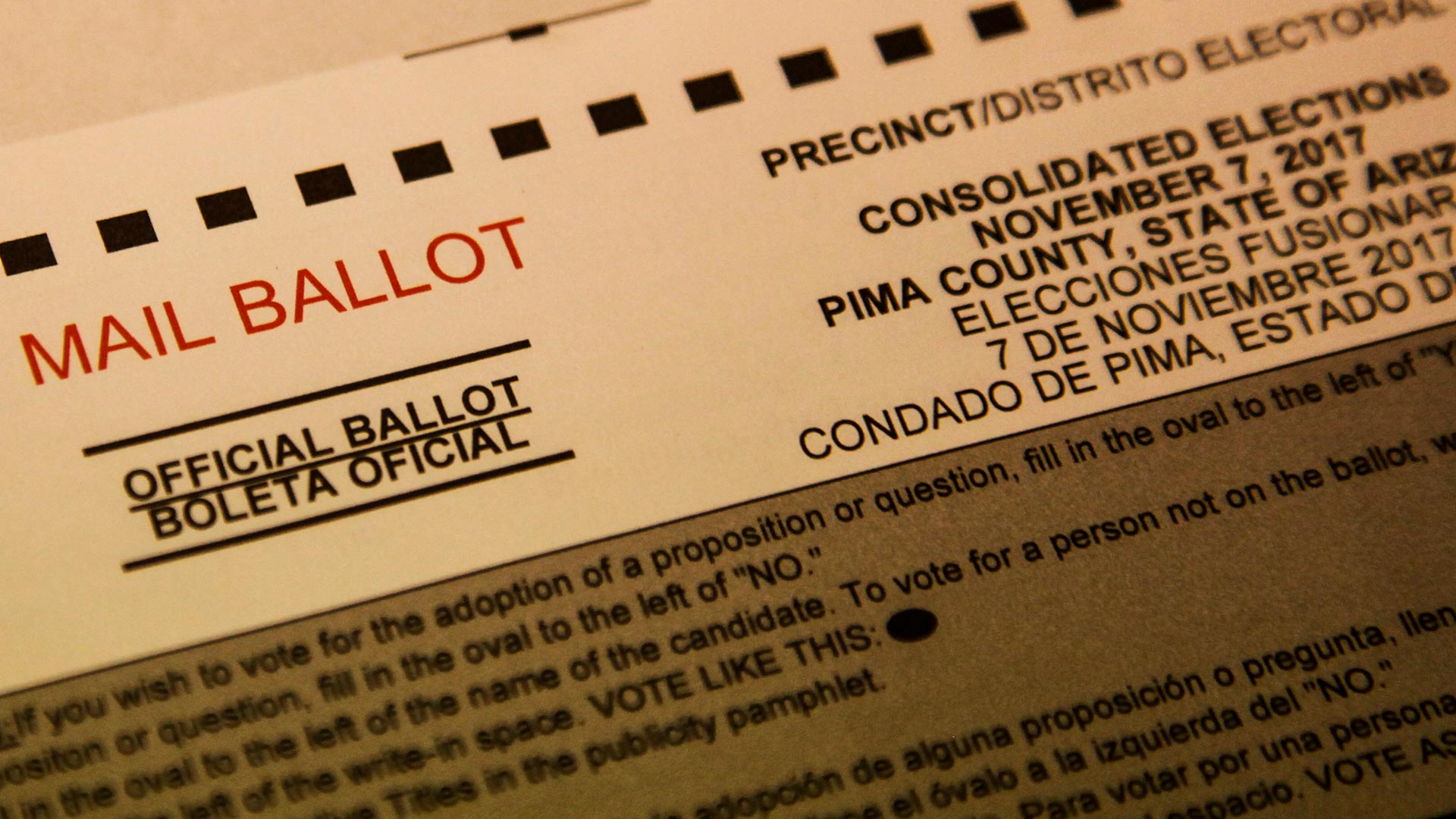 The ballot for a Nov. 7, 2017 Tucson election.
AZPM Staff
School districts are turning to voters in the Tucson area for help paying for facilities needs, with measures going on the Nov. 7 ballot to offset cuts the state has made to capital funds used for repairs and construction.
Officials at Tucson Unified School District say state cuts to capital funding have led to a growing list of needed repairs and upgrades. On that list are roofs in need of replacement and outdated heating and cooling systems. TUSD is also looking to buy new buses and upgrade safety features and classroom technologies.
TUSD Governing Board member Mark Stegeman said they can't wait around for the Legislature to bring back money for capital needs.
"I think everyone would be surprised if that funding suddenly spiked up. … We have urgent needs, and it doesn't make sense to sit around and wait for the Legislature to have a change of heart."
The district estimates it has lost more than $100 million in funding for capital projects in the last eight years, and Proposition 458 is intended to target the direst of those. On the top of that list, Stegeman said, are HVAC systems.
Prop. 458 is a $180 million bond package that would raise the property tax in the district. For a home worth $100,000, that would amount to $37.59 a year, according to the district.
"We have urgent needs, and it doesn't make sense to sit around and wait for the Legislature to have a change of heart."
Stegeman said cuts to funds used for capital projects was a deliberate tactic, as Proposition 301 protected funding in other areas.
"They said, 'Well then this is where we can make the cuts.' And they have really cut the capital funding, radically. And it's not zero, but it's getting really close to zero."
Those cuts have left little for the district to maintain its schools, and reports say the needs likely far exceed what the proposed bond package covers.
"What we've been doing, and what other districts have been doing, has been shifting operational funds into capital projects to get by, but of course that means less money for teachers, less money for instruction."
While Stegeman originally opposed putting the question on the ballot this year in the 3-2 vote that approved the election, his opposition was more about timing and expense, he said, as the cost of an election is almost a $1 million. It would cost roughly one-fourth of that if it were put to a vote next year, and the district would have more time to get voters on their side.
Now that they've spent the money, though, he supports it, Stegeman said.
The smallest of three packages TUSD floated in a survey earlier this year, Stegeman said this is the best version, without extra "fluff" and with a reasonable expectation for oversight and responsible use of the funds.
That same survey found less than a third of respondents thought TUSD was going in the right direction, that it managed money responsibly or that it was meeting the needs of its students. In spite questions of confidence in district management, more than two-thirds supported a bond of the size being proposed this election.
---
A place to start
Sandra Thiffault has been the principal of Mary Belle McCorkle Academy of Excellence for three years. She's been in the district for 10 years, and, if anything, her school is not a typical example of a facility suffering from urgent capital needs. But she said voters should support the bond so other schools can start to close that gap.
"Our air conditioner doesn't go out. The students have a workspace not only in the classroom but outside the classroom. … It would be nice for other schools to have what we have," she said.
The school is only seven years old, and its approach differs other from other schools in terms of technology and curriculum. While the projects targeted by the proposed bond package wouldn't provide other district schools the skylights found at McCorkle Academy, Thiffault says the basic conditions of facilities have a crucial impact on students' education.
"I see the differences because I have been a principal at a school that was built in the 1950s, and I can see the difference in the type of work that students do. And the access that they have to … just the simple things of the space, the workspace that they have."
"It would be nice for other schools to have what we have."
Schools need investment, she said, regardless of where it comes from.
"We want to give them the best environment. And to be able to update that, we need funds from somewhere."
In the voter information pamphlet, the only formal opposition to the Tucson Unified bond question is from the Pima Association of Voters. The group often opposes new taxes, and cited lack of district accountability and warned against borrowing.
Other districts are also going to the ballot this year for funding. Marana and Sunnyside are asking for budget overrides, or permission to spend above state-imposed spending limits.
The Flowing Wells District is asking for a bond of $24 million to fix heating and cooling systems, build new classrooms and a undertake list of other jobs.