Six young boy scouts from Tucson decided to hike to the summit of Mt. Baldy that day. They started out in sunshine, but by late afternoon it had started to rain. Halfway up the mountain, three scouts decided to stop climbing and return to camp.

The other three opted to keep climbing, even as the rain turned to snow. The snowstorm ended up being the largest on record in Arizona history, and it caught the young and inexperienced scouts by surprise. They would never be seen alive again.
Their disappearance sparked the largest search for missing persons in Arizona history. More than 750 searchers scoured the mountains for 19 days before their bodies were found.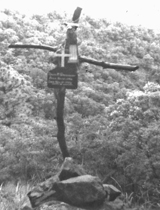 Memorial cross at the site of the boys' deaths. Photo taken in 1959 by Ralph Coltrin. (PHOTO: Courtesy of Ralph Coltrin.)
Over fifty years later, the incident still looms large in the minds of many.

Tucson author Cathy Hufault is one of them, and she has a unique connection to the story: her brother, Ralph Coltrin, was one of the scouts who decided to return to camp that day.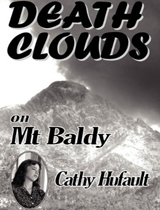 Tucson author Cathy Hulfault's new book explores the death of three boy scouts in the mountains south of Tucson. (PHOTO: Courtesy of Hufault family.)
Hufault's new book, Death Clouds on Mt. Baldy, explores the event and presents new evidence of what happened to the boys.

Moreover, Hufault and Coltrin say, the book brings some closure to a tragedy that still affects many, even fifty years later.