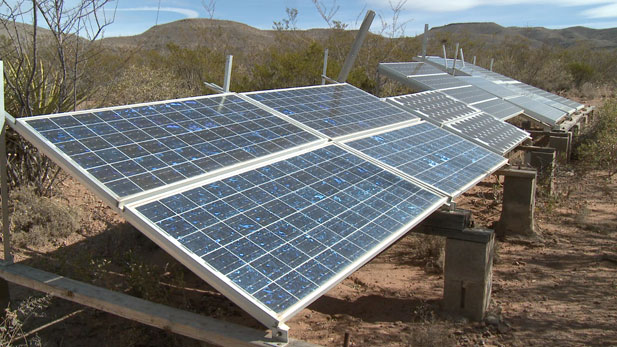 Tony Paniagua visits two homeowners in Cochise County whose houses are "off the grid."

AZPM
Americans have been hearing about the importance of energy independence for decades. But while our nation still struggles to reduce its use of fuels from foreign sources, a growing number of people in Arizona are already ahead of the game.
Joan Lionetti is one of them. Lionetti is the director Tucson Clean and Beautiful, which works to conserve natural resources and enhance the quality of life in the Tucson community. Lionetti and Thor, her life partner, bought 40 acres in Cochise County in the 1990s and began the long and gradual project of building a home that doesn't require utilities from local companies.

The home uses energy from the sun and wind, although a generator is sometimes needed as a backup supply. "There are so many days overcast with rain, snow...and so you do have to be prepared for that," she says, laughing. "We've had a number of incidents where we're in the middle of a game or a party or a dinner and everything will turn off and it does take some adjusting to."
Robert Guerra and his partner are also off the grid and store much of their energy in their "power shack" which houses an elaborate set of batteries that are connected to the solar panels and windmill outside.

They began their project with a guest house of about 500 square feet, where they lived while constructing the main house of about 1200 square feet. Both of the buildings are made with straw bale walls that provide outstanding insulation. The couple lives on 18 acres and they recently added chickens and a vegetable garden to the mix, trying to reduce their off-site consumption as much as possible. They also have an 1100-gallon tank to harvest rainwater from the roof.
Is it a difficult way to live? Guerra doesn't think so. He says it's a natural balancing act that requires knowing how much energy you are getting and how much you want to use. "I wouldn't say it's hard," he says. "There are challenges, you know you look twice before you buy something that uses a lot of electricity and they are coming out with a lot of Energy Star appliances, so those are a good step in the right direction."
And both homeowners says it's been a fascinating adventure--an ongoing learning experience with friends and loved ones that will provide a constant source of wonderful memories.
Tony Paniagua visits two homeowners in Cochise County whose houses are "off the grid."
AZPM