Tucsonans rang in the New Year with sub-freezing temps, while the high country rebounds from heavy snows. The storm swept a combination of Pacific moisture and arctic air across Arizona. Steady rain and high winds heralded its arrival in Tucson late Wednesday December 29th. By the next morning, official temperatures at the airport were stuck around 39, and snowflakes were seen in parts of the city.
There was no measurable accumulation of snow in Tucson, but Oracle and Vail had enough to cover the ground. Summerhaven, near the top of Mt. Lemmon, received two feet of snow. The Catalina Highway has been re-opened sporadically. For current Catalina Highway conditions, call the Pima County road condition hotline at 520-547-7510.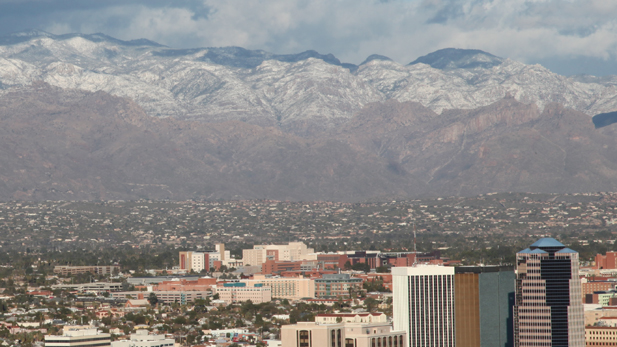 View of the Santa Catalina Mountains as the storm clears.

Mark Duggan
When the moisture moved on, it left in its wake the coldest readings in recent memory. The low at Tucson International Airport was 23 Friday morning, 26 New Year's morning and 27 Sunday the 2nd.
Northern Arizona and the White Mountains were hit particularly hard by the storm. It clogged highways with deep snow and stranded travelers by the dozens. The Arizona Department of Transportation closed Interstates 17 and 40, as well as many state highways along the Mogollon Rim, during the peak of the storm.
ADOT reports that all major roads in Arizona have re-opened.
Statewide road conditions: call 511 or visit ADOT's travel website.
Pima County road conditions (including Catalina Highway): 520-547-7510.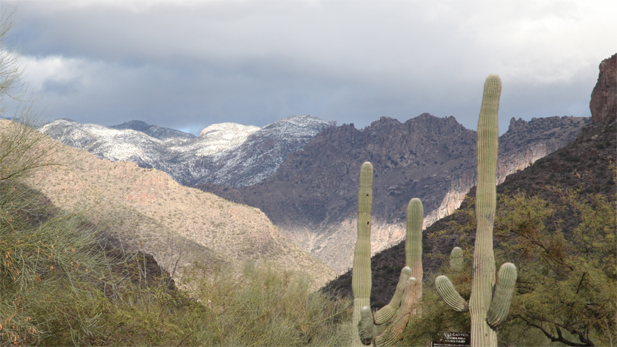 Snow forms the backdrop for a winter scene at Sabino Canyon.

Mark Duggan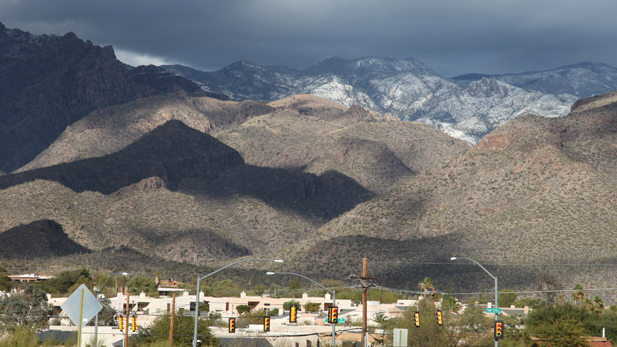 Snow covers the slopes of the Santa Catalina Mountains.

Mark Duggan