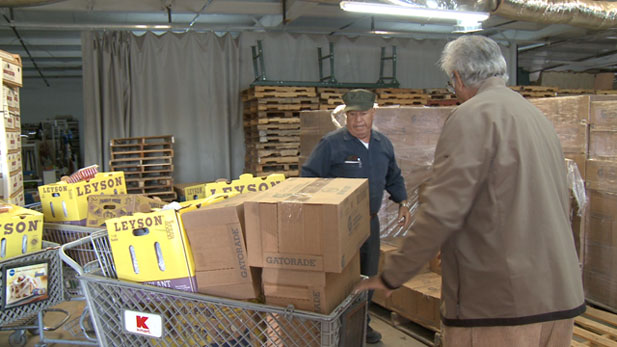 Two food banks in Nogales, Ariz., provide fresh produce and pantry staples to families in need.

AZPM
As the new year begins, many people are hoping for better economic conditions, and residents in Santa Cruz County and south of the border are a prime example. The area has a high unemployment and underemployment rate, and thousands each month are turning to a couple of food banks in the community.
Since 1993, Borderland Food Bank has been operating in Nogales, where it helps feed the community through donations from the region's produce industry.

More than 200 warehouses in the area supply fruits and vegetables to supermarkets and other vendors across North America, and much of the unmarketable food--items that were blemished or otherwise less desirable--used to be thrown away until Yolanda Soto stepped in.

She convinced the companies to donate much of the produce. Now the food bank distributes between 30 and 40 million pounds of these items annually to residents on both sides of the border.
The Nogales Community Food Bank is a different entity that operates out of a warehouse a few blocks away. This facility is affiliated with the Community Food Bank in Tucson and it's helping thousands of residents in Nogales as well.

They include Brenda Navarro, who went from being a volunteer to being a client at the food bank. She and Josué Cañez have a little girl and even though Josué is working, they still need assistance.

"Right now I do have a job, thankfully I do, but it's sort of paying our bills. We're barely getting by. We do have the stuff we need but we actually need more income so we can buy groceries and all that," says Cañez. "Some people say Tucson is better or Phoenix is better, but to me if I get the job that I'm looking for, (in law enforcement) if it requires moving away from Santa Cruz county, we're going to move cause it's better for me and for my family."
And until the economy improves on both sides of the border, directors of the food banks predict their lines for assistance will continue to grow.
We visit two food banks in Nogales, Arizona where there is a huge need for these services.
AZPM