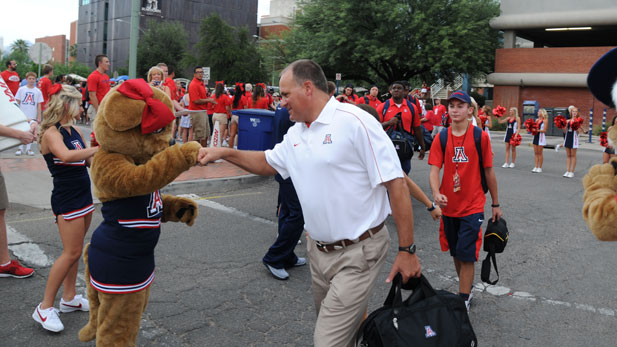 Coach Rodriguez gives Wilma a fist bump.

Mitchell Riley
A nine-page document written by an attorney and filed with the Arizona Attorney General's Office levels claims of repeated sexual harassment against University of Arizona football coach Rich Rodriguez.
The notice of claim was filed by Augustine B. Jimenez III on Dec. 28. Jimenez represents Melissa Wilhelmsen, a former Arizona Athletics employee who worked as an executive assistant for Rodriguez.
On Twitter Tuesday, Rodriguez denied all allegations of sexual harassment, and disclosed an extra-marital affair with a person unaffiliated with the UA. Calls to Rodriguez's attorney, Bennett H. Speyer, were not returned in time for this story.
The filing makes claims that over the years Wilhelmsen worked for Rodriguez, he repeatedly touched her inappropriately, appeared in front of her while partially disrobed and made comments that indicated romantic interest.
"On one occasion, Rodriguez walked past [WIlhelmsen] in just his underwear and said 'Good Morning' to make sure she saw him," the document states.
It also alleges he made Wilhelmsen help him cover up an extra-marital affair.
The document also says that there were times when "football players sent [Wilhelmsen] screenshots of their genitalia and illicit overtures via text. When she asked Rodriguez to intervene, he ignored her."
The filing is known as a notice of claim, and is required as a precursor to a civil lawsuit against a public employee, public school or public entity. It specifically names Rodriguez and not the University of Arizona.
The document claims many of these items were tracked in what Rodriguez called "The Hideaway Book."
"The main purpose of the book was to establish secrecy within Rodriguez's inner circle and establish complete control of the group," the document says.
It also states that Rodriguez claimed, "Title IX doesn't exist in our office."
Title IX is a federal law relating to gender equality, and has been interpreted to guarantee against sexual assault and harassment in the education system.
The document also alleges Rodriguez chose to ignore a staff member's request to intervene with football player Zach Hemmila in the hours before he overdosed on painkillers.
The document claims Wilhelmsen asked to be transferred from her position, but "received no response."
She left the athletic department in July 2017.
Notice of Claim Against Rodriguez

View at Google Docs
|

Download File