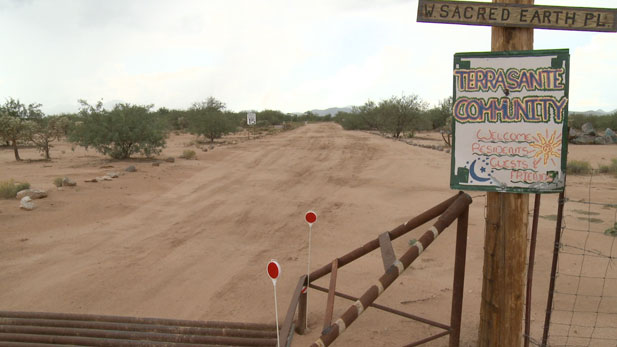 In TerraSante Village, residents have adopted practices like water harvesting, cooperative gardening and sharing resources.

AZPM
As a nurse, Bruce Scher works to heal people. But at home, he's committed to healing the environment.

Scher is the founder of TerraSante Village west of Tucson, a community on several acres where residents employ sustainable practices like growing some of their own food, harvesting water from the rain, and sharing equipment and tools so every resident can save money and raw materials.
Scher and others are also experimenting with construction practices. They are using soil on the property, an abundant and natural resource, to build housing.

"Had to make our own windows and doors and stuff but it was a lot of fun, and it's a really sweet space inside, you get a really nice feeling from being surrounded by earth," says Scher.
Scher says the village is a reflection of his concern for the planet, where a booming population is competing for a limited amount of resources.
"And we're kind of approaching a point where if we don't make a change it's going to be unstoppable," he says. "It's a lot of hard work but I do get satisfaction out of the results, knowing that I'm taking a stand and doing something for the future."
Local resident Virginia White lives next to TerraSante Village and she's incorporated several measures in her life that are also considered sensitive to the environment. One of the major ones is growing dozens of fruit trees and vegetables on her property. She says there are various small but gradual steps that everyone can take.
"What I found by being involved in this is that it doesn't cost a huge amount of money to implement a lot of these things," she says. "I think a lot of people just don't know and if they are able to get the education they find out that little things will make a huge difference."
"And," she adds, "the learning curve shortens a lot when you have other people that have done it already."
Some residents in Pima County are working on making their community more sustainable by incorporating practices like water harvesting, cooperative gardening and sharing resources. We visit Terra Sante west of Tucson.
AZPM