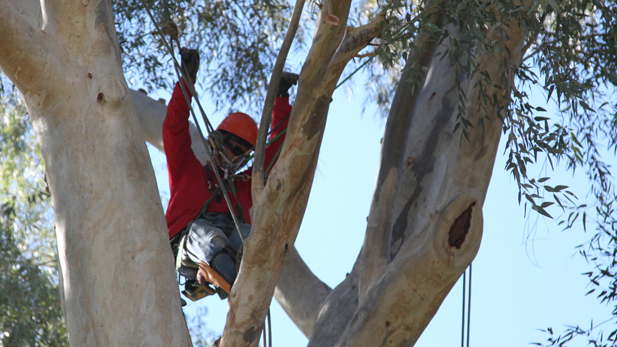 A competitor works his way through a course at the Arizona Tree Climbing Championships.

Mark Duggan
Each year, a group of grown men climb some of Arizona's tallest trees for fun, sport and safety. They're tree workers by trade, making their living cutting and pruning trees for landscaping or utility crews. Every January, they meet in a public park to test their tree climbing skills at the Arizona Tree Climbing Championship.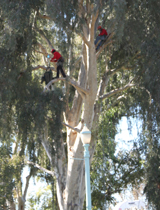 The 2011 Arizona Tree Climbing Championship was held in Casa Grande's Peart Park, home to a number of 80-foot-tall eucalyptus trees. (PHOTO: Mark Duggan)
Many of the competitions involve following a timed course through the upper branches of 80-foot-tall eucalyptus trees.

The one that gets the most attention is the timed aerial rescue. It's meant to simulate real-life emergency scenarios.

The men take this drill seriously, as tree workers are particularly susceptible to being injured in a tree.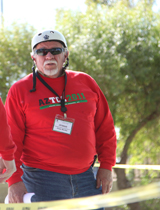 Championship judge Juan Barba says he makes the courses difficult, but not impossible. (PHOTO: Mark Duggan)
Climbers are given 6 minutes to tie-in to a harness, climb the tree, secure a dummy, and bring both it and themselves back down to the ground.

It sounds easy, but Juan Barba, a judge for the drill, says he deliberately plots difficult courses in the trees.
"Climbers are judged for smoothness and safety," he says. "If they do it smoother, faster or with more panache than the other climbers, then they get extra points."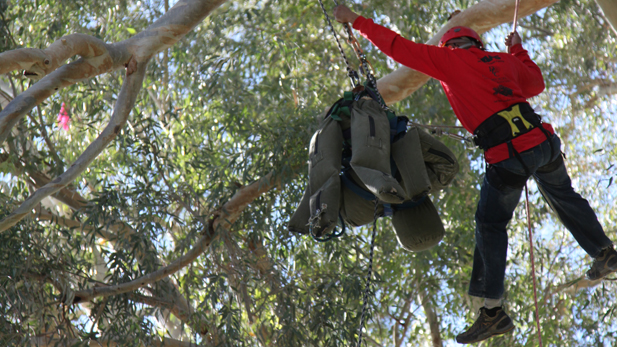 Part of successfully finishing the safety drill is safely dropping to the ground with the dummy secured.

Mark Duggan
The Arizona Tree Climbing Championship is put on by the Arizona Community Tree Council, an educational organization that teaches tree workers in Arizona.
Dave Spillsbury is one of the competitors. He works as an arborist today, a natural follow-up to a childhood spent climbing in trees.
"I have more fun now than I had as a kid," he says, as he removes his harness and waits to hear his score. But, he admits, competition is only a small part of why he takes part in the championships. "I'm just here to hang out with buddies," he says.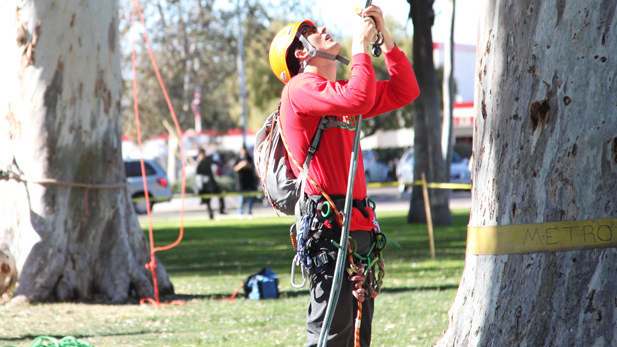 A spotter keeps a close eye on a climber.

Mark Duggan
__
Arizona Tree Climbing Championship judge Juan Barba talks more about the competition and how climbers are graded:
Arizona Community Tree Council 2010 President Louisa Ballard discusses the dangers of tree work, and the importance of safety for the workers: