Workers load up boxes containing mementos from the shooting memorial at UMC.
Volunteers met early in the morning to begin the task of dismantling the tribute outside University Medical Center, the hospital where Congresswoman Gabrielle Giffords and others were treated after the Jan. 8 mass shooting.
Volunteers boxed up thousands of flowers, cards, candles and other offerings. Movers then loaded the roughly 60 boxes into two large trucks. The mementos were taken to a hospital storage facility for safekeeping.
Stephen Brigham, UMC's director of capital planning and projects, told reporter Devlin Hauser that the hospital is working with University of Arizona archivists to categorize and store the offerings.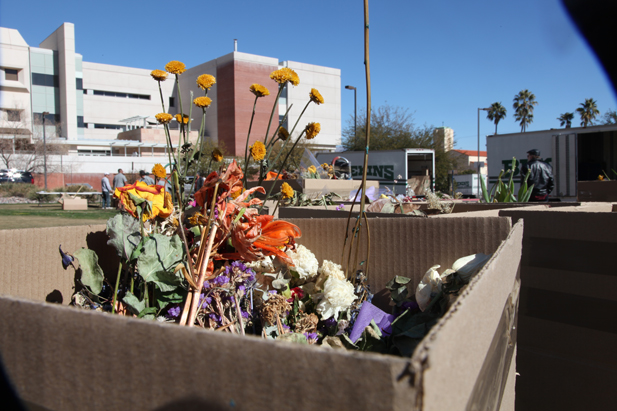 Flowers and other mementos were gathered by volunteers to be categorized and stored.
Listen: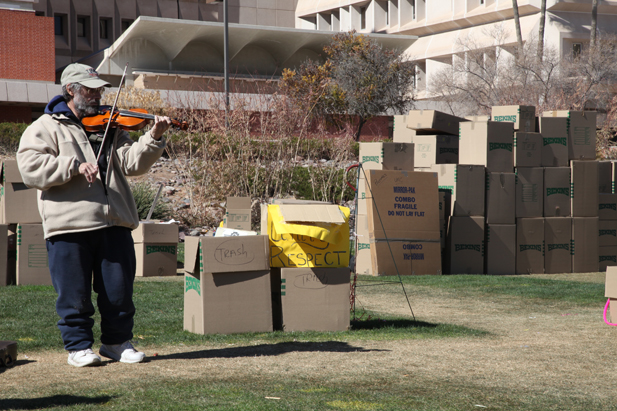 Violinist Michael Sigler plays on the UMC lawn as the memorial is packed up.
Listen to the complete interview with Stephen Brigham, UMC's director of capital planning and projects. He talks more with Devlin Houser about coordinating the archiving of memorials at UMC, and the Safeway where the shootings occurred: