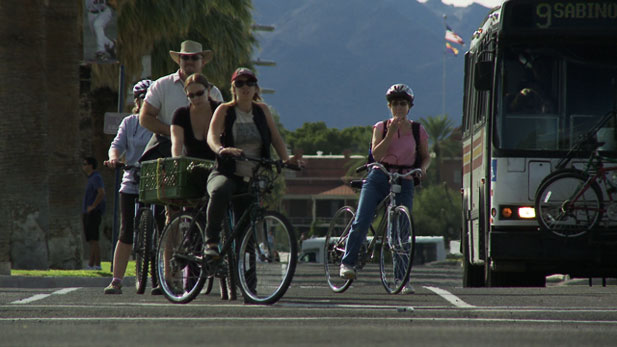 AZPM Staff
The Tucson metropolitan area has hundreds of miles of bicycle lanes and the area is usually considered a bike-friendly community. But local leaders say there is room for improvement, and they are working on various plans to increase bike ways in this region.
Bike ways are specially-designated paths, such as 3rd Street east of the University of Arizona or routes along the Rillito or Santa Cruz rivers.

"We believe that if we have a network of these bike boulevards connecting to one another that, all of a sudden, Tucsonans will have a new choice of transportation that will really get them to where they're going across the city," says Tom Thivener, the Bike/Pedestrian coordinator for Tucson's Department of Transportation.
Thivener says bicycling supporters are working on various projects now and into the future, including one from downtown Tucson to Prince Road (4th Avenue/Fontana Avenue) and another one on the city's south side which would run on Liberty Avenue from Los Reales to 43rd Street and Julian Wash.
Tom Thivener says the goal is to get more people moving on two wheels, since only a small percentage of the population actually relies on bicycles for transportation.

"Tucson's at a point where we've been stuck at two percent ridership for the last 10 years," he adds.
And he says there are many benefits to using bicycles. They include reducing traffic congestion, helping out the environment, improving the rider's health, and reducing costs over owning a motor vehicle.
"Transportation has become the major cost for American families--it's surpassed housing," he says. "And we know that it costs about $8,000 a year to own and operate a car, so if families can scale back from a two-car to a one-car household, that's a huge savings. And owning and operating a bicycle costs pennies, a fraction of that. It costs a couple hundred dollars a year."
Taylor Norton is a bicycle rider who moved to Tucson from San Francisco and doesn't own a car. He's glad to hear about the proposals.
"I think it's brilliant," he says. "You get in shape, you get outside and it's beautiful here in town, you might as well. I don't understand people who don't have bikes. It just doesn't make sense to me."
And hopefully, supporters say, there will be many more people who agree with him.
Local governments are planning to extend the number and length of bicycle paths in an effort to increase ridership in our community.
AZPM