Arizona's economic recovery is lagging behind the rest of the country but has been picking up speed of late, an economist and the head of the state's biggest business group say.
"You heard it here first: less dreadful times ahead," economist Jim Rounds said he titled a presentation he will make to state senators next week. Rounds is senior vice president of Elliott D. Pollack & Co., a Scottsdale economic and real estate consulting firm.
Glenn Hamer, president and CEO of the Arizona Chamber of Commerce and Industry, seconded Rounds' assessment.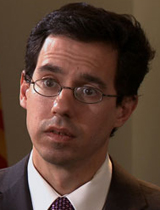 Glenn Hamer, president and CEO of the Arizona Chamber of Commerce and Industry, says he sees some improvement in Arizona's economy.
"The economy is improving. It's slow. We're not a rocket ship here," Hamer said in an interview for Arizona Week. "But we have seen improvement and we've seen some positive indicators in terms of retail sales, some positive indicators in terms of employment. The housing market is still in a rough spot."
Rounds said he is worried that while job growth is picking up around the state, it may not be in the sectors that will do the most good -- high-paying jobs with less reliance on the construction industry. He said job growth in and of itself isn't good if it consists mostly of low-paying positions.
Rounds and Hamer said they are looking forward to the release of Gov. Jan Brewer's economic development strategy, which could be revealed as early as next week.
The governor's office hasn't made details public, but Hamer said he knows it will include business tax cuts, a relocation fund for businesses wanting to move to Arizona and proposed legal parameters for operation of the new Arizona Commerce Authority.
The Legislature already is working on tax cuts for businesses that would lower the corporate income tax rate, reduce real estate and personal property taxes and eliminate the tax on goods made in Arizona but sold elsewhere. All would be implemented gradually over the next six years.
Brewer's plan is expected to include similar cuts.
The overall annual savings to businesses under the cuts proposed by legislators would be $475 million at full implementation, the Joint Legislative Budget Committee has estimated.
How many jobs will that help create?
"It's very difficult to give an accurate number," Hamer said. "But what we can say is we know we've lost about 300,000 jobs in the last several years since the great recession began. ... It will certainly help us make up for the 300,000 or so jobs we've lost in the last three years."
He and Rounds emphasized that while the tax cuts are important to make the state competitive with its neighbors, it is just as important for Arizona to focus on education.
"We've had a number of companies that have said, 'You can have the best tax and regulatory environment in the country, but if your university system collapses, we'll send you a postcard from Alabama,'" Hamer said.
Reporter Michael Chihak explores this topic further in tonight's episode of Arizona Week. You can watch it here now.
"We're not an a rocket ship here, but we have seen improvement" states the President and CEO of the Arizona Chamber of Commerce and Industry, who's optimistic about Arizona's economy.
AZPM