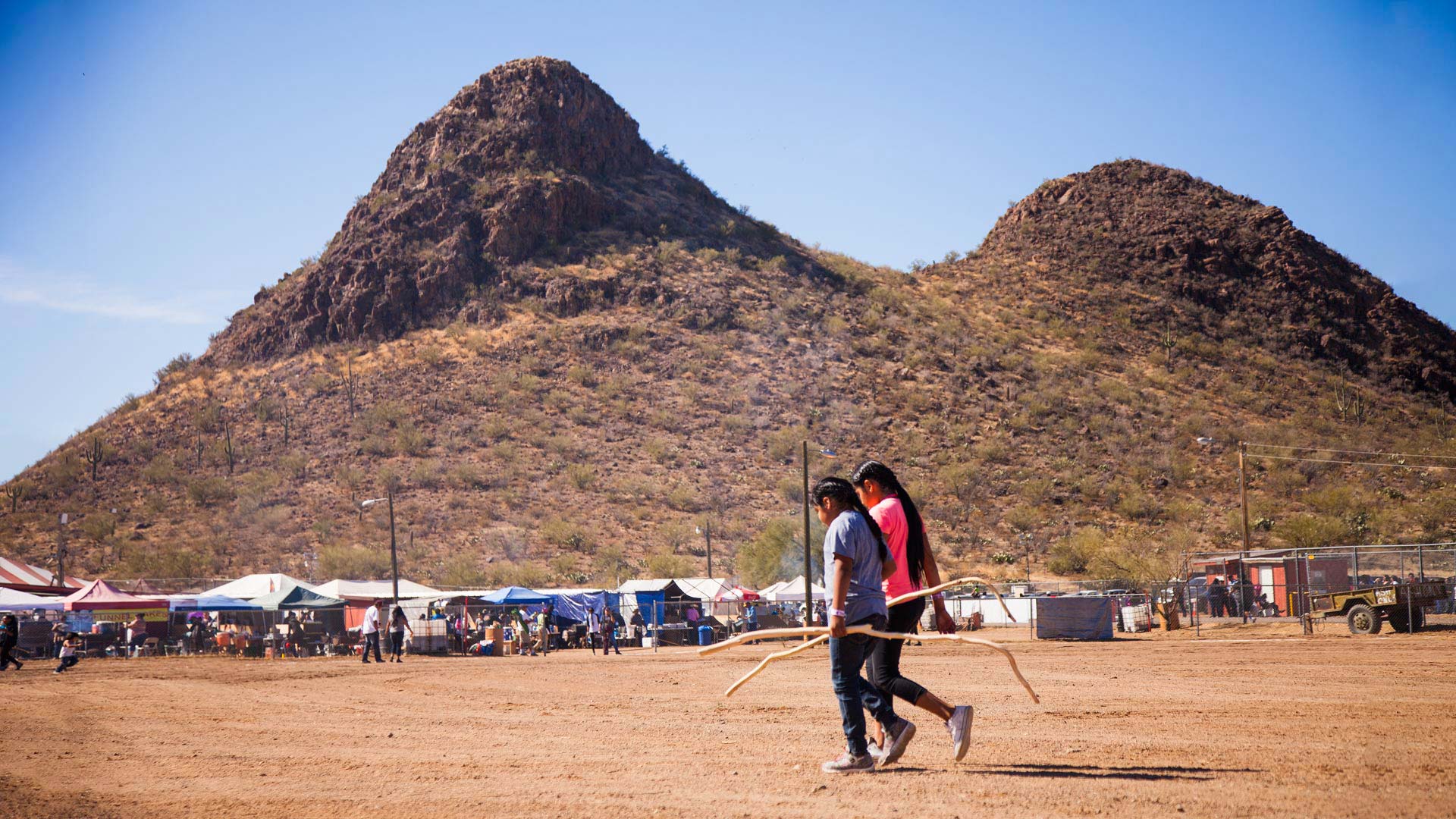 Young toka players walk across the Verna N. Enos Toka Field.
AC Swedbergh/AZPM
Jokes and Top-40 pop poured through arena loudspeakers to fill the time between riders and events on the third day of the 2018 Tohono O'odham Rodeo and Fair in Sells, Arizona. The sounds of cumbia and waila drifted from a dance floor, and, close enough to the Verna N. Enos Field, the crack of the usaga and 'ola cut through it all.
Those two things are the equipment needed to play toka, a Tohono O'odham game that April Ignacio says is old, very old.
"I really don't like to use that term 'time immemorial.' It's been with us since before the saguaro."
Ignacio and others at the Verna N. Enos Toka Field on that Saturday in February spoke of an old game gaining new popularity in recent decades.
Ignacio coordinated the women's traditional events at the rodeo, in its 80th year. There were two days of tournaments, Saturday's for young girls and Sunday's for anyone 13 years and older.
She said the game, which is played by women of the Tohono O'odham Nation and its sister tribes, is like field hockey. "Not quite," but that's a good starting point.
"Toka is traditionally a running game. The field that we have now is a designated space, so it's a lot smaller than what it is traditionally. … In order for us to have it here, we have to have it in a concentrated space."
In the past, Ignacio said, toka would be played out in the open, sometimes over distances of miles.
The field is a rectangle of soil, about 80 yards on its slightly longer side, within the rodeo grounds. A fence lines the perimeter. That day it was adorned with its permanent sign alongside painted murals and red dresses. At two ends were narrow goal zones marked off with white chalk, and spectators and players populated the other two parallel sides.
"It's like field hockey in a sense that you have to get it to a goal, but we don't wear padding, cleats are not allowed, gloves are not allowed."
Ignacio said all of the equipment needed to play the game comes from the earth.
"The instruments that are used are the usaga. An usaga is the mesquite tree branch. And so it is picked, roasted, carved, and then stripped, and then the way the usaga is strengthened is it's let out in the sun to dry, to harden."
U'usaga, the instruments used to play toka, are mesquite branches that are stripped, shaped and hardened.

AC Swedbergh/AZPM
And then the object in play is the 'ola, which might be compared to a puck, or a ball.
"It's not a ball."
"It is two mesquite ends of a mesquite branch that are cut and molded. And they are twined together with deer guts."
Whoever is hosting a tournament or game usually provides the 'ola, and the family will make their own u'usaga, she said.
"Sometimes you'll have fathers who make them for their daughters or their grandchildren, or mothers — it's really up to that individual."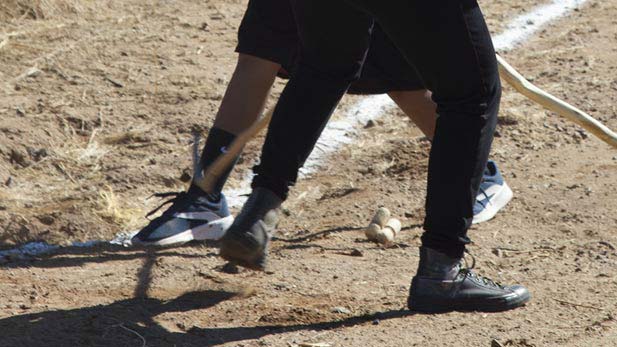 Players warming up for the 2nd Annual Young Women's Toka Tournament. At center, an 'ola, the object in play, must be picked up in the point zone to score.

AC Swedbergh/AZPM
To score, the players arrange themselves in a specific way in the middle. When play starts, it's continuous, and they're aiming to get the 'ola to the goal areas.
"The game doesn't stop until it's picked up. And so the other team can do what they need to to prevent them from picking it up. They can push them. They can clip them. They can do what they need to to stop them from picking up the 'ola."
Without any pads, and especially in the concentrated place, play can seem rough, she said. Bruises are common. But teams are adamant about playing that way.
"We don't wear padding. Cleats are not allowed, gloves are not allowed. ... We don't utilize helmets or pads. You know, games are forfeited if women show up wearing gloves. Teams will protest them being able to play, and so they could forfeit a game, just by wearing cleats."
There's a place for different abilities on any given team, Ignacio said, and skilled players will be able to hook the 'ola and fling it.
"That's the thing that's beautiful about toka is that anybody can play, but not everybody can play. You can be the smallest and the fastest runner. You can be heavyset, and be the best blocker. There are positions that we've kind of established on our own."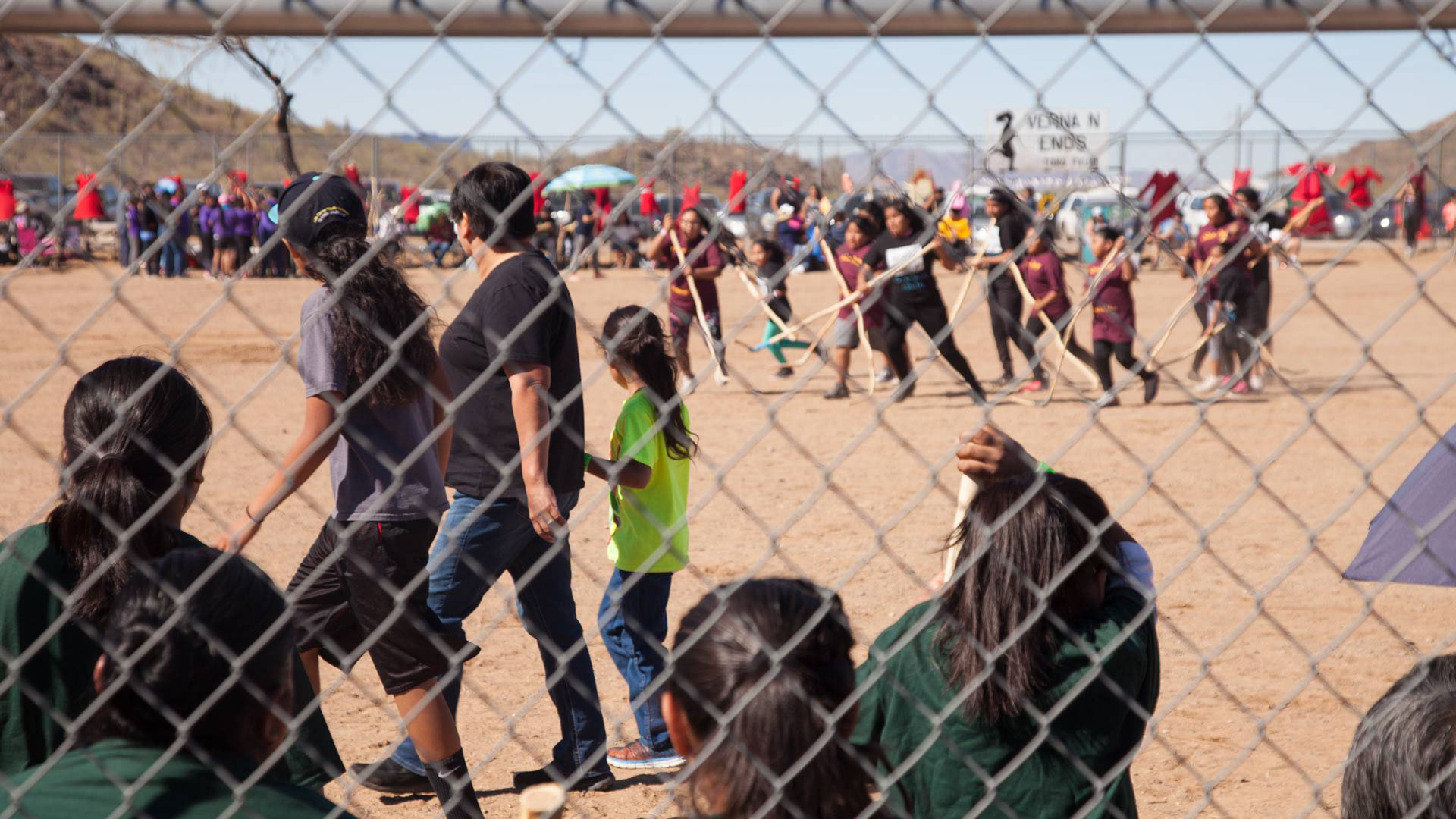 A game of toka underway in Sells, Arizona.

AC Swedbergh/AZPM
As coordinator, Ignacio isn't playing this weekend. But she does, as does her daughter, who's at college in a different state and "had no choice" but to learn toka. She says it's not uncommon to see three generations on the field at the same time. Her late mother is Verna N. Enos, whom the field is dedicated to.
"A lot of the teams are multigenerational teams. So, we'll have grandchildren and grandmas on the field together. "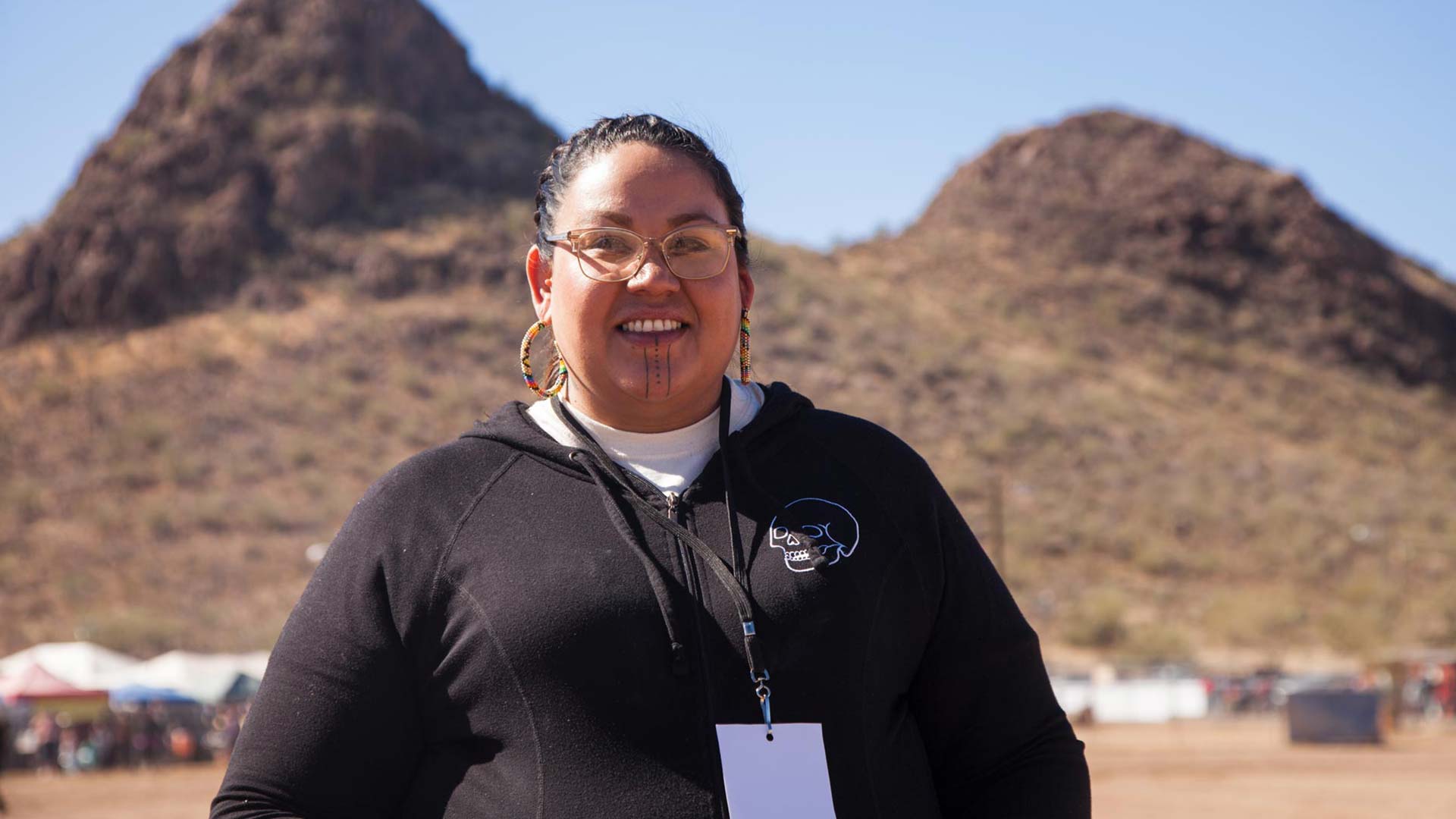 April Ignacio coordinated the traditional women's events at the 2018 Tohono O'odham Rodeo and Fair.

AC Swedbergh, AZPM
These days, the teams are formed in communities, perhaps akin to a club system, Ignacio said.
Celia Campus plays on a team from San Pedro Village with 13 of her nieces. She said she's been playing since she was very young and has watched the game "bloom" into new popularity.
"A couple years back it wasn't as big as it was. There as only a team, and that was the older women, and now to go to 33 teams to include two days of tournaments. It's a great thing, I like seeing it," Campus said.
She said if her sister has another daughter, she sees a potential new player. "Bring her out! Let's recruit her!"
"We try to get them in there as soon as they can."
Part of getting more girls involved includes older players helping younger ones get over their fear, Campus said. She's helped interested younger players form new teams to bring into the toka community, which then go on their own.
"[I tell them] you can't be scared. … We try to bring them around, welcome them, welcome as many girls."
Part of getting over that fear of playing is the dynamic between the older players and those just starting out.
"It's a great thing to be a part of, I love it. Like I said, the sisterhood is great, just getting to know one another. Younger girls look up to the older girls. … Everybody has those two fast runners on their team that everybody knows, 'Oh wow! Did you see them?' For us, that's Titi and Domonique."
Tristan Johnson, or Titi, is one of those fast players, and she's been playing for about five years. Her favorite thing is "being able to play with my family, get out there, running. I love running, too."
Domonique Cleveland, another of Campus's nieces, is in college and has been playing for nine years.
"This game is one of the funnest things a girl can do, especially, it's only for girls. And then you see guys sometimes who are like, 'This game looks cool.' And I'm like, 'It is cool.' And it's also hard to explain it to some people, because you play it with sticks. Yeah, and you get to make this stick. You get to make it the way you want to make it. It can be heavy, it can be light. Me, I prefer heavy sticks because I always break the light sticks."
Tournaments give Cleveland and Johnson a chance to connect and reconnect with other players.
"You know how there are like 12 districts here, and these districts where everyone lives are far away, so you hardly ever see anybody. So, like, with toka, you finally see them at tournaments."
"Everybody just comes together," they both said.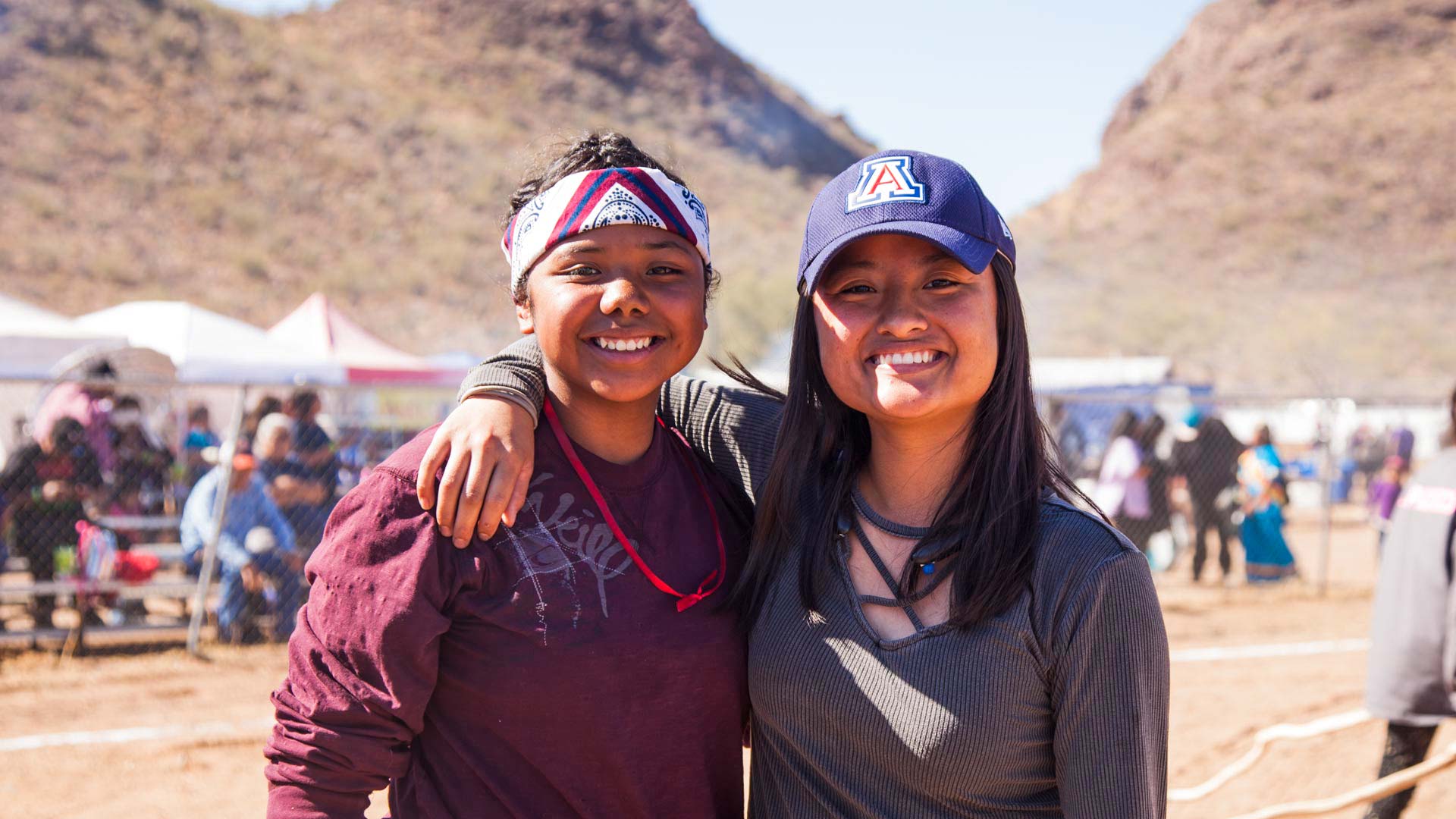 Tristan Johnson and Domonique Cleveland.

AC Swedbergh, AZPM
Marcinda Celaya started playing the game in seventh or eighth grade, she remembers. Back then she joined a team at her school formed by April Ignacio's mother, Verna N. Enos, whose name the field bears. With a break when she went away to college, she has been playing ever since.
"My ancestors played it, so it's really something I hold dear to my heart, dear and close to my heart. Knowing that it's from the past and it's still alive today.
"What I've learned just by talking to people, they told me that back then the players would come from communities and they would go by their community name. So I came back here to my community and asked if there were any girls or ladies that were interested at the time. I got a few girls that were interested. So we put a team together," she said in a phone interview.
That was around 2011, and was helped along by the encouragement of Enos, Celaya said. Her team is from the community of Ali Chugk. It has grown since it started with five players, and today it comprises three generations, including Celaya, her nieces and granddaughter.
"I do believe that it is important for my nieces and my granddaughters to play this game, or be a part of this game in any way possible, being that it's a physical activity that gets them out of the house. … I grew up playing outside. Nowadays the younger generation, they would rather be inside. At first it was kind of like pulling teeth trying to get them out there, but once they got out there and like, really practicing — it builds teamwork."
She affirms that it's grown over the years, and that the Verna N. Enos Field is a unique and important space.
"It's something that we can use. It's something that's dedicated to somebody who worked hard to revive this game, that we can be able to play it and we can be able to teach the younger generation about it. I think that if it didn't happen, they'd probably just put us somewhere where you probably wouldn't even see us."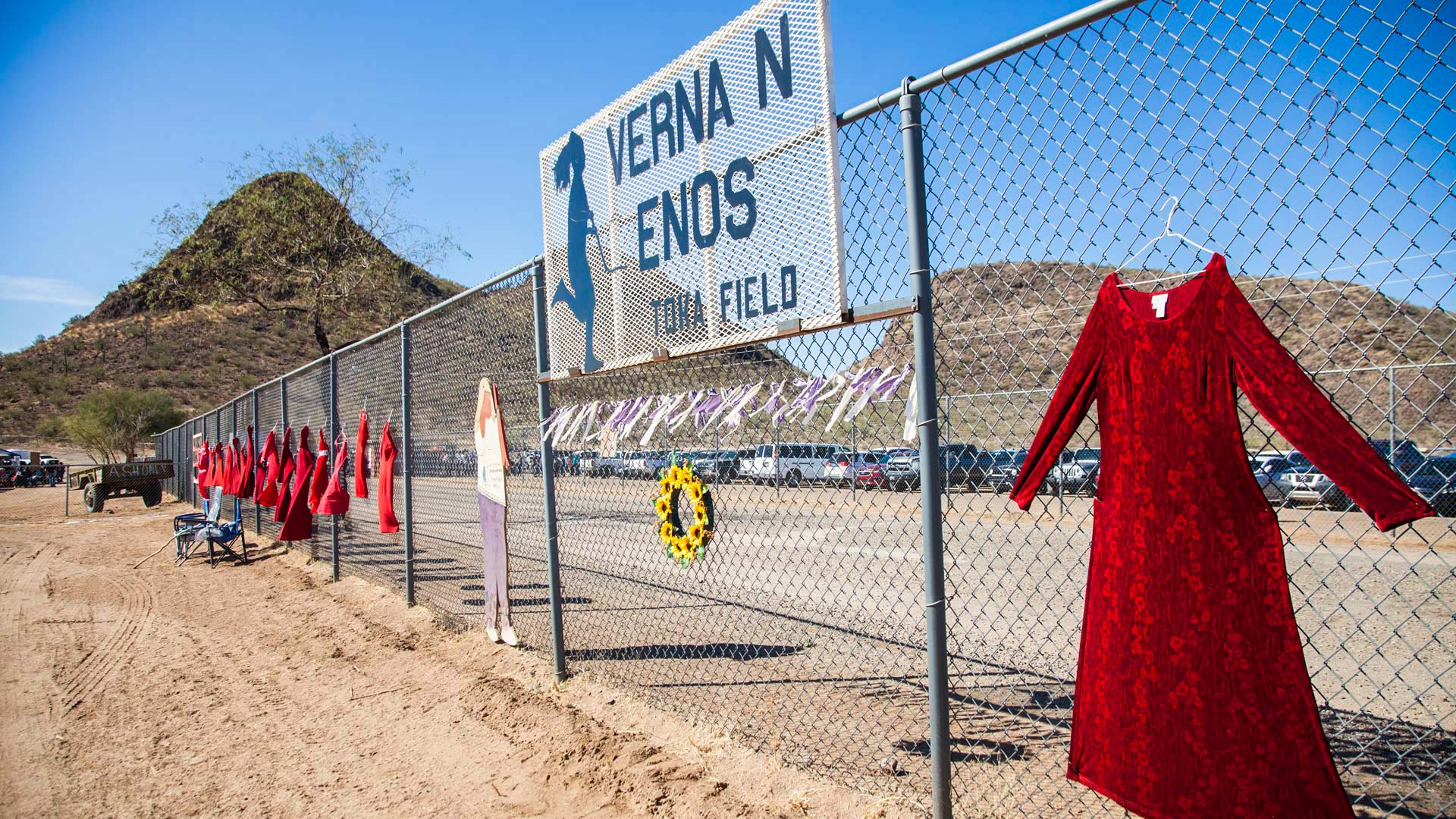 Red dresses and art hang on the perimeter of the Verna N. Enos Toka Field in February, 2018.
AC Swedbergh/AZPM
On that Saturday, April Ignacio moved around that space, following the cluster of players as it roved back and forth between the center and the ends of the dusty rectangle, sometimes shifting shape, sometimes with a fast player breaking away, chasing the 'ola to the point zone to pick it up hold it in the air.
"I think that this is our game, this has always been our game. And I think for a lot of these young girls, sometimes, life isn't easy for them. But Toka makes them special. ... I think, for the most part, for them, that it's OK that maybe they don't speak the language, or they don't know the songs or the dances, but toka connects them. And we love it."
Naming the field after Enos was a milestone in a process of bringing more players into the game over the last few decades. She says many knew her mother as the "toka lady" for her work helping bring it back.
"This game was never gone, but it wasn't played the way that it is played now, and so a lot of people credit her because the idea of bringing back this game, or waking it up, so to speak, was to teach our young girls to play.
"Traditionally, it is a women's game for older women, but the popularity of the game itself ... it's phenomenal down here. And in order to keep this game phenomenal and strong we have to ensure that our younger girls are playing it as well."
She didn't do it alone, Ignacio later wrote, quoting Enos: "We could not do what we did back then without the help of many women." She was referring to a period of research she said Enos carried out starting in the late '70s. Various efforts over the years resulted in bringing the game to seventh and eighth grade girls, a league of 11 teams for fourth-sixth grade players, and, eventually, the tournament at the rodeo, according to Ignacio.
In 2011, Enos was named grand marshal of the rodeo. She passed away later that year.
The field was ultimately named after Enos in 2016 for her teachings and commitment to "renewing the spirit of toka," the dedication said. Now, Ignacio considers it a space for dialogue.
"This is the only space on the nation that is actually dedicated to a woman. And because of that, we have a platform to talk about our issues, we have space, you know. And we use that space."
Community art adorns the fence, and the red dresses hanging for this tournament weekend are dedicated to missing and murdered indigenous women. In the months leading up to the tournament, Ignacio said she worked with families to identify missing and murdered Tohono O'odham women. Each dress represented one of those women.
"Because we have to talk about it in our space. We have to talk about it, and we have to talk about the darkness with the light. So that's why it's so fitting that it's here and we're in our safe space."