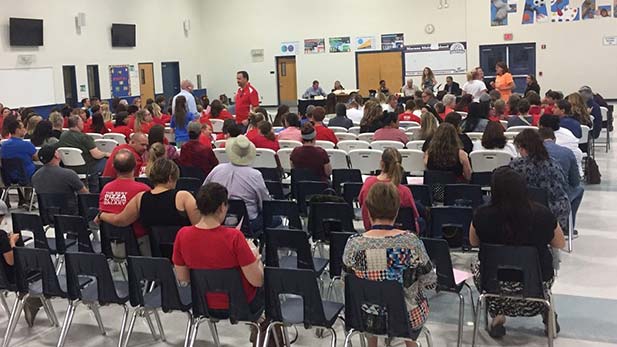 The Marana Unified School District hosts its board meeting in the Marana Middle School cafeteria to vote on closing Thornydale Elementary.
Brandon Mejia, AZPM
The Marana Unified School District will not close Thornydale Elementary School.
The board was evenly split Thursday night, and the tied vote meant the school will remain open, despite declining enrollment.
Board member Dan Post said he voted to keep the school open because of a lack of detail about what would happen with the property if the school closed.
"It wasn't in the motion, it wasn't in the proposal," Post said. "It was just kind of an open-ended, alright lets close the school."
The Thornydale Thunderbirds have been around since 1974. The school was designed to hold 600 students, but has about half that number. The board and superintendent for Marana schools proposed the closure because enrollment numbers have been declining since 1994.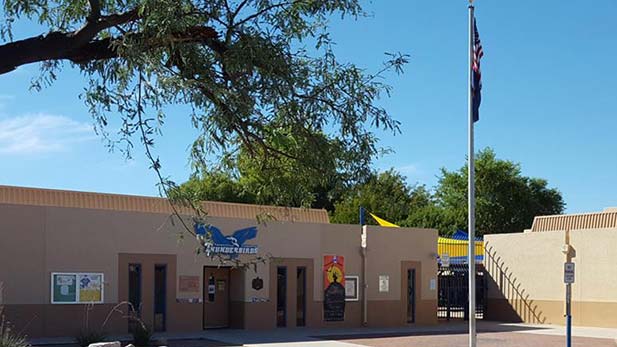 Thornydale Elementary School.

Courtesy of Marana Unified School District
"Word's out now. We're a great school and having amazing kids," special needs teacher Cori Bravo said. "But our job now is to go out and get more kids, we need more kids."
Board president Tom Carlson said the numbers don't support keeping the school open.
"The reality is the school needs 300-400 more students," said Carlson, who voted with Maribel Lopez to close the school.
Board member Suzanne Hopkins joined Post in voting against closure. John Lewandowski was absent.
The school has 307 students enrolled, 117 of whom are open enrolled, meaning they come from outside the school boundaries.