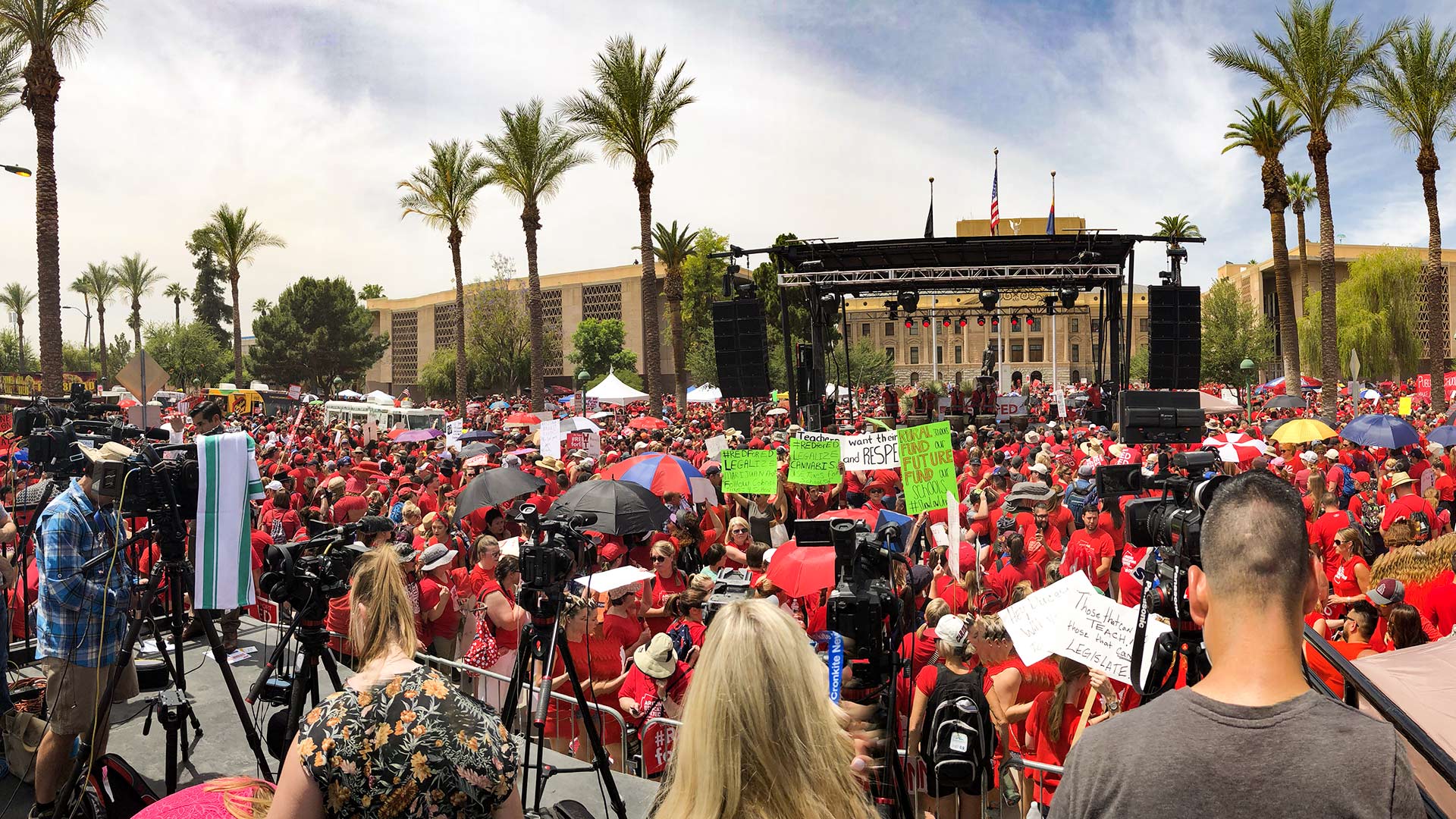 #RedForEd protesters gather in Phoenix, April 26, 2018.
Brandon Mejia, AZPM
More than 50,000 people with the #RedForEd Movement walked two miles to the state Capitol Thursday, painting the streets of downtown Phoenix red. State lawmakers worked to the sounds of thousands outside their offices demanding a budget with money for educator pay raises and classroom support.
Chants of "Red for ed" echoed off buildings as the marchers walked from Chase Field to the Capitol building.
Parents, children and educators joined together to walk, holding signs and chanting to address $1.5 billion cut from school funding since 2008.
Gov. Doug Ducey's proposal to avert the statewide teacher walkout includes a 19 percent pay increase phased in over three years. The governor calls it 20 percent when the raise for this year is included.
Teachers want more than a pay increase next year.
Brian Little, an educator in Arizona for 20 years, says teachers aren't going back to class until their demands are met.
"Our support staff has to be supported financially, teachers have to get their salaries at least back to the level they were at 2008, we have to feel that we are respected and we have to have help," he said. "We can't do this job on our own anymore. My wife gets so frustrated how much we have to give to our classrooms just to make it work."
What Ducey's proposal doesn't address is an increase in funding for things like school maintenance, new text books and classroom supplies, something many march participants like David Shafer, a teacher at Tucson's Cholla High School, want to see.
"We would like to see over $1 billion in funding that has been cut since 2008 since the recession and I would like to see textbooks that aren't as old or older than my students. I would like to see repaired buildings. I would like to see new supplies to our classrooms."  
Organizers of the march and walkout have not said when teachers will return to the classroom.
Schools all over the state cancelled classes and activities on Thursday and Friday due to the walkout.

Stories on the statewide debate over teacher pay and education funding. Read more coverage
here
.