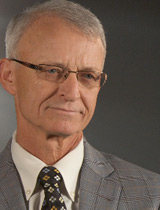 Calvin Baker, Vail School District superintendent. (PHOTO: AZPM Staff)
Vail Superintendent Calvin Baker wrote a short note on the district's school-closure update page Monday saying Vail schools would be open the following day, Tuesday, May 1.
The note simply read, "Vail Schools will be open tomorrow, Tuesday, May 1. Welcome back."
On the district Facebook page, Baker wrote that "most regular teachers will be present. Instruction will occur."
Vail is the first district in Pima County to re-open after closing for a teacher walkout that started Thursday, April 26. Arizona State Schools for the Deaf and Blind in Tucson stayed open, officials there said.
Vail schools had been closed since the start of the teacher walkout due to "inadequate staffing."