At the Stanley J. Olsen Laboratory of Zooarchaeology, scientists read the bones and teeth of dead animals to learn the secrets of the past.
The laboratory uses its extensive comparative collection of animal skeletons to identify remains recovered from archeological sites across Arizona. Then, they do detective work to determine information about the conditions the animal experienced when it was living, such as the local climate and food supply.
Built around the personal collection of Dr. Stanley J. Olsen(1913-2003), the laboratory was expanded in the 1980's with the help of a long-term loan from the National Park Service.
That addition brought the lab's total number of specimens up to around 4,000 skeletons. They represent vertebrate species from all over the world, with an emphasis on North America.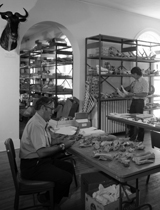 The Arizona State Museum's Stanley J. Olsen Laboratory of Zooarchaeology began with Olsen's personal collection. (PHOTO: Courtesy of the Arizona State Museum)
Today, Olsen's successor as the lab's chief curator is Dr. Barnet Pavao-Zuckerman, who is also an associate professor of anthropology at the University of Arizona.

She assumed Olsen's role in 2002, after receiving her Ph.D. from the University of Georgia, and she says working in the lab is her "ideal position."
Almost unique among their archaeological and paleontological brethren, the scientists and researchers who work primarily with bone do not usually wear gloves.
Pavao-Zuckerman explains that the oils present on human skin are not harmful to bones when they are handled. Some bones, such as the shell of a green sea turtle, remain pretty oily themselves even after many years in storage.
A great example of what zooarchaeologists can learn from animal remains can be found in research published in 2009 by Pavao-Zuckerman and PhD candidate Deanna Grimstead on how isotopes found in livestock teeth can shed new light on ranching practices at Spanish missions.
Another online resource is the FaunAZ Search, a searchable database of information on vertebrate animal remains gathered from archaeological sites across Arizona.
The Arizona State Museum website contains much more information about the Stanley J. Olsen Laboratory of Zooarchaeology.
We visit a laboratory on the University of Arizona campus that explores the skeletal secrets animals leave behind.
AZPM