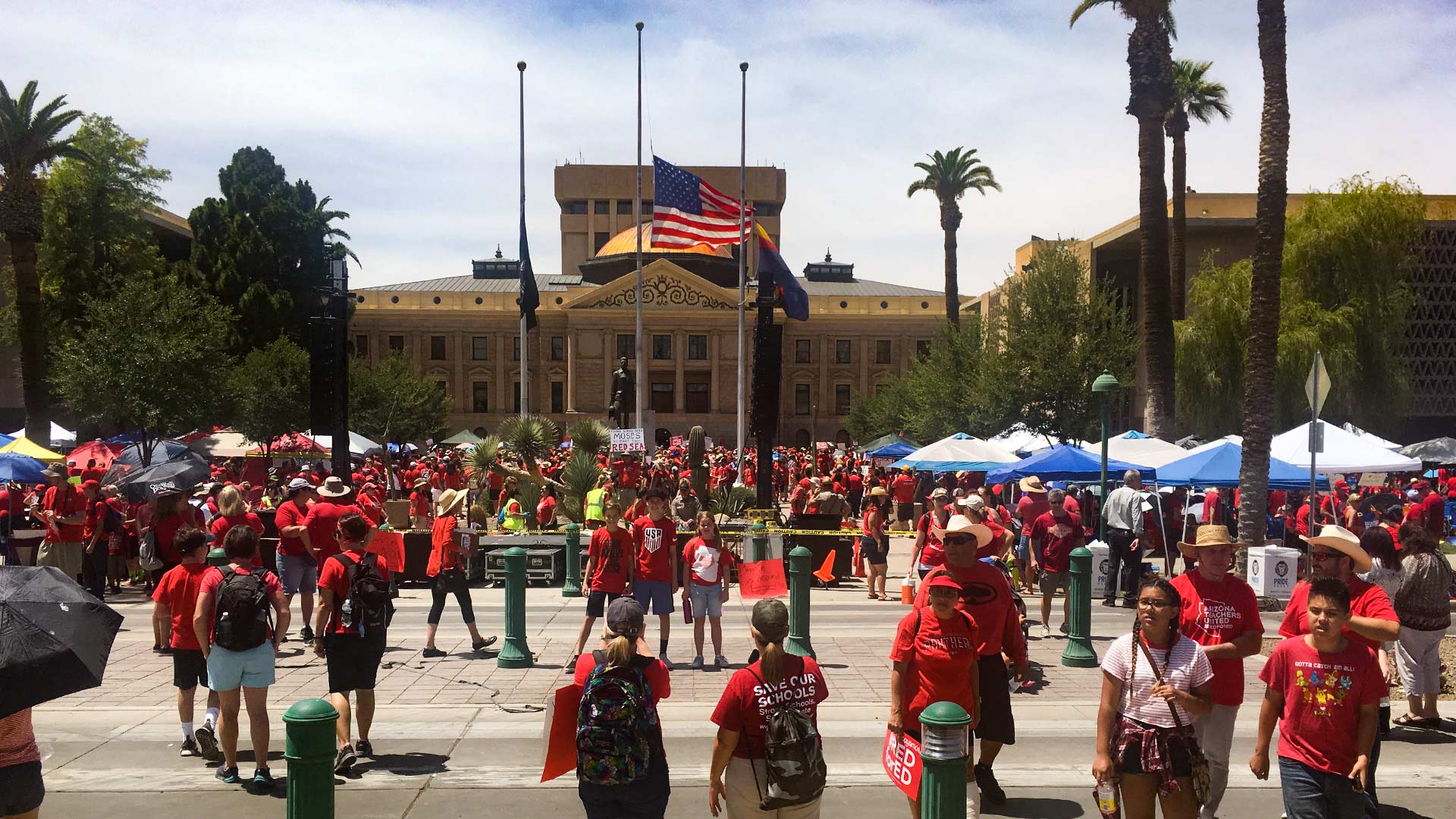 #RedForEd demonstrators at the Arizona Capitol, April 30. The protests continued a walkout that started the previous Thursday to demand education funding.
Christopher Conover, AZPM
The Arizona Education Association said Tuesday evening that if lawmakers pass a budget by Thursday, teachers will go back to work immediately.
While they are not happy with the proposed budget, Arizona Education Association and Arizona Educators United representatives said they will continue to advocate for education funding even as they return to work.
The proposed state budget proposal is in line with Gov. Doug Ducey's plan, which calls for a 9 percent pay raise next year, but does not meet all of the teachers' other demands, including increases in pay for other staff, and increased overall education funding.
"This budget does not do enough ... for our kids, does not do enough for our colleagues. We are staying committed to fighting for our students," said Noah Karvelis, an organizer with Arizona Educators United.
Lawmakers appear to be on track to vote on a state budget this week, but it is not clear when teachers would return to classrooms if a budget vote takes late Thursday, or early Friday morning.
Many school districts already planned to reopen to students Thursday, May 3, and the Vail School District in Pima County was the first district to reopen since the walkouts began April 26.
School Closures
Tucson Unified School District OPEN
Sunnyside Unified School District OPEN
Marana Unified School District OPEN
Amphitheater Public Schools OPEN
Catalina Foothills School District OPEN
Tanque Verde Unified School District OPEN
Sahuarita Unified School District OPEN
Flowing Wells Unified School District OPEN
Vail School District OPEN
Altar Valley School District OPEN
Ajo Unified School District OPEN
Baboquivari Unified School District OPEN
Arizona State Schools for the Deaf and Blind — Tucson OPEN
Pima JTED OPEN
Sierra Vista Unified School District OPEN

Stories on the statewide debate over teacher pay and education funding. Read more coverage
here
.