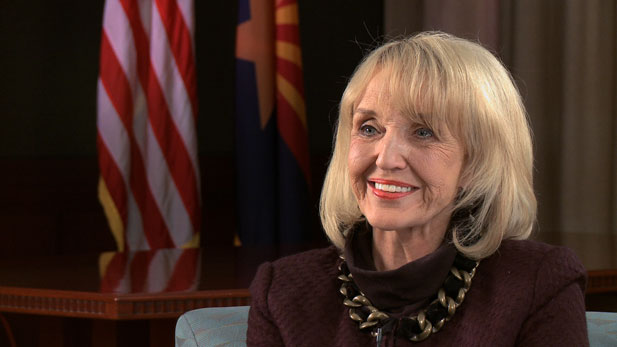 Gov. Jan Brewer (R) touts her business development plan as the key to "turning our economy around."

AZPM Staff
A jubilant Gov. Jan Brewer praised the Legislature's quick passage of the Arizona Competitiveness Package this week, saying it means that "Arizona is open for business."
The legislation will help bring quality jobs to the state, and it means Arizonans won't have to wait for the economy to recover on its own, Brewer said.
"The Commerce Authority being established and the tax reform and tax incentives are really going to change the way we attract businesses here to Arizona and turning our economy around," the Republican governor said in an interview that airs on Arizona Week Friday evening.
It was Brewer's first sitdown interview with any broadcast medium since before the new year began.
"Those of us who've come into office from the business community have always said we need to run government like a business, we need to be more effective, let's move, let's get the job done," she said. "We've tried that and sometimes it just didn't work."
Brewer referred to the Arizona Department of Commerce, which was abolished and replaced by a private-public Arizona Commerce Authority in the legislation she signed Thursday.
The authority will be run by Brewer as its chair and a board of mostly private-sector businesspeople, including well-known Phoenix businessman Jerry Colangelo. Brewer named Don Cardon, who created and ran a business that used tax credits to build low-income housing and later became involved in downtown Phoenix development, to head the authority.
Besides establishing the Commerce Authority, the legislation will give significant tax breaks to businesses, to be rolled out over several years starting in 2014. Those breaks will make the state competitive with others in the region and thus attract businesses that will bring high-paying jobs, Brewer said.
Tax cuts will work to attract business to Arizona, she said, although low taxes at the federal level don't seem to have worked to stimulate the national economy.
"I don't know if I want to be compared with the national level," Brewer said. "Here in Arizona, we know that if we encourage business to come to Arizona," new jobs will be created.
Brewer brushed aside worries expressed by some in the Legislature and elsewhere about the relative autonomy of the Commerce Authority, saying she will be its chair, and both the House speaker and Senate president will be board members.
"We're going to have some type of oversight," she said. "We are absolutely people that are responsible for the Commerce Authority. That's the bottom line."
Watch the Feb. 18 Arizona Week now:
Host Michael Chihak discusses the state's budget crisis with Governor Jan Brewer.
AZPM