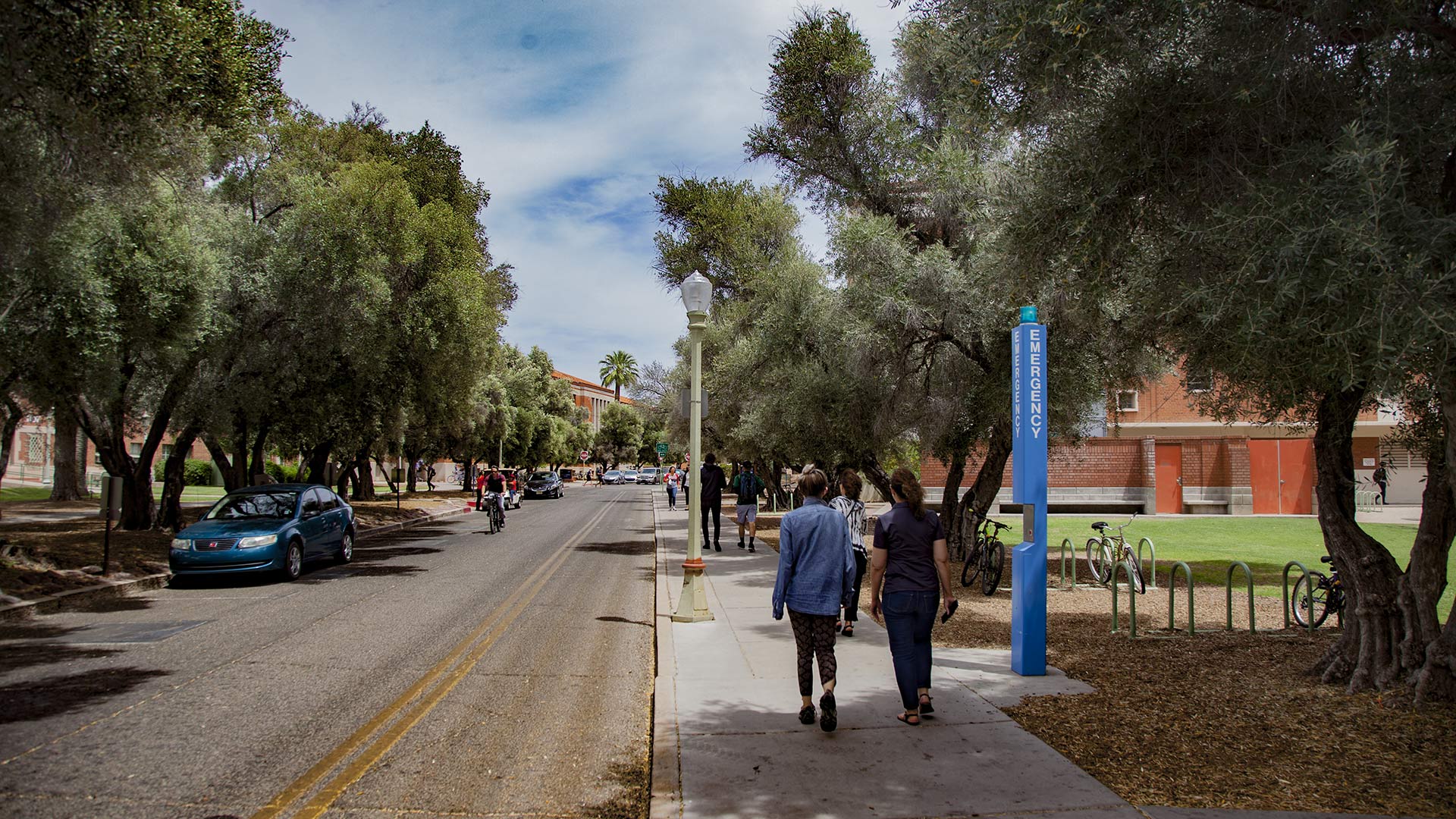 James E. Rogers Way, on the UA Campus.
Nick O'Gara, AZPM
There are a few ways to report incidents of sexual violence that take place on college campuses. While one person might prefer to file a criminal report with campus or local police, another might prefer to go through the university.
That's where Title IX comes in. Title IX is the civil law that, since 2011, has allowed universities to adjudicate gender-based discrimination — from sexual harassment, to rape — on their own campuses.
"As written, it prohibits sex-based discrimination in all educational programs and services that receive federal financial aid or other federal money," said Mary Beth Tucker, the UA's Title IX coordinator. "Which is essentially all K-12 schools in the United States, as well as all colleges and universities."
Title IX was signed into law by President Richard Nixon, as part of the Education Amendments of 1972.
The educational amendments functioned as a follow-up to another piece of landmark legislation: the Civil Rights Act of 1964. The Civil Rights Act, though revolutionary, didn't protect high school and college women from gender-based discrimination in their educational institutions. So second-wave feminists lobbied Congress to pass an educational amendment that addressed sex-based discrimination, head on.
Long story short, legislators listened, and Title IX was born.
Title IX didn't become synonymous with sexual violence on college campuses, though, until 2011, according to investigative journalist Jessica Luther. Luther, who covers sexual violence in college athletic programs, says that's when the Obama administration updated Title IX protections and policies for America's colleges and universities. The update was called the "Dear Colleague" letter.
Many presidential administrations have published their own "Dear Colleague" letters, Luther says, but Obama's letter was unique. It laid out, in explicit terms, how Title IX protects students from gendered violence, and explained how colleges and universities should enforce these protections.
Luther says this explicit association between Title IX and sexual assault on university campuses was a first in the statute's 39-year history.
"It really shifted how we thought about it," Luther said. "And that's really when the conversation shifted and we started to see, not that it wasn't there before, but a really concerted effort by student activists who used that interpretation, those guidelines of Title IX by the Department of Education to start reporting their schools to the Office of Civil Rights."
Tucker says the statute's role in adjudicating sexual violence on college campuses has become somewhat blurred since President Trump took office.
That's because last year, Secretary of Education Betsy DeVos rolled back the "Dear Colleague" letter. Now, educational institutions have to wait, in a Title IX limbo, of sorts, for DeVos' Department of Education to release revised enforcement guidelines. (Until that happens: the Department of Education has published an interim set of guidelines in Q&A form, on its website.)
Tucker says internal Title IX investigation processes at the university haven't changed much under the interim guidelines. That's because university-sanctioned investigations follow rules set by the Arizona Board of Regents' code of conduct and the UA Office of Institutional Equity's nondiscrimination policies.
"So, all of the federal guidance informs the policies and procedures that we have and, then, in our practice, in terms of what suits our university, what supports our students and what is in the confines and expectations of the federal guidance," Tucker said.
She says students, faculty and staff can seek adjudication through two routes: code of conduct investigations — which are led by the Dean of Students Office — or Office of Institutional Equity-led investigations.
"If the student's allegations are against another student, then the situation would be governed by the university or ABOR code of conduct," Tucker said. "If a student has an allegation against a nonstudent — so an employee, staff member, faculty member — they would utilize a similar process, but it would be handled by the [UA] Office of Institutional Equity, under the university's nondiscrimination, anti-harassment policy."
During these investigations, both parties can provide witnesses, documents and whatever information they think will benefit their case. They can also bring to hearings an adviser of their choice — like a lawyer, parent or teacher — or they can choose to go without.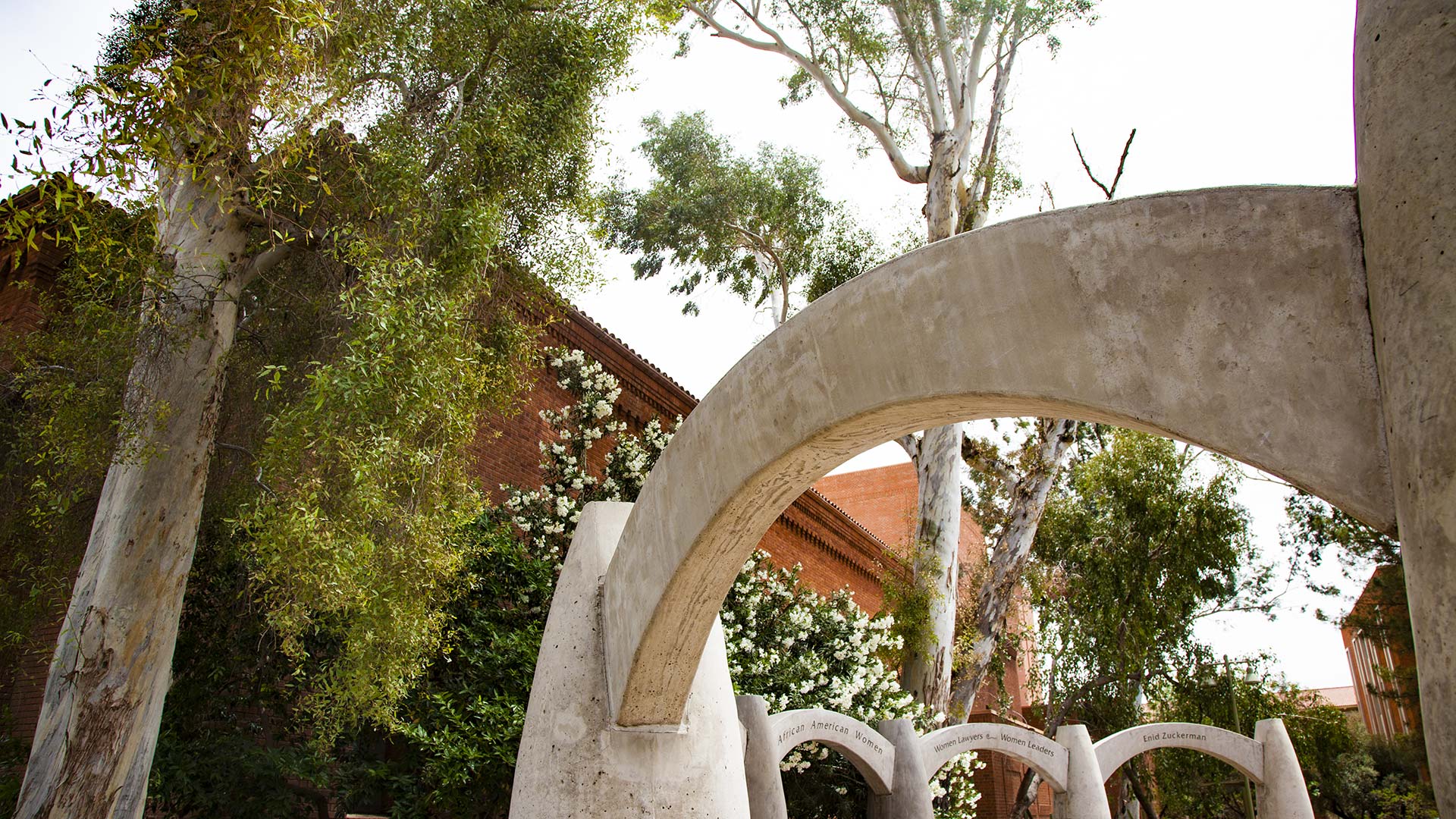 The Women's Plaza of Honor, University of Arizona campus.

Nick O'Gara, AZPM
As Tucker noted, the code of conduct and Office of Institutional Equity investigation processes function very similarly. Neither process seeks to "serve justice," as the criminal litigation process does. Rather, they seek to find equity.
Tucker says finding equity differs, depending on the investigation at hand. If the Dean of Students Office or Office of Institutional Equity finds an accused party responsible for an act of sexual misconduct, either office could assign that person a variety of sanctions.
"The student could be sanctioned anything from a warning probation — some sort of educational sanction — up through and including suspension and expulsion," Tucker said. "Which would certainly be more typical for a Title IX matter, where a consequence would be on the higher range of sanctioning.
She says the burden of proof differs between university-led Title IX investigations and criminal investigations. In criminal investigations, the burden of proof is "beyond a reasonable doubt." That means it falls on the accuser to prove the accused is guilty. The accuser must provide ample evidence to demonstrate that "beyond a reasonable doubt," the accused is guilty.
University-led investigations have a somewhat less-strict standard regarding burden of proof, called the "preponderance of the evidence" standard. Under this standard, the accuser must prove that "more likely than not," the accused committed the act the university is investigating.
"I like to say it's 50 percent and a feather, is another way of looking at it," Tucker said.
Tucker says university and criminal investigations might elicit two completely different outcomes due to the differing burdens of proof. And any student, faculty or staff member considering either adjudication process is free to go through both processes, simultaneously.
Thea Cola is the coordinator of sexual assault and violence prevention at the UA's Women's Resource Center. She says sexual violence survivors — the people who need to know their Title IX protections most — don't know enough about how the statute protects them.
The key to fixing this, Cola says, is education. Educating the university, at large, about sexual assault prevention and Title IX will eventually cause a campus-wise culture shift, if the UA dedicates itself enough to the cause.
"The research says it takes six years for a culture change to happen within a college-like setting," Cola said. "And if we have enough people, we receive a critical mass of resetting the culture and resetting."