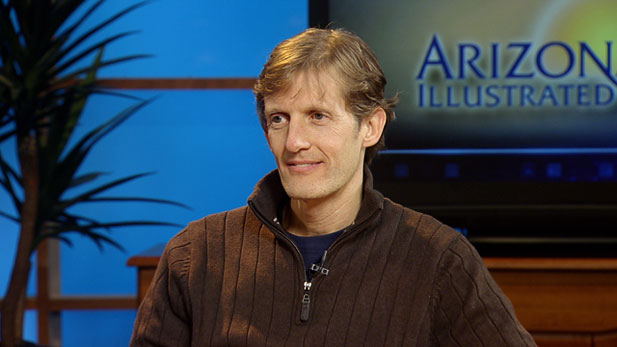 Joe Wilson discusses his controversial and critically-acclaimed film, Out in the Silence.

AZPM
In 2006, human rights activist Joe Wilson published an announcement of his wedding to his same-sex partner in his small hometown of Oil City, Pennsylvania. That one act sparked a whirlwind of controversy, and it led Wilson back home in an effort to chronicle and understand his home's relationship to homosexuality, inclusion and equality.
Now a filmmaker, Wilson joins the studio to talk about Out in the Silence, the widely acclaimed documentary that grew from his experiences. He shares the story behind the movie, its impact on his hometown and his hopes that it will strengthen Arizona's efforts to heal community divides.
Kimberly Craft interviews Joe Wilson about his film, "Out in the Silence."
AZPM
Arizona will host several screenings of the film, sponsored by the Pima County Public Library System, ACLU of Arizona, Wingspan Anti-Violence Project, The Amancio Project, and the Yuma High School GSA. Screenings are scheduled for:
Feb. 22, 7:30pm - The Loft Cinema - Tucson

Feb. 23, 6:30pm – Arivaca Old School - Arivaca

Feb. 24, 6:00pm - Yuma County Main Library - Yuma

Feb. 25, 1:00pm - Salazar-Ajo Library - Ajo

In addition to the film's hopeful and entertaining stories, and dynamic post-screening discussions with filmmaker Joe Wilson and local organizers, the Arizona events will feature performances by special guest Namoli Brennet, a Tucson-based transgender musician. (Brennet's music is a major feature of the film's soundtrack.)