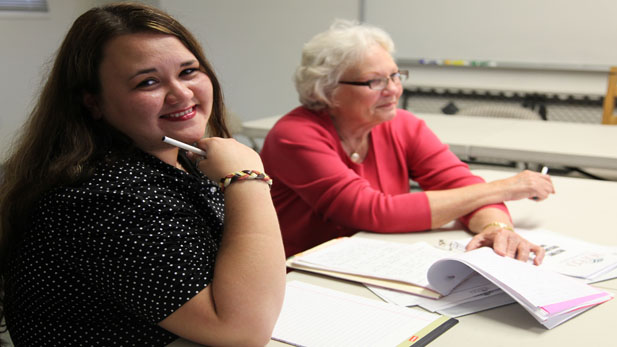 Olga Goss is one of many local students improving her English skills with help from the Literacy Volunteers of Tucson.

Yuri Machado
Olga Goss moved to Arizona from Russia four years ago when she married a man from Tucson. Her life has been changing rapidly ever since.
In addition to beginning a new chapter in a new country with her new husband, Goss soon found a job at Soreo In Home Support Services, which provides assistance for older adults and other residents with special needs.
She began as an employee working with Russian clients, but she has already been promoted to a position as a service coordinator and she credits her success with her ongoing efforts to improve her English. To do that, Goss sought help from Literacy Volunteers of Tucson.
The organization has less than a dozen full-time employees, but hundreds of volunteers work with students in different areas like reading, writing, math and English classes. Goss is meeting with Myra Ransick, a retiree in Tucson who decided to volunteer when she heard about the group at her church. She says it's been a fun-filled experience.

"We've talked a lot besides just learning the language, about movies, books, television, styles, politics. She's interested in politics so it's been fun. She started out as a student and she's really become a friend," says Ransick.
And Olga Goss recently celebrated another milestone in her life. She pledged allegiance to the United States of America and became a citizen.
"Almost everyone came to the ceremony and was kind of supporting me, it was really great, I was so proud to became an American, crying, stuff like that," she says. "They showed a special video, there was music--it was awesome."

Literacy Volunteers of Tucson say their success stories wouldn't be possible without the teachers who give of their time and the donors who provide financial resources.
It's a wise investment, they say, because people who are functionally illiterate often face higher rates of unemployment or underemployment, a lack of promotions, accidents and even crime. Statistics in Arizona show that three out of four prison inmates and 60 percent of state welfare recipients don't have a high school diploma or GED.
For her part, Olga Goss continues to plan a brighter future. She says she'll continue to improve her English and education, and she's thinking about attending business school.
Literacy Volunteers of Tucson is celebrating its 50th anniversary in our community and has helped thousands of people along the way. We talk to two students and their teachers.
AZPM