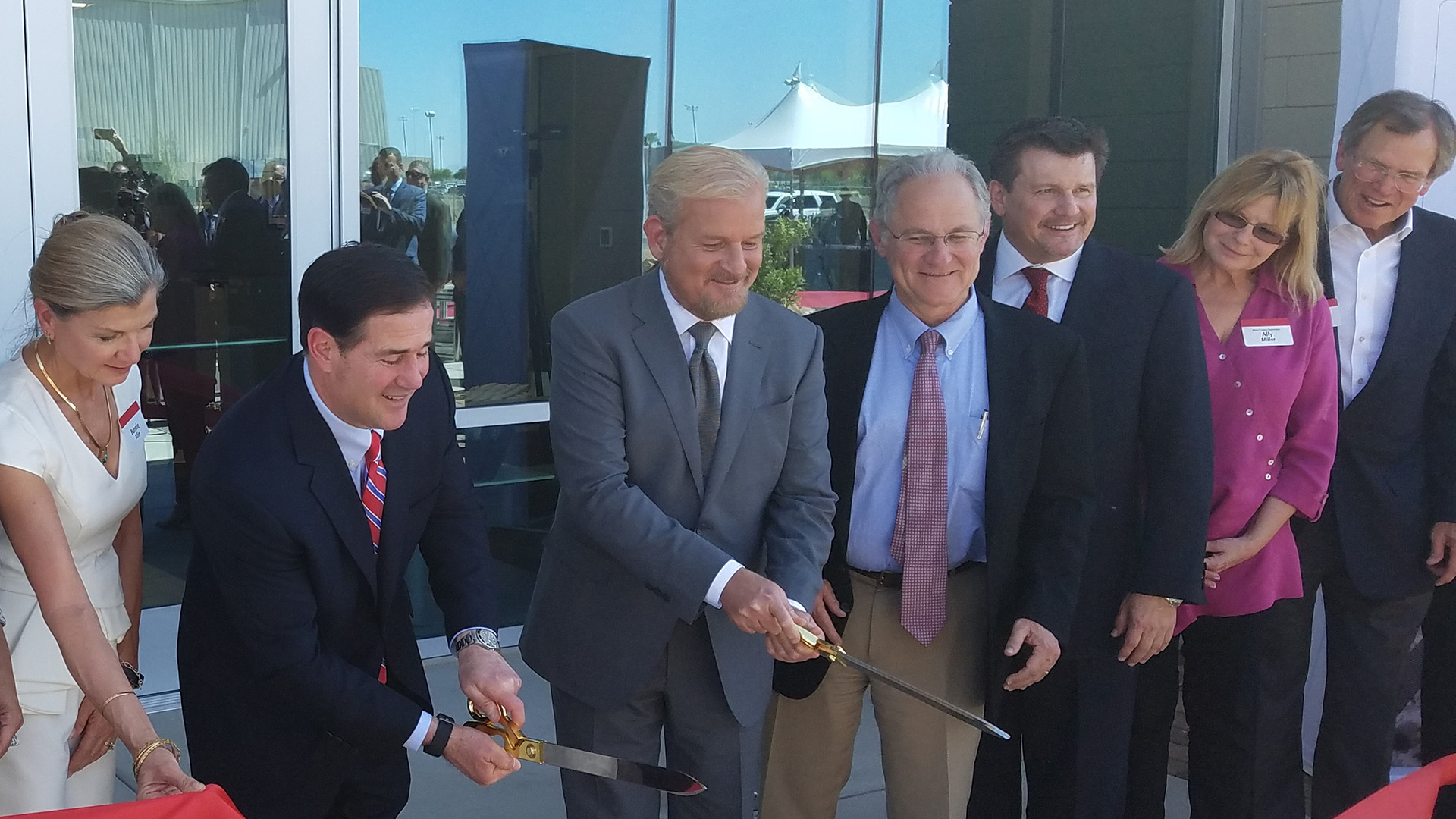 Mayor Rothschild, center, attends a ribbon-cutting for a new expansion at Raytheon last week. The expansion was made possible by realigning a road and allowed the city to install water lines prior to the arrival of a tenant.
Zac Ziegler, AZPM
Tucson Mayor Jonathan Rothschild thinks the metro area can help entice new employers by getting vacant industrial and commercial land as close to shovel ready as possible.
"Because if they come out here and say: 'Oh, we'd love to be in Tucson. This is a great place. You've got the workforce we want, the environment and weather we want. How long will it take you to build that infrastructure?'" he said, adding that a timetable of years can often break a deal.
"We've had those conversations, [and] they don't have that time."
Rothschild was among the speakers at a ribbon-cutting event for a new expansion of Raytheon Missile Systems last week. Raytheon officials said the expansion was made possible by realigning a road and helped the company add 2,000 jobs.
The road realignment also gave the city the chance to add some water infrastructure to the area, Rothschild said. He thinks it will further entice businesses to move to space along Aerospace Parkway.
Local economic planners have talked to companies about the land near Raytheon, he said, but no announcements are pending. He said the same is not true of another growing business site in Tucson.
"We're seeing some activity from possible employers," he said. "I think there's going to be a pretty large announcement pretty soon closer to the Port of Tucson and that logistics area."
The Port of Tucson is near Kolb and Interstate 10.
Rothschild said retailers Home Goods and Target are happy with the site because it allows easy access to interstate highways and rail.