*This feature was produced in partnership with Christopher Conover. Click to listen: *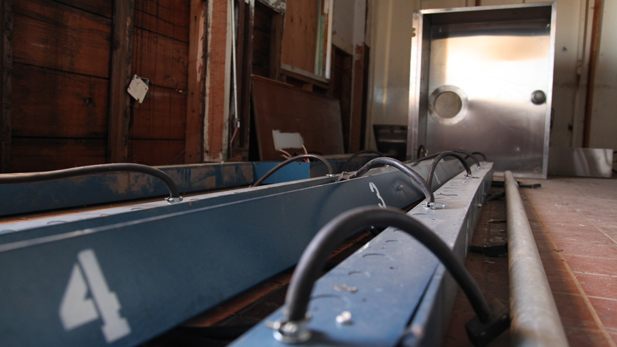 Lena Horne once performed beneath these stage lights.

Gisela Telis
On a dry September night in 1942, beneath the Huachuca Mountains and the still white stars, Lena Horne's voice was unmistakable.

It carried, light and shimmering, through the cavernous main hall of Fort Huachuca's Mountain View Colored Officers' Club. "You're My Thrill" swept past rows of seats, up over the balconies and out to the covered porches and the darkness.

The audience—most of them black soldiers of the segregated 92nd and 93rd Infantry Divisions, headed to the frontlines of World War II—never forgot.

But time did forget the Mountain View. Fifty years after its heyday, it sat abandoned on a remote corner of the base, ringed by a tattered chain link fence and slated for demolition.
And that was when Harlan Bradford found it.
Harlan Bradford looks out over the field where boxing legend Joe Louis, a frequent visitor to the club, held exhibition fights.

Gisela Telis
Missouri-born Bradford had served with an all-black unit in the late 1940s. He came to Fort Huachuca in 1974, and only began to dig into the club's history in 1998.
When he learned it was the only officers' club built expressly for black officers during the era of military segregation, and had been graced by the likes of Horne, Count Basie and Duke Ellington, he was floored.
"I don't know if the Cotton Club had anything as fabulous as this was," he says. "If you was an old country boy, black and never seen anything like this, you were in heaven."
Armed with an Army Corps of Engineers report that deems the club eligible for the National Register of Historic Places, Bradford and the Southwest Association of Buffalo Soldiers (SWABS) have been fighting to save Mountain View ever since.
Despite considerable community support, it hasn't been easy.
"Money has been the big problem," says Bradford. "I wasn't expecting that."
Much of the expense arises from a requirement of the National Register. The building must be restored to historical integrity, which means putting the 17,000-square-foot structure back the way it was in its glory days.

Because Mountain View lived many lives after World War II—serving as a dinner theater and a storage site before it was abandoned—restoration has required extra effort and cash, and until last year Bradford and SWABS have had little luck securing either.
But in May 2010, Bradford met Clifford Sanders.

Sanders, a ruddy Arizona native with a boisterous sense of humor, made multi-million-dollar homes for a living.

He signed on for a three-week stint with the SWABS, whose work appealed to him for personal reasons. Sanders' uncle had served with a black regiment and felt "a great respect for the Buffalo Soldiers," he recalls.
By the end of those three weeks, Sanders was hooked.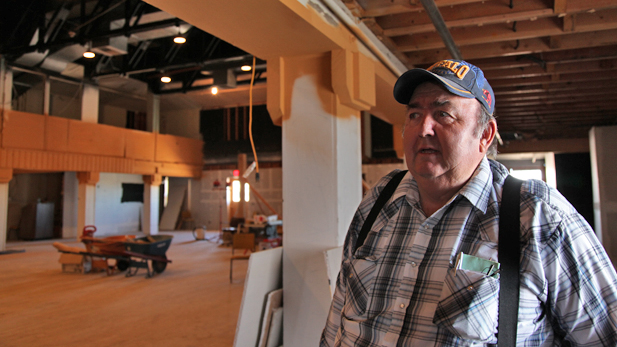 Since May of last year, Clifford Sanders has worked daily to restore the club's historical integrity.

Gisela Telis
Since May, he has worked to restore the club while bringing it to modern code, cutting costs where he can by salvaging used materials, turning to big-box stores for donations and even bringing in beams he'd intended to use in his own home.
He aims to complete the restoration by September 2012, the club's 70th anniversary. He estimates he'll need another $1.5 million to get there.

He'll also need Fort Huachuca's support, and there is no guarantee he'll get it. In a December 2010 letter to the SWABS, former Fort Huachuca chief Maj. Gen. John M. Custer called the building an "unsafe and hazardous nuisance" and reminded the group that their lease renewal is contingent on their meeting certain renovation benchmarks in time.
The SWABS lease on the club expires Sept. 30, 2011. If it's not renewed, Mountain View goes back on the Army's demolition list.
The SWABS say they have responded to Custer's concerns and requested a meeting with the base's new commander to discuss the club's future. But regardless of the meeting's outcome, they say, they'll continue working on the building for as long as they can.
For them, for Bradford and Sanders, and for many veterans of the segregated ranks, the Mountain View Colored Officers' Club is much more than an old rec hall.
"You look at it, you go, 'That's a pretty nondescript building,'" says Steven D. Smith, an anthropologist and archaeologist at the University of South Carolina who helped prepare one of several Army Corps reports on Fort Huachuca, its black history and the Mountain View Club.

"The symbolism behind this building and what it means to the history of the African-American soldier and the African-American officer, in particular, is large and looming."
Sanders and Bradford have hope that that large and looming symbolism will live on—and perhaps, if things go just right, hold music within its walls once more.
"It'll take life when we get a band in here and get some jazz going," says Sanders. "It'll take life."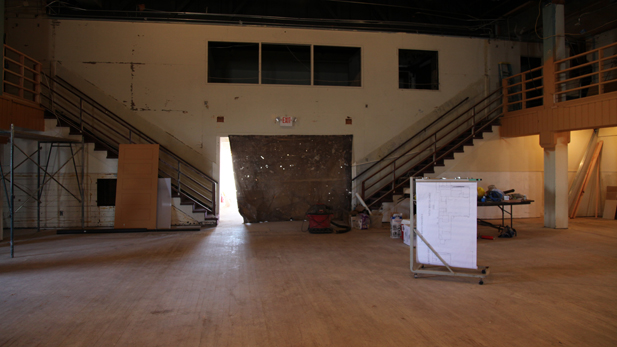 Mountain View's interior today.

Gisela Telis