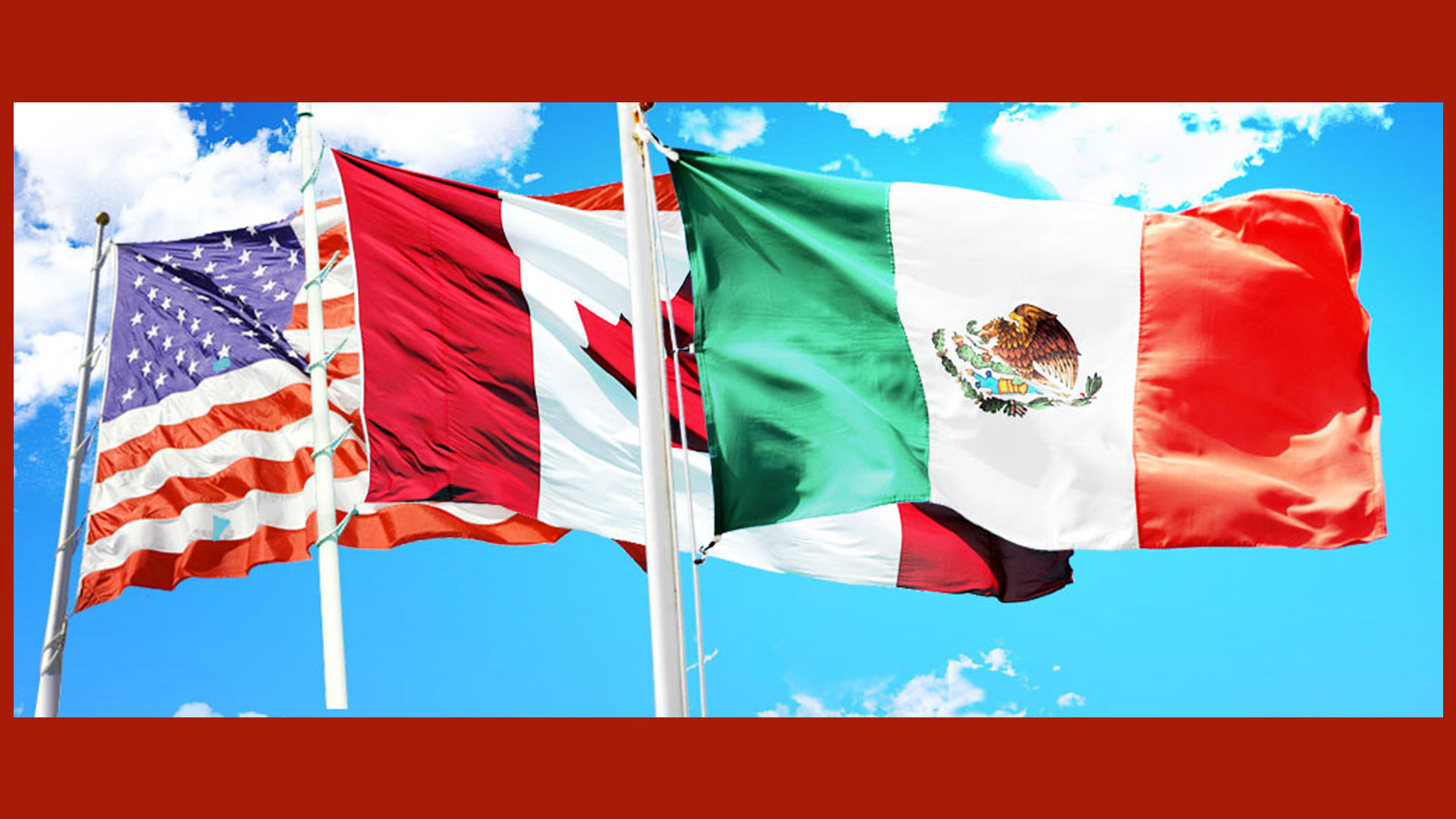 Flags of the U.S., Canada and Mexico.
MEXICO CITY- Canada, Mexico and the U.S. will co-host the United 2026 World Cup. And for one of the masterminds behind it, the soccer tournament's biggest score might be creating a better collaboration among the three nations.
Arturo Sarukhán is Mexico's former ambassador in the United States. He envisioned a bilateral World Cup in 2011 and discussed the idea with President Barack Obama.
Canada was added to the winning bid, but now "the relationship sadly has changed profoundly," Sarukhán said.
However, he did say United 2026 could help heal some tensions.
"Particularly soccer, but sports in general, is a huge social connector," the former ambassador stated.
And this may happen, even amid the current renegotiation of NAFTA, the region's free trade agreement.
"I don't think the North American bid is going to have any impact on moving the needle on the NAFTA negotiations, what it will have an impact on is that North America is gonna have to do some hard work re-thinking what our borders look like," Sarukhán said.
He said the World Cup is an opportunity to improve transborder connectivity, re-shape labor programs and modernize airports, roads and railways, while boosting trade. He sees a unique opportunity brought by the World Cup to make Mexico and the U.S. get closer, particularly considering the largest number of Mexicans living in the U.S., and of Americans in Mexico.
"It can send a very powerful message to the rest of the world on to what North America is, and it can serve as a reminder to the people of Canada, the U.S. and Mexico on why we depend on each other's success," said Saruhkán.
He said that the existing stadium infrastructure among the three nations helped them win the World Cup bid, but more should be done on other trans-border issues to show that "more things unite us than divide us in North America."
---
"United 2026" will be the first World Cup hosted by three nations.
It will be the second world soccer tournament for the United States (1994) and the first for Canada, while Mexico becomes the only country in the world to celebrate three world cups (1970 and 1985).

As soon as "United 2026" was announced as the winning bid, President Donald Trump and Canadian Prime Minister Justin Trudeau celebrated on Twitter. And so did Mexican President Enrique Peña Nieto, who posted a video on his account stating that the award recognizes the three countries' capacities and their unity beyond culture and business.
Forty-two national teams will play at "United 2026"; 14 more than usual. And 60 out of 80 matches will be held in U.S. stadiums. Phoenix did not make that list.
The legendary Aztec Stadium in Mexico City is expected to feature the inaugural match.
What a day.
What a day.
What a day.

Relive the moment that sparked a celebration across .

— United 2026 (@united2026) June 13, 2018