On a sunny morning at Hillenbrand Stadium, the team trots in formation, shouting across the close-mown grass. They seem to have known each other forever, but these 20 players met just the day before.
They are all young military veterans and recent amputees, and thanks to a unique University of Arizona program, they've come together from every corner of the U.S. for a single purpose: to play softball.
They're playing as part of a two-day all-veteran, all-amputee athletic clinic geared toward introducing its participants to available opportunities in higher education and sports.
Sponsored by the UA Disabled Veterans Reintegration and Education Project, with support from the U.S. Veterans Administration and UA coach Mike Candrea and the softball team, the program is in its third year at the university.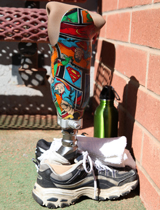 The team's playoffs showcase over $2 million in prosthetic equipment, says Van Sleet. (PHOTO: Luis Carrion)
The clinic features workshops on education and VA benefits, workouts and massage sessions, but its core focus is connecting veteran amputees with each other and with a love of the game.
"Some of these guys have lost their throwing arm," says David Van Sleet, the team's coach and a Veterans Administration Southwest Health Care prosthetics manager. "They're learning to play the game again after their amputation."
For Nate Lindsey, that relearning is a kind of homecoming. The 25-year-old Army sergeant and DeKalb, Illinois native says he loved playing in a softball "beer league" before his amputation.
Lindsey was on his second tour in Iraq in August 2007 when he was injured. He was a .50-caliber machine gunner clearing a path for other military vehicles when a roadside bomb exploded.
"Before I could get into the turret, it blew me up pretty good," he says. Lindsey lost his right arm just below the elbow.

Despite a lengthy rehabilitation and a prosthesis that makes delicate movements—such as picking up a piece of paper or scratching an itch—possible, Lindsey has had to make considerable adjustments. The hardest, he says, has been learning to write left-handed.
Lindsey has also learned a new field—he now trains his fellow soldiers in information technology—and found a new home. Recently transferred to Ft. Huachuca, he's adjusting to life in Arizona with his wife, 5-year-old daughter and 8-month-old son.
They keep him going despite life's curveballs, he says, and inspire him through the days of softball and socializing the clinic has afforded him.
"It's great to meet people with the same limitations, to get to know everybody and hopefully to show people that our injuries aren't stopping us from playing," he says. "To show my kids that I can still do stuff like this. That no matter what, life goes on."
This web feature was reported in partnership with Luis Carrion, who produced an accompanying video feature for Arizona Illustrated. Click to watch:
Twenty veterans from around the U.S. will get a tour of the UA that includes athletics clinics and sessions on how to take advantage of their higher education benefits. At the 4-day camp, vets will attend athletic clinics and learn from coaches and student-athletes.
AZPM