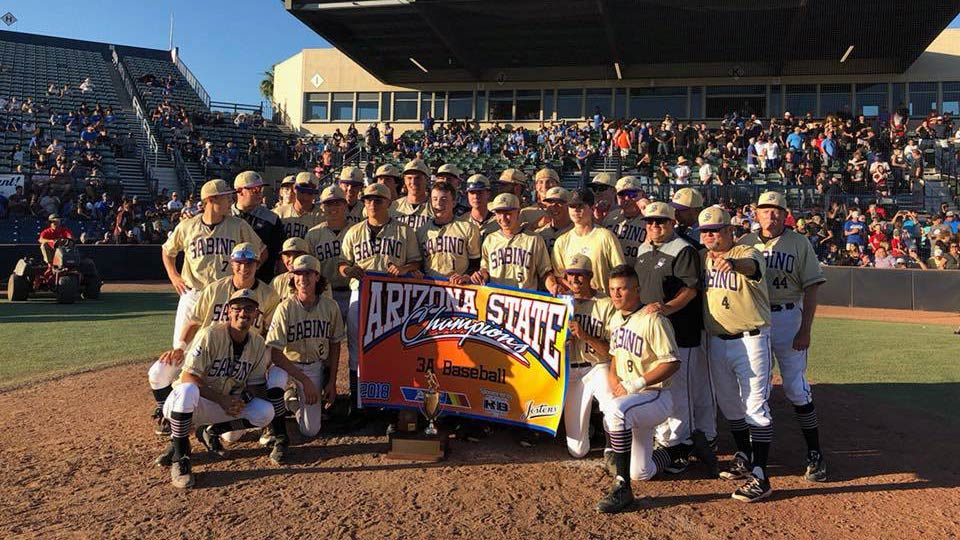 Sabino High School's 2018 Varsity Baseball team had a come from behind victory to become the 2018 3A Baseball State Champions.

Sabino High School via Facebook
When Sabino High School's varsity baseball team won the state championship in the spring, it closed a 21-year stretch since the last time it got the title. Now, that title could be stripped after the launch of an internal investigation into multiple allegations.
The possible violations include using an ineligible player, inappropriate use of funding and illegal recruitment practices during the 2018 season, according to Gabriel Trujillo, superintendent of Tucson Unified School District.
"The investigation itself is multifaceted," Trujillo said.
The Arizona Interscholastic Association, which oversees high school athletics, prompted TUSD to open an internal investigation that in return could end with the retention of the 2018 championship title.

"So, we take this investigation extremely seriously," Trujillo said at a press conference about the investigation. "It is a three-pronged investigation."
Leading the investigation is the director of student safety for TUSD, Jeffrey Coleman.
Investigators are currently interviewing student athletes, parents, coaching staff and some former student athletes from Sahuaro High School's baseball program, according to Trujillo.
"It is summer and it is hard to get parents in when they are on vacation, it's hard to get students who are out on vacation, that has largely caused some delays," Trujillo said.
Another delay in the investigations is centered around students' comfort level talking about their coach "and communicating information that students feel may be detrimental to the performance of their coach," Trujillo said.
Trujillo hopes the district will wrap up its investigation by early August so the district can present the findings to the AIA executive board by Aug. 13 for a decision.
Herman House is the director for interscholastic athletics and AIA board president. He will not take part in rendering any decisions for Sabino's baseball team due to a conflict of interest with Sabino's head baseball coach, Mark Chandler, Trujillo said.
This is the first internal investigation of TUSD's athletic department to take place under superintendent Trujillo.
Follow Brandon Mejia on Twitter or contact him via email at BMejia@azpm.org.