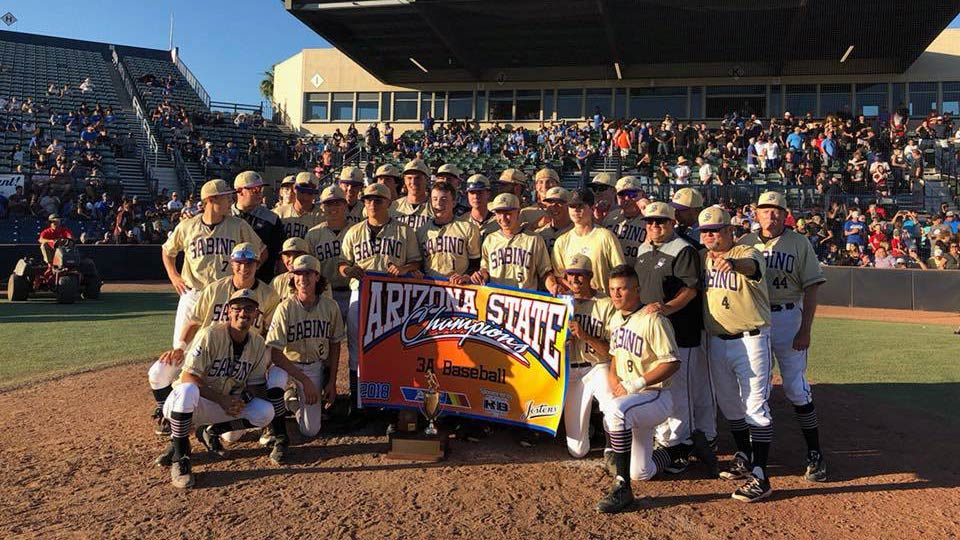 Sabino High School's 2018 Varsity Baseball team had a come from behind victory to become the 2018 3A Baseball State Champions.

Sabino High School via Facebook
Tucson Unified School District plans to present the findings of an internal investigation into alleged illegal recruitment by the varsity baseball program at Sabino High School to the governing board on August 14, after more than two months of investigating.
The Sabercats varsity baseball team became state champions last year, closing a 21-year stretch. That title is on the line due to a single complaint that alleges the team was recruiting illegally — along with other accusations — according to Gabriel Trujillo, TUSD superintendent.
"To conduct a diligent investigation, we would have to look at all the transfer players that came in," Trujillo said during a media briefing this week. "These are accusations, we are doing our due diligence to investigate and determine the validity of these allegations."
The varsity team has 10 transfer players that took part in winning the state championship last year.
"We [TUSD] are focusing on two transfer players and concerns about the allegations made by this one complainant," Trujillo said.
The district has not released the names of the players involved in the allegations.
Trujillo reiterated at the media briefing that the investigation involves players and parents who are recent transfers. Parents of players who weren't transfers expressed concerns at a board meeting two weeks ago because they weren't asked to be involved in the investigation, Trujillo said.
The individual who lodged the complaint is being interviewed as part of the investigation.
The allegations include fielding an ineligible player, inappropriate use of funding and illegal recruitment practices during the 2018 season, according to Trujillo.
The Arizona Interscholastic Association, which oversees high school athletics, prompted TUSD to open the investigation.
Leading the investigation is the director of student safety for TUSD, Jeffrey Coleman. Not only are investigators interviewing student players, parents and coaches, they are also interviewing former athletes from Sahuaro High School's baseball program, Trujillo said.

The TUSD investigation team plans to present its findings on Aug. 14 to the TUSD governing board in executive session, before going in front of the Arizona Interscholastic Association's executive board. If the accusations can be proven, it could result in the retention of Sabino's 2018 baseball championship.
Follow Brandon Mejia on Twitter or contact him via email at BMejia@azpm.org.