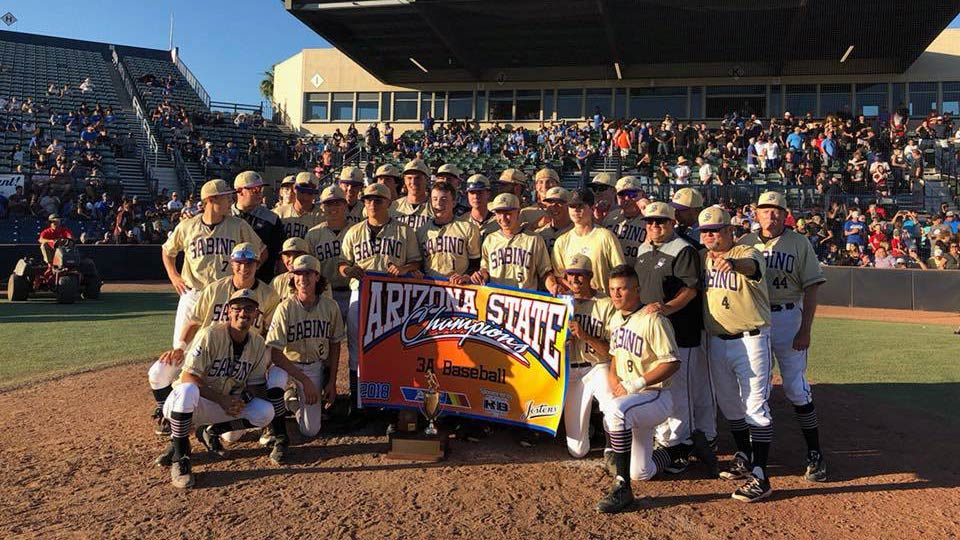 Sabino High School's 2018 Varsity Baseball team had a come from behind victory to become the 2018 3A Baseball State Champions.

Sabino High School via Facebook
The Tucson Unified School District plans to appeal the Arizona Interscholastic Association's ruling that Sabino High School baseball violated some of the association's rules.
TUSD will invoke its right to appeal, according to Superintendent Gabriel Trujillo, after the AIA chose to revoke the 2018 State Championship title and place Sabino's baseball program on a one-year probation.

The district's investigation found Sabino High School's 2018 baseball program in violation of two out four bylaws set by the AIA, which oversees high school athletics, but Superintendent Gabriel Trujillo said the violations shouldn't come at the cost of the student athletes.
"I never believe that a student athlete or a student in general should pay for a lack of oversight on part of the adults or the system or any gaps in decision making with regard to the coaching staff," he said.

The findings of the investigation led by TUSD school safety director Jeffrey Coleman were presented to the AIA executive board Tuesday.
Tucson Unified and the Sabino High School administration will appeal the ruling at a September 12 meeting with the AIA.
As of last week, head coach Mark Chandler and one other coach from the Sabino baseball program have resigned, Trujillo said.
"Every single coach that is involved in any part of this investigation has also been asked to either resign or not return," Trujillo said. That includes two volunteer coaches on the team.
The Four Alleged AIA Bylaw violations:
Allegation 1: The Sabino baseball program violated AIA recruitment rules.
The TUSD investigation could not validate that the Sabino baseball's coaching staff engaged in the practice of recruiting or trying to influence student athletes and players from other schools to join the Sabino baseball program.
Allegation 2: Coaches had prior contact with students who participated in the Baseball Next Level clinic before joining the team.

The district's investigative team found these allegations to be true, and that Sabino's baseball team did contact student athletes who were previously part of the Baseball Next Level clinic.
Allegation 3: Inappropriate use of funds.
The investigation has determined that there was an illegal payment using funds from the booster club to fund a stipend or some form of compensation for an additional coach.
Allegation 4: Parents and students were pressured to participate in outside baseball clinics or clubs.
TUSD did not find the allegation valid.

The investigation also included a fifth violation, however it is was regarding a TUSD governing board policy, not an AIA bylaw.
It alleges the unprofessional conduct, noted as bullying, occurred between coaching staff and a student athlete.
Details on the status of the violation have not been divulged because it is protected by the Family Educational Right to Privacy act of 1974, Trujillo said.