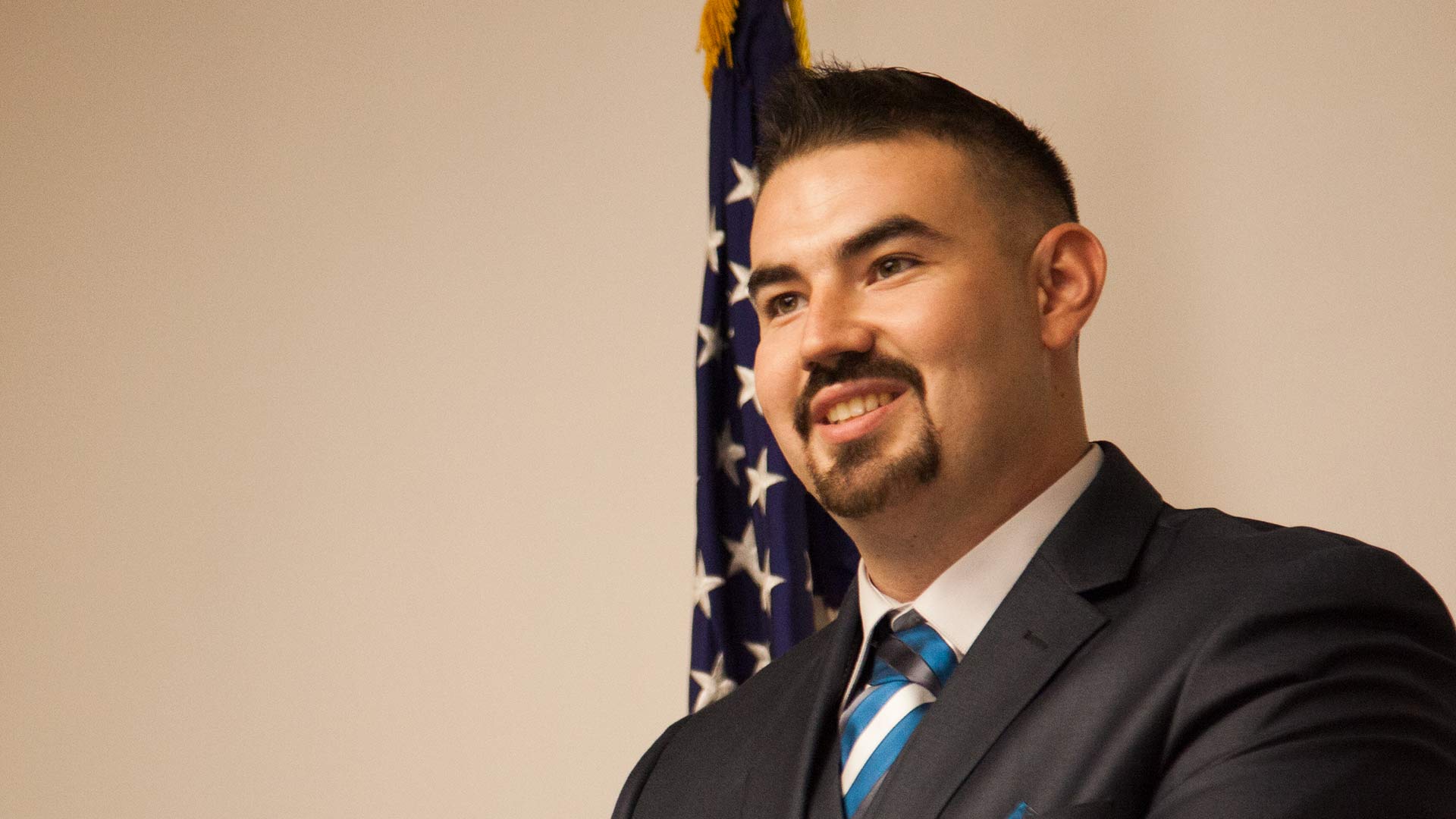 Veteran Nicholas Andres Figueroa at the Tucson Metro Chamber, Sept. 13, 2018
Nick O'Gara, AZPM
Tucson is one of three communities conducting a pilot program connecting military veterans to employment, specifically in the aerospace and defense sectors.
Job seekers may connect to employers, educators and to workforce development resources via an online program developed by Futures, Inc. Some of the resources that will be available to job-seekers on the mobile-friendly site include a tool for job and career searches and a resumé builder.

The program is being piloted by Tucson Metro Chamber and sponsored by Pima Community College, AGM Container Controls and other local organizations.
Ian Roark, Vice President of Workforce Development at PCC, said that the new program is a win-win for veterans and employers.
"It saves them money. It saves them time. It gets them connected to an employer at the beginning of the program of study and the employer and the veteran both are served well at the end of it because the veteran, who's also a student with us, is already gainfully employed and the employer is well satisfied because they have a trained technician or manager."
According to Howard Stewart, President of AGM Container Controls and Chamber board member, veterans come to civilian life with skills that are highly desirable.
"A challenge to many companies looking for skilled workers are soft skills such as teamwork, leadership, and collaboration," he said. "Military personnel develop strong soft skills so I know when I hire a veteran, they will work hard to get the job done."
Marine Corps veteran and PCC student Nicholas Andres Figueroa hopes that the program will help to bridge the gap between military life and home life.
"When we get out of the military, we have a sense of security," he said. "We have housing, we have health insurance, we have dental insurance and we have a paycheck. And then once you transition out of that, you don't have anything."
According to the Bureau of Labor Statistics, the national unemployment rate for veterans is 3.8 percent, which is lower than the overall national unemployment rate of 3.9 percent, while the unemployment rate of Arizona veterans is 4.6 percent.
As part of the initiative, Pima Community College, in conjunction with Tucson Chamber, will host a face-to-face hiring event at Pima's main campus, 1255 N. Stone Ave, Tucson, on Tuesday, Oct. 23 from 1 to 6 p.m.
For more information visit the program website.