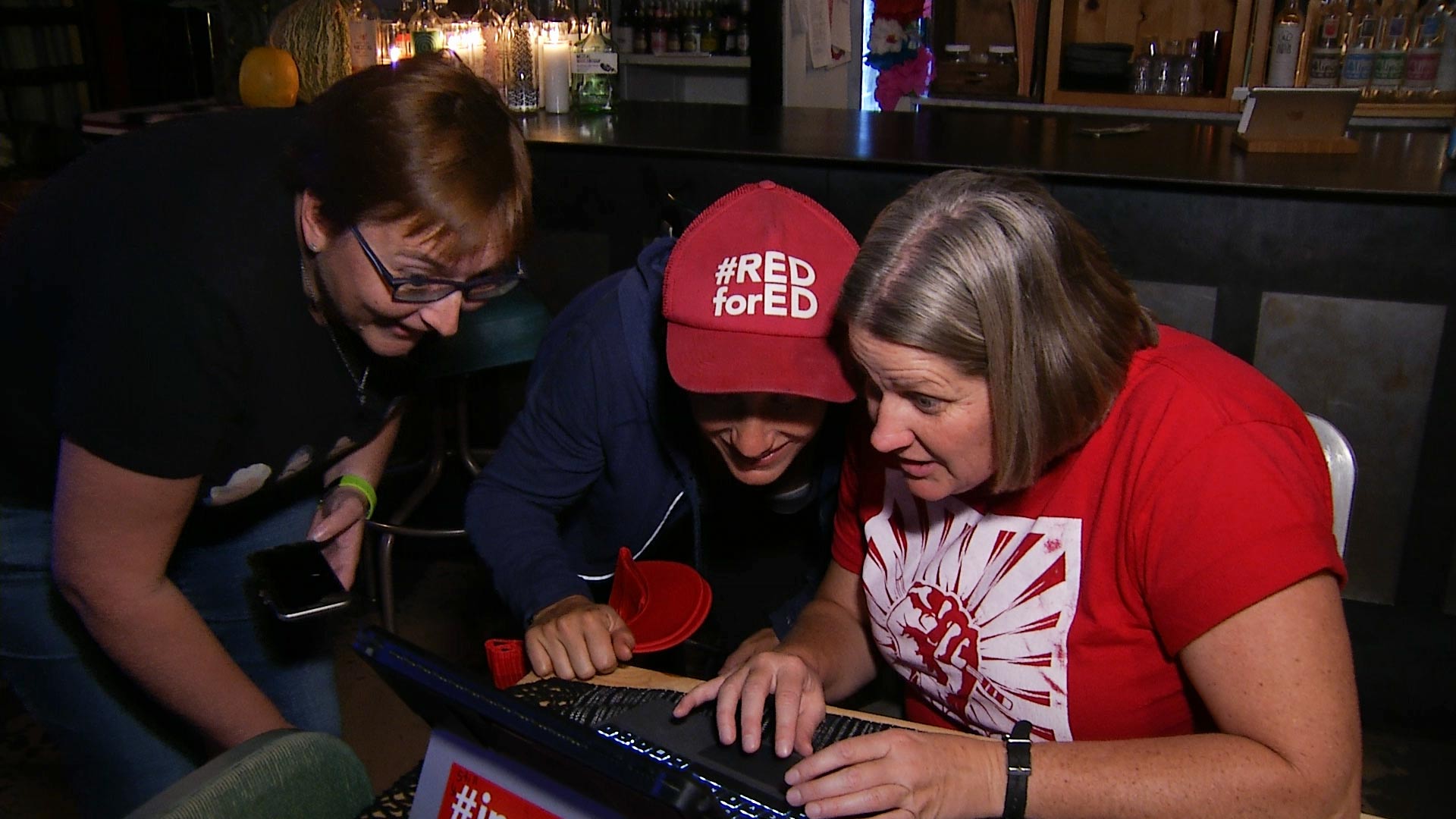 Members of Tucson's #RedforEd education advocate community gather Nov. 6, 2018, to watch the results of the election.
Martin Rubio, AZPM
Proposition 305
| Empowerment Scholarship Accounts | % | Votes | |
| --- | --- | --- | --- |
| Yes | 35.17% | 790,608 | |
| No | 64.83% | 1,457,070 | |
Supporters of the #RedforEd movement gathered in downtown Tucson Tuesday night to watch election results. While they cheered the defeat of Proposition 305, which would have expanded the state's school voucher program, the mood was not as jubilant when it came to Gov. Doug Ducey's re-election.
Wes Oswald is a third grade teacher at Manzo Elementary. He says under Ducey's watch Arizona has fallen to the bottom of the country in terms of teacher salaries and per pupil funding.
"We need to get a better governor who supports public education, who is not trying to privatize public education in Arizona," Oswald said.
Arizona voters widely rejected Proposition 305, which would have expanded the state's school voucher program.
"It's not something to celebrate, that we're not going to take more money from public schools. I'm relieved that it's losing, but we need way better propositions on our ballot in Arizona," Oswald said.
He says those better propositions would bring more money to the public school classrooms.
"We've got a bad history in Arizona of defunding education and we've got to put that to an end."
And, he says, a big part of that is changing how campaigns are funded.
"It seems like in Arizona the people who have the most money tend to win and not the people who have the best ideas or the candidates who really work for and fight for the people. So we need to get dirty money out of Arizona."
He says that would be a good start for public education and for the state as a whole.

Read more coverage of national, Arizona, and local elections at our 2018 elections portal,
Your Vote 2018
.