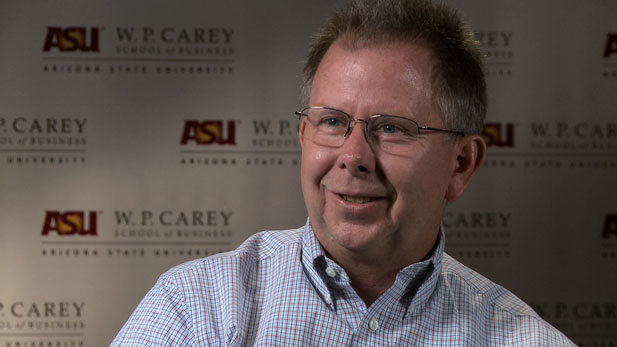 Arizona State University economist Dennis Hoffman has been tasked with analyzing the Fiesta Bowl's economic impact on Arizona.
The hiring of University of Arizona President Robert Shelton should lead the Fiesta Bowl back to respectability after a spending and political scandal, close watchers of the sports conglomerate say.
"Bad PR is bad PR, and it certainly leaves an imprint at some level," Arizona State University economist Dennis Hoffman said in an interview for Friday's Arizona Week. "I think the stability that the bowl can demonstrate by getting its fiscal house in order, cleaning up. ... and there is new leadership ... all of that helps to put the bowl on a very solid trajectory going forward."
Hoffman, a professor of economics in ASU's W.P. Carey School of Business, is under contract to analyze and report the economic impact of the Fiesta Bowl and its related events. He said the report on this year's activities, which were in January and included the Bowl Championship Series football game to crown the national collegiate football champion, will be out within a week.
"I would imagine it would be similar order of magnitude -- $350, $400 (million). I guess I'd be a little surprised if it were greater because the economy's a little different than it was four years ago," Hoffman said, referring to the last time the Fiesta Bowl hosted the national title game along with its other events.
In non-championship years, the impact is about $250 million to $280 million, almost all of it from out-of-state tourists, he said. He adds an immeasurable impact of the Fiesta Bowl games is the visibility it gives to Arizona as a visitor destination.
"The imagery that takes place, the air time, that is created by these major sporting events is attractive to future visitors and to future businesses, and it's really difficult to measure that," Hoffman said. "It's impossible to accurately gauge those numbers."
That kind of impact may explain why Fiesta Bowl and state officials were quick to react when a special investigative report revealed lavish spending, a questionable if not illegal political contributions scheme and other misdeeds. The bowl's board of directors immediately fired CEO John Junker, who already was on leave of absence for refusing to cooperate with the investigation.
The Bowl Championship Series considered dropping the Fiesta Bowl from the 4-year rotation for the championship game, a big money maker for the bowl and the state's tourism industry. It decided to keep Arizona in the rotation, but fined the Fiesta Bowl $1 million.
Shelton, UA president for the past five years, was hired this week to run the Fiesta Bowl as executive director. He will begin Aug. 1 and said he wants to move the organization forward and not dwell on the past.
"There, of course, have been a number of revelations about the Fiesta Bowl," Shelton said this week at his inaugural news conference. "I've watched them very carefully. But it's clear to me that those troubles, and they are definitely serious, reflect a few individuals. ... So what we have to do is look forward. We have to make sure that we remain accountable, and we will. We have to look forward and understand how important this Fiesta Bowl is to all of us."
Yet there may be more "bad PR" to come.
The Arizona attorney general's office and the Maricopa County attorney's office are investigating a December 2009 report in the Arizona Republic that Fiesta Bowl employees were being reimbursed for contributions they were encouraged to make to politicians whose support bowl officials wanted. The report was the starting point of exposing problems in the organization.
Last October, the bowl's board of directors assembled a special investigative panel that produced a lengthy report in March detailing the issues, including Junker expensing visits to a strip club, throwing himself a 50th birthday party costing $30,000 at Fiesta Bowl expense, and even paying for the wedding of a bowl employee.
More damaging publicly, perhaps, were details in the report of free football tickets for 16 Arizona politicians and all-expenses-paid junkets for legislators to college football games around the country. State Senate President Russell Pearce, a Republican from Mesa, was among those implicated.
Pearce initially denied he had taken free tickets, then later repaid the bowl and amended 10 years of gift disclosure reports required of elected officials.
Will the Fiesta Bowl suffer long-lasting damage?
"Time will tell, certainly as to how this kind of thing plays out," Hoffman said. "It was comforting to read that we are still in the BCS rotation with the Fiesta Bowl (for the collegiate championship football game)."
Reporter Michael Chihak further explores the controversy surrounding the Fiesta Bowl in the June 17 issue of Arizona Week. Watch it now:
UA President Shelton tasked with leading the Fiesta Bowl back to responsibility.
AZPM