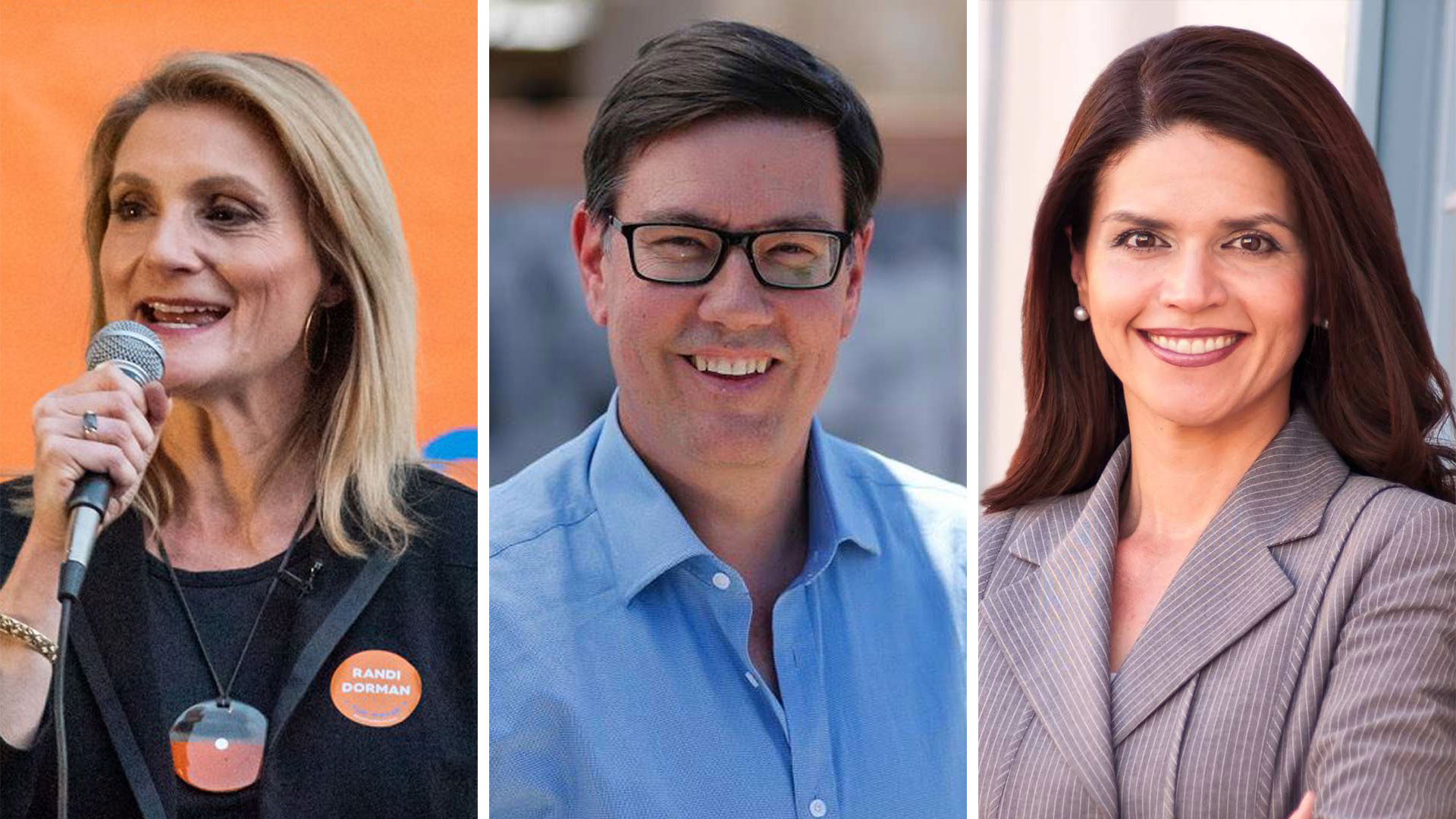 Democratic candidates for mayor of Tucson Randi Dorman, Steve Farley and Regina Romero, from the candidates' Facebook pages.
The race to be the next mayor of Tucson is underway. Mayor Jonathan Rothschild will not be running for a third term, so those hoping to replace him are on the stump.
The Democrats kicked off their campaigns with an April 18 forum hosted by the University of Arizona Young Democrats and the Pima County Young Democrats.
Three Democrats vying to replace Mayor Rothschild took part in the forum: Randi Dorman, Steve Farley and Regina Romero. All are longtime Tucsonans. The format allowed them to answer questions and to speak directly to the audience, but not to address or debate each other.
They agreed on the main substance of the issues — environment, sustainable energy, affordable housing, immigrant policy and education — and spent their time highlighting the differences in their personal qualifications for the position.
Romero touted her credentials as a native Arizonan — the daughter of immigrant farmers, the first in her family to go to college and the first to vote. But she said it was her 11 years' experience on the Tucson City Council that qualified her to be mayor. She said when she was elected to the council the city was mired in recession. She says as a council leader she played a central role in the city's resurgence and is therefore positioned to continue that success
"I will not need a learning curve," she said. "I know every corner of the budget and I know every department director and what they do. I can take the wheel from Mayor Rothschild without skipping a beat and move us forward to the just, sustainable and prosperous cities from day one"
But Randi Dorman said improving the status quo is not enough — that a fresh approach is needed. She's a sustainable housing developer, chairwoman of the Downtown Tucson Partnership and President of the Museum of Contemporary Art. She stressed she is not a politician and her experience working from within the community gives her the perspective necessary to find new opportunities.
"We need some new thinking," she said. "Our roads still have potholes, we don't have enough police and open space, and we have too many people living in poverty. We need to aim higher, we need to do better and we need a fierce fighter to make Tucson the very best that it can be. I will lead Tucson with a vision of what is possible."
She also said it was past time for Tucson is elect its first woman mayor.
For his part, Steve Farley says his combination of business and political experience sets him apart from his competition. He built a successful graphic design business before heading to Phoenix to represent Tucson in the Arizona Legislature. He served three terms in the House and three in the Senate, and was elected Assistant Minority Leader by Democrats in both the House and Senate.
He believes fighting for his home city against a hostile Republican majority in the Legislature — especially leading the fight for #RedForEd — honed him into the most effective candidate for mayor.
"Spending 12 years in the Legislature was not easy," he said, "But in the process you know how much knowledge I gained, how much experience I gained and how many relationships I was able to form — and how much that will do me good as mayor of Tucson. That can be powerful."
The fourth Democrat in the race, Denny Crafton, was not at the forum. The candidates from political parties have until the end of May to qualify for the August primary ballot.
Our coverage will continue before then, including the two Republicans in the race, and several independent candidates. They must also meet a late May deadline to gather enough signatures to get their names on the ballot.