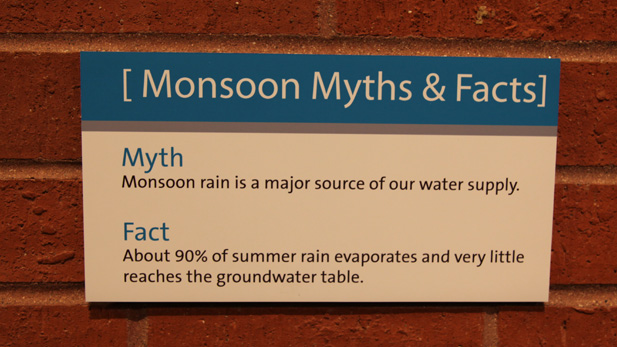 Andrea Kelly
Every year the Flandrau Science Center hosts a series of exhibits about the Monsoon, and the changing nature of the installation means there's something new each summer.
Gary Woodard is associate director of the University of Arizona's Science Knowledge Transfer. He was involved in the exhibits this year, and took Arizona Spotlight on a tour of the exhibits.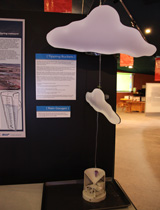 (PHOTO: Andrea Kelly)
He explained a video that local meteorologist Erin Jordan did, as a graduate project. In the video, she explains how little people know about driving in the rain.
"Time and time again, people get caught in the water, some by accident, unaware of the flood during the dark of night, or caught in water that was only a trickle moments before. Some drive in on purpose, trying to get to home or work. They underestimate the depth, the danger," Jordan says on the video.
Woodard also pointed out a lightning detector. The 200 detectors in North America can pick up the electrical lightning strikes and judge how far away they are, which ultimately is used to detect where a strike occurs.
He says the exhibit is meant to education the public.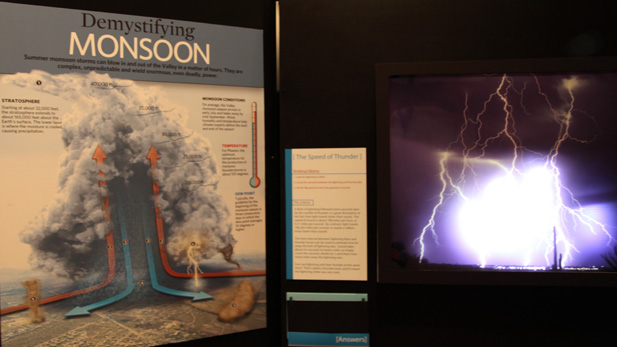 Andrea Kelly
"The college is really trying hard to improve communication between scientists and the general public. There's a lot of evidence that the public doesn't trust scientists they way they used to and that a lot of scientific issues have become political issues and so the relationship between science and the public seems to be a bit strained. So we're trying to improve that and we're trying to work harder to make what we do and how we do it more understandable to the public," Woodard said.
Think you know a lot about the Monsoon?
Even Woodard, a long-time scientist, and the creator of rainlog.org, picked up some new knowledge at the exhibit this year. He says about 20 percent of mature Saguaro cacti meet their death via lightning strikes. The tall cacti are like lightning rods.
"These 20- to 30-foot Saguaros standing are out there on an open hillside with their arms stuck up in the air, unable to move," he says. "When they are struck it's absolutely fatal to them."
The monsoon exhibit will be open through the end of September at the Flandrau Science Center, which is located on the U of A campus at the corner of University and Cherry.