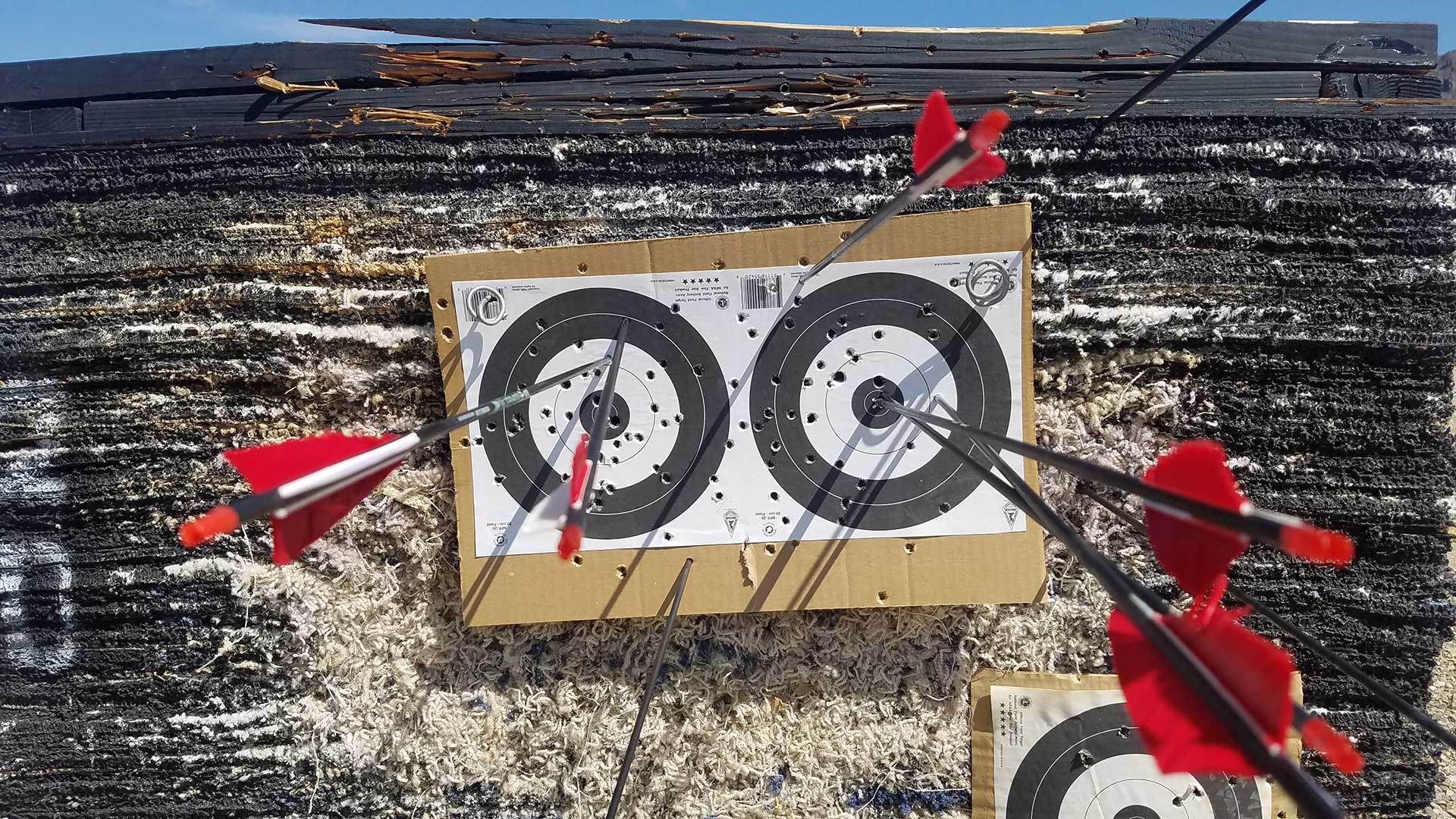 Arrows in an archery target at a range near Tucson.
Kassandra Lau/AZPM
Archery enthusiasts received a bit of good news when Pima County announced the backstops used in ranges would be updated to be more on target.
Archery backstops, also called archery butts, are the material placed behind archery targets to catch arrows.
The Arizona Game and Fish Department awarded the county $30,000 to replace the backstops in archery courses in the Tucson Mountain Park and the Southeast Regional Park.
"We're just replacing them, getting them back up to current, and then we expect somewhere around 20 plus-or-minus years out of the new backstops going in," said Leonard Ordway, the shooting sports program manager.
The Southeast Regional Park is updating its backstops from the nylon-covered, straw-bale design to a longer-lasting model similar to the current Tucson Mountain Park backstops, which will also be replaced.
The county will match the award in funding or in-kind labor.
"The total cost of this project is going to be somewhere between $76,000 and $80,000 before it's done," said Ordway.
The work will be done in the budget year that begins in July and is expected to be completed in late March 2020.
"It's going to take us a better part of three to five months or so to get all of the archery butts ordered from the vendor, and then once we have them it'll be somewhere around a five- to six-month process to get them all put in," Ordway said.
The archery ranges are self governed. Adults can get an annual pass for $25 or pay $3 per day, and kids under 16 shoot for free with an accompanying adult.
The Tucson Mountain Park Archery Range is open daily from sunrise to sunset. The Southeast Regional Park Archery Range is open Thursday and Friday 7 a.m. to 11 p.m. and Saturday and Sunday 7 a.m to 1 p.m. during the summer.

Monika Damron is an intern at AZPM and a student in the University of Arizona School of Journalism.