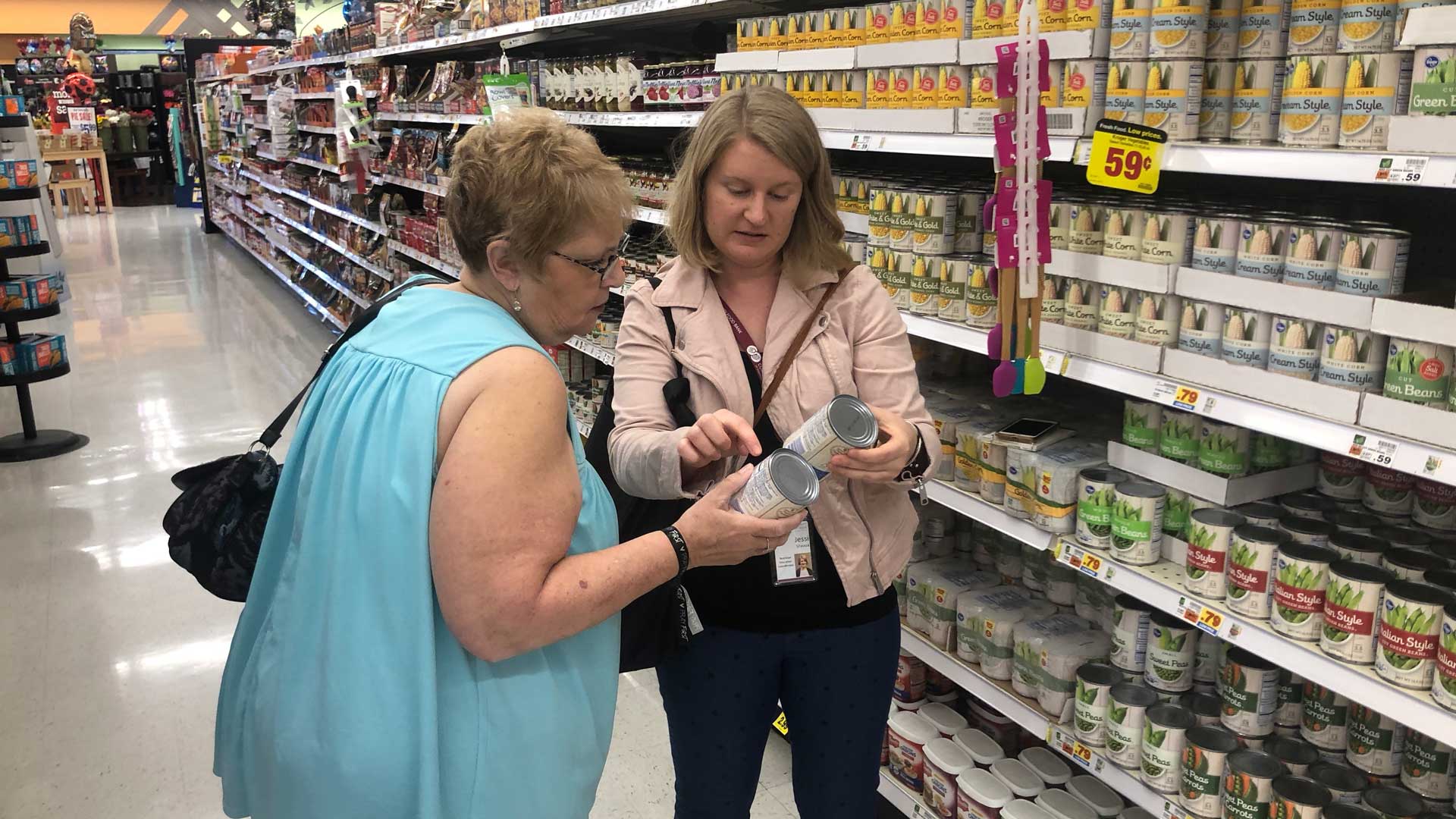 Jessica Sheava of the Foodbank of Southern Arizona talks nutrition and price with client Kathy Abbazia
Duncan Moon/AZPM
For many, a food bank is a place that gathers, stores, and distributes food to those in need. But food banks are evolving – focusing on dealing with root causes of hunger as well as the symptoms. Now, the Community Food Bank of Southern Arizona is also in the education business, offering programs to teach how to navigate your local grocery store to get the best nutrition and value possible.
Jessi Sheava coordinates the nutrition education program for the food bank. Today's 'class' is at a local Fry's grocery store. Classes can range from a single person to more than a half-dozen and may be delivered in English or Spanish. Today, it's English and the sole "student" is Kathy Abbazia.
Sheava always tries to pattern the lesson around the needs of her students.
"Before we begin, I will begin by asking when you signed up for this, what were you most interested about learning today," she asks Abbazia.
Abbazia says: "To learn more about labels and how to save money, 'cause my dollars, I tell you, I'm on a fixed income and you would be amazed at what I have to live on. I'm grateful for what I have, but I have to work at it."
Sheava begins with broad concepts and works down to the details. She says the perimeter of any grocery store has the most nutrient-dense foods – produce, meats, eggs, poultry and dairy.
"So if you fill your cart up your card with those foods on the outside first, your cart gets fuller and your brain tricks you into thinking, oh, I need to get less, because the fuller your cart gets the more money you're spending, and so you end up spending less on the inside, " she tells Abbazia.
Much of what Sheava teaches is how to read labels to judge nutrition and to use a calculator to make decisions about price. In the process, she works to lay aside any false assumptions.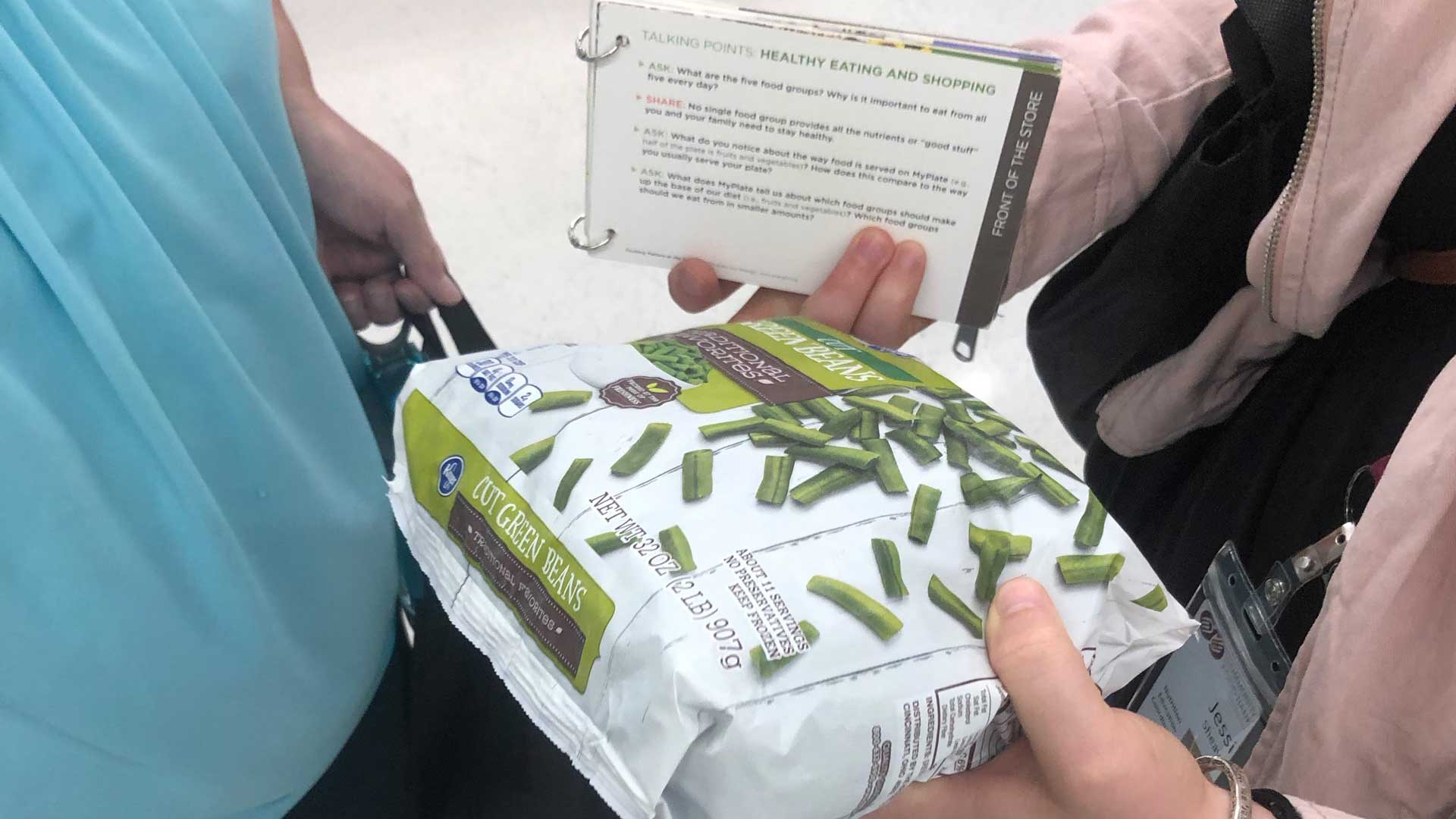 VIEW LARGER Evaluating a product for nutritional value

Duncan Moon/AZPM
"You know a lot of people thing that fresh is always best because people usually have the idea that fresh is healthiest," she says. "But the fact of the matter is that if you are careful about reading the labels on the back of the frozen or canned, frozen and canned are just as healthy as fresh. They have all of the nutrients that fresh have; they're just in a different form."
Abbazia says, for her, it's not only about getting the most for her dollar.
"The way we eat is how we're going to be in the future," she says. "Are we going to be healthy or are we gonna be sick? If we choose the right way of eating, we're gonna need less medical help in the future."
She also says it's important to her that the food bank course is evidence-based.
"There's so many people giving you false information that when you read something that says it's been proven, to me I'll take what's been proven over what's just some people talking."
These programs do more than educate people and families on how to eat right and save a few dollars. Sheava says the food bank takes a long-range view with its education and advocacy programs, In addition to nutrition, it also teaches vegetable gardening and provides advocacy and assistance with rent, utilities, diapers, and prescriptions. She says the food bank will always provide emergency food to those who are in need. And they will always work with other organizations to make sure that food is distributed across as much of the community as possible.
"But in order to do what we call shortening-the-line work, which is to have less people come to the food bank - to address some of those root causes of why people come to the food bank in the first place," she adds. "That's where some of these shorten-the-line programs come in. We're trying to work ourselves out of a job."
Sheava says a powerful way of shortening the line is to educate kids – helping to set tastes and habits - and catching them early with information they can use for a lifetime.
"The younger you address it, the more you introduce new flavors, textures, tastes, and different consistencies and make it fun, the more you help them establish good habits," she says. "If kids see that eating healthy food is cool and exciting, the more likely they are to eat those foods."
Sheava says education does not bring dramatic change overnight but being persistent creates positive change if you stick with it long enough. She says nutrition is her passion and she's not quitting anytime soon.