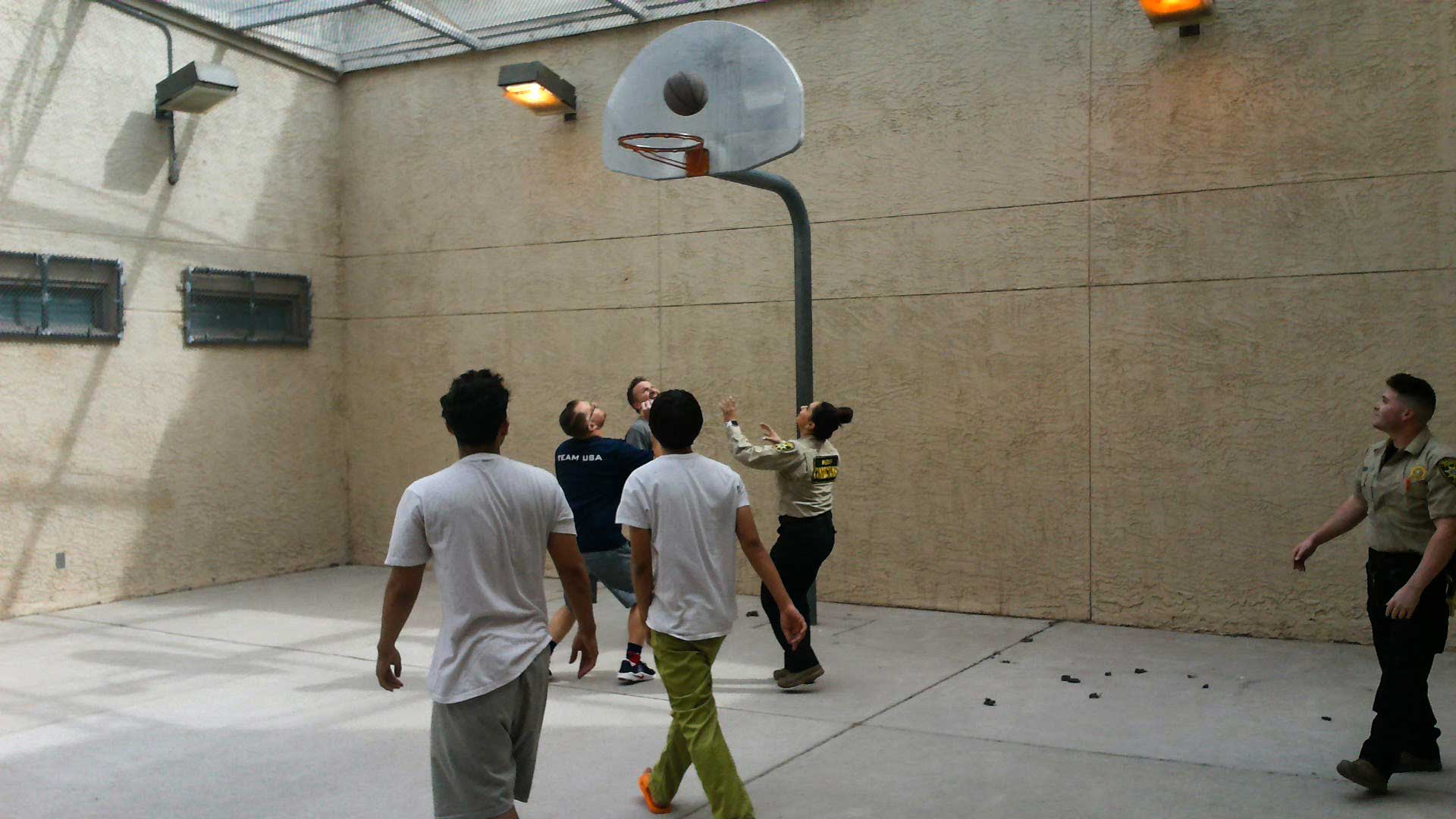 Basketball at the Pima County Jail.
Courtesy Pima County Schools Superintendent's Office
Educators are known for creativity in finding ways to engage with their students, especially when faced with limited funding. Pima County Schools Superintendent Dustin Williams has come up with an incentive to get some of his students to up their game. His idea was to get them to buy in to a unique basketball game.
At first glance, it seems like it could be any schoolyard basketball game, just another group of young men shooting hoops. But these students are from the Accommodation District — the schools in the county's juvenile and adult detention centers — and the basketball court is in the Pima County Jail.
Williams is here, but he doesn't just cheer from the sidelines. He's on the court, playing with his students. Williams says building relationships with his students is vital, that without them, growth and success are impossible. And he says believes in the fundamental principle that all students, whatever their background, can be successful
"These students have been forgotten about," he says. "They've had troubled lives, and what we have to remember is there's a heart in there. We've got to find it, and we have to provide the best education possible. We're going to put 100% in to make these kids successful.
But belief and passion aside, when he was first trying to figure out how to earn his students' trust and get them to meet a higher standard, he came up against a tough question.
"How can I help these students increase their behaviors with no money?"
He started with what he knew. As a former coach, he understood the power of incentive. If he could offer them something they valued, they might be willing to change their behavior. And for young men who spend most of their lives cooped up, active physical competition seemed promising. And so the idea of a monthly basketball game was born. The key is, in order to participate, students had to raise their grades and become model citizens.
"They show that they're making the effort basically of what a top-level student would look like," he says, "That means first and foremost being respectful, finishing their work, respectful to their peers, and just showing that behavior that is willing to lend a hand and be a good kid."
Williams approached Pima County Sheriff Mark Napier with the idea. Napier runs the facility, so he needed to approve it as well. The sheriff saw it as a win-win. He says any opportunity to educate the young men in detention center is worth looking at.
"The more that we can get kids out of the cycle of criminality and interested in education, that leads to less criminality. It just does," he says. "There's value from a public safety standpoint to investing in education, so if we can make an investment here, it's an investment in our entire community."
AZPM was not allowed to interview any of the young men — all are under the age of consent — but Sgt. Gabriel Figueroa, a correctional officer who works with them, says the basketball game brings them a welcome reprieve.
"For that split moment, they forget where they are," he says. "They forget they're incarcerated and they're just kids for that moment, and they need that. They need to remember that they are kids.
"They forget they're incarcerated and they're just kids for that moment, and they need that. They need to remember that they are kids."
That's all good, but does the game really make a difference? The school principal, Shelly Duran says the incentive the game brings is badly needed.
"There's not many incentives here at the jail," she says. "They're locked up and waiting, and there's no real incentive for them to do well. A lot of them just feel defeated."
Most important, she says, she has seen the improvement in the classroom. The students really want to play, so they buckle down and do the work. They are learning important relationship skills — not only how to work with each other to achieve a positive goal, but how to work with community members from outside the jail.
Williams says he would like to recruit other volunteers from the community to participate, so he can expand the program and schedule the games more often. And, he says, having proved what he could do with no extra money, perhaps the state Legislature would consider increasing his budget.