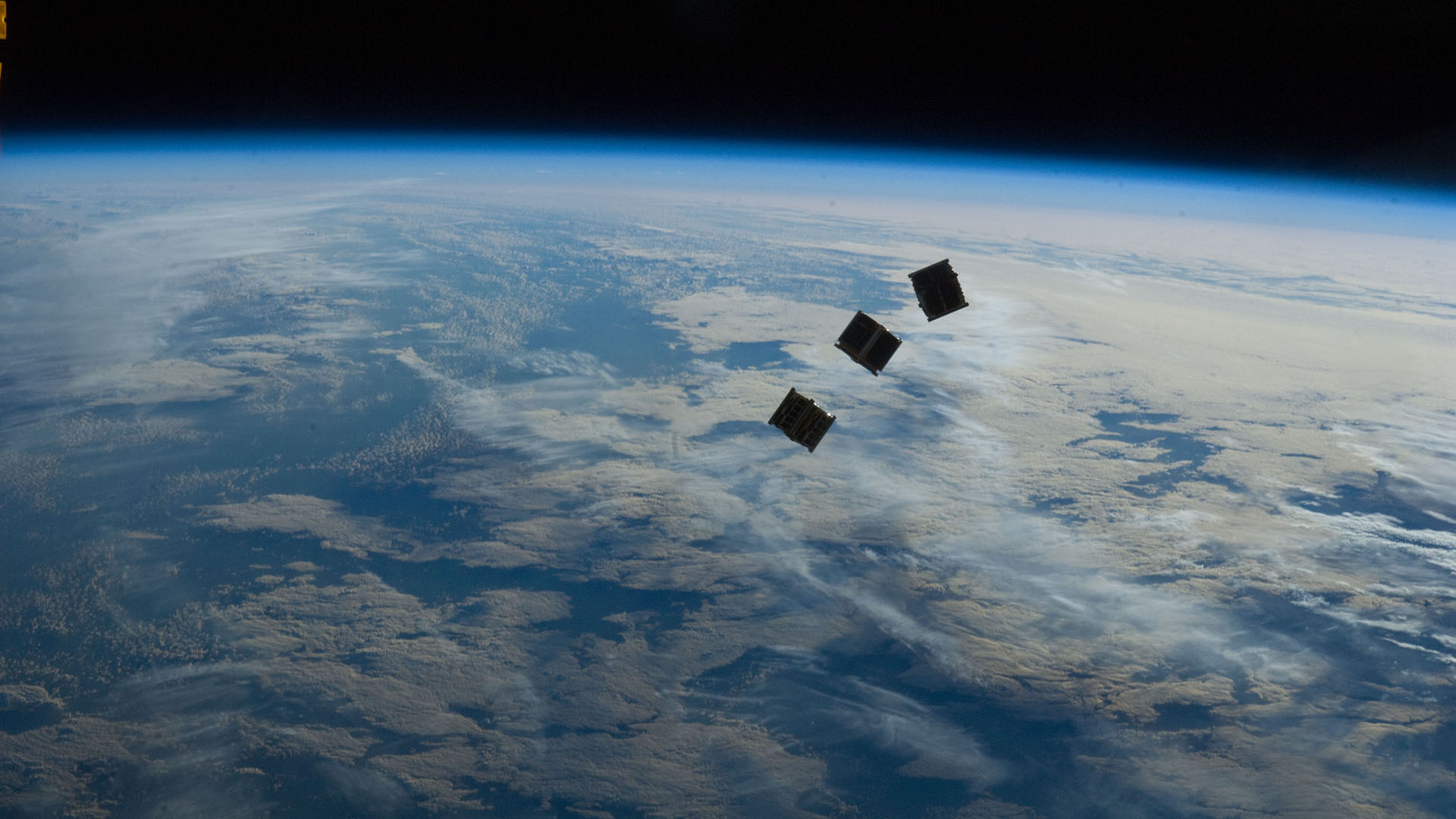 Three tiny satellites deployed from the International Space Station. Scientists warn satellites are becoming smaller and harder to track from Earth.
NASA.gov
It began with the space race. Now, it's a byproduct of a technology few of us can imagine living without.
That's the dilemma behind 8,000 tons of Earth-orbiting space debris: empty rocket stages, defunct satellites and pieces and parts rushing around just this planet at 17,500 miles an hour.
"Debris is happening all the time," said National Space Society researcher Al Anzaldua. "Even if we never launched another satellite, or another rocket, there would still be collisions going on and also spontaneous breakups of the objects that are already out there."
Sputnik 1 became the first artificial satellite in 1957. It fell from low Earth orbit after only a few months. But Russia, the United States and other countries now launch satellites on a regular basis, and they're designed to stay in orbit much longer, delivering communication, providing weather images and serving national security.
Problems arise because satellites used for these purposes must basically operate in the same space. Certain orbits are already crowded.
Sixty years later, satellites have become just as much a part of 21st century life. Anzaldua notes much of what we take for granted comes from satellite technology.
"There are not many people who are aware that our whole modern way of life is based on satellites," he said. "And I'm talking about banking, things you would not ordinarily think of. If you go to an ATM you're probably thinking there's probably a phone line connected to this. No, it's not that simple."
Some orbits are geosynchronous, places where satellites are stationed to remain over one spot, 20,000 miles above the Earth. While this is prime real estate for many communications satellites, others are jammed into much lower paths.
Two thousand satellites are in orbit now, but 20,000 more could be on the way. A recent Space X launch put 64 small satellites into space at once for its Starlink project.
Scientists behind the project say their satellites orbit so low that they'll be pulled back into the Earth's atmosphere and destroyed after a short time. Critics cite the fact Starlink lost contact with some of their satellites, and no one knows where they are.
One solution to the issue is bringing satellites back to Earth after a prescribed period of time. International guidelines give nations 25 years to de-orbit a satellite. But that might be too long to wait, Anzaldua says, especially with the increasing pace created by the private launch industry.
"There are various types of de-orbiting mechanisms that a satellite or an upper stage can be equipped with," notes Anzaldua. "But unfortunately, that is not being universally done."
Earthbound trackers can find and identify orbital debris, but only up to a point. They say it's hard to track anything smaller than a basketball, and collisions can cause a number of even smaller pieces to fill orbits.

Anzaldua thinks a solution could be reached on the international level, but private industry might be the first to take notice of the increasing problem posed by space junk.