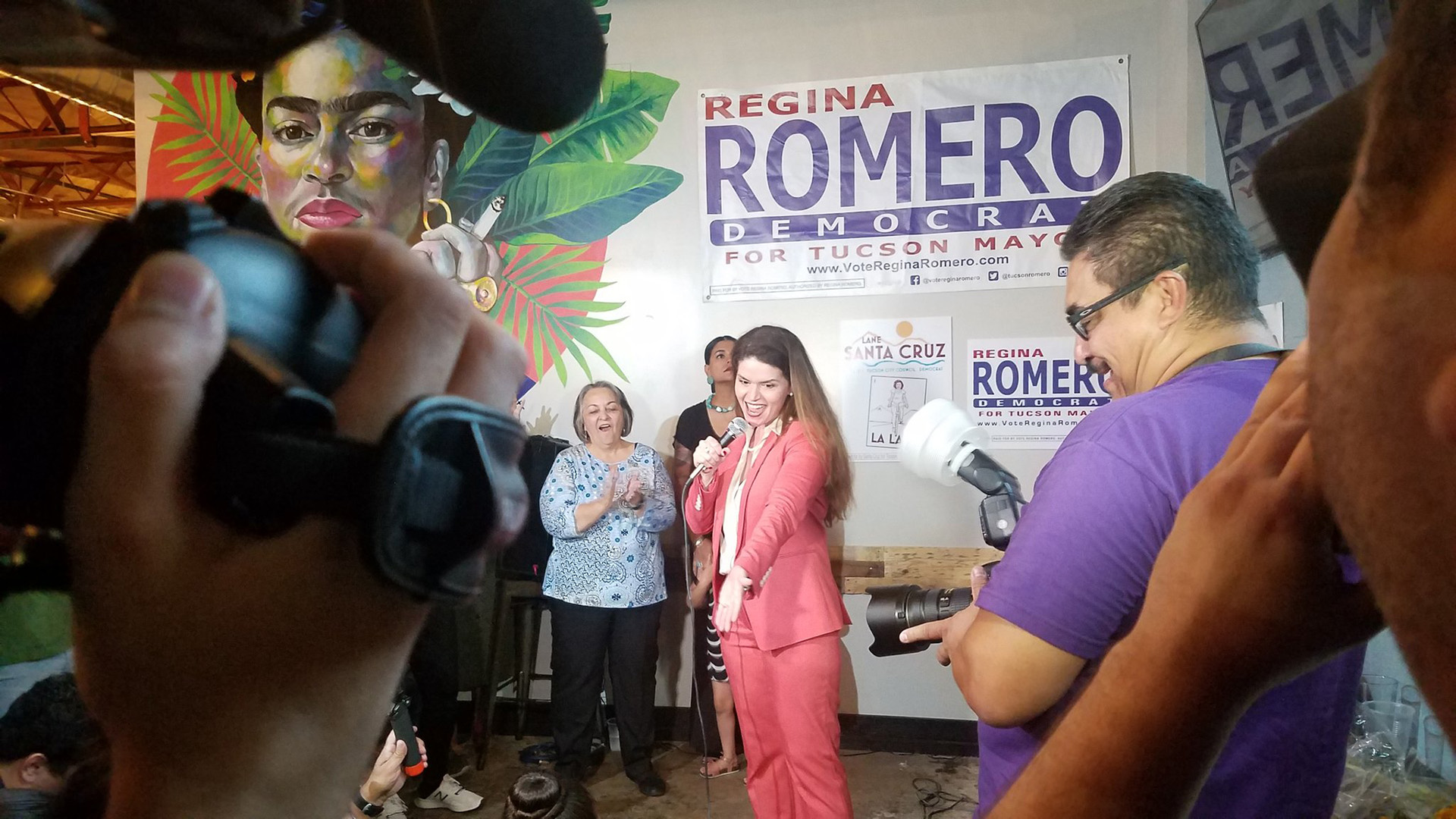 Tucson City Councilwoman Regina Romero claims victory in the race for the Democratic Party nomination for Tucson mayor, Aug. 27, 2019.
Kassandra Lau/AZPM
Tucson City Councilwoman Regina Romero claimed victory in the Democratic Party's primary for mayor Tuesday.
About half of Tucson primary election voters chose Democrat Regina Romero to advance to the general election in the race to be Tucson's next mayor.
When the first 57,977 ballots were counted Tuesday night, Romero had 49.5% of the votes. Steve Farley, a former state lawmaker, had almost 38% of the votes, and developer Randi Dorman had about 12% of the votes counted.
The city estimated Tuesday that it would have about 8,000 ballots to tally later this week: Those are ballots the city received in the mail Tuesday, or at one of seven voting locations where people could turn in a ballot on election day.
Mayor
Mayoral Democratic Primary Updated Sep 3, 2019 11:14 A.M.
| Candidate | % | Votes | |
| --- | --- | --- | --- |
| Dorman, Randi DEM | 12.46% | 6,109 | |
| Farley, Steve DEM | 37.08% | 18,175 | |
| Romero, Regina DEM | 50.17% | 24,592 | |
When the early results were announced at Romero's election gathering Tuesday night, the crowd began cheering, "Sí, se puede," as a celebration. Shortly after, Romero gave a victory speech.
"What we said at the beginning is that nobody is going to outwork us," she said.
Farley quickly endorsed Romero at his own party when he took the stage after the results were released. The two engaged in a combative primary race, and Romero said Tuesday night she was open to unifying the Democratic Party after the primary.
"While I'm disappointed in the result, I stand behind the will of the people and support Romero to be our next mayor," Farley said in a statement. "Our new mayor will need ideas and participation from all Tucsonans. This is our city, all of us together."
Romero will go on to face independent candidate Ed Ackerley in November. Ackerley is an advertising executive and a University of Arizona instructor.
Green Party candidate Mike Cease is also running as a write-in for his party's nomination for mayor.
Mayor Jonathan Rothschild, a Democrat, served two terms in office and declined to seek another term in this election.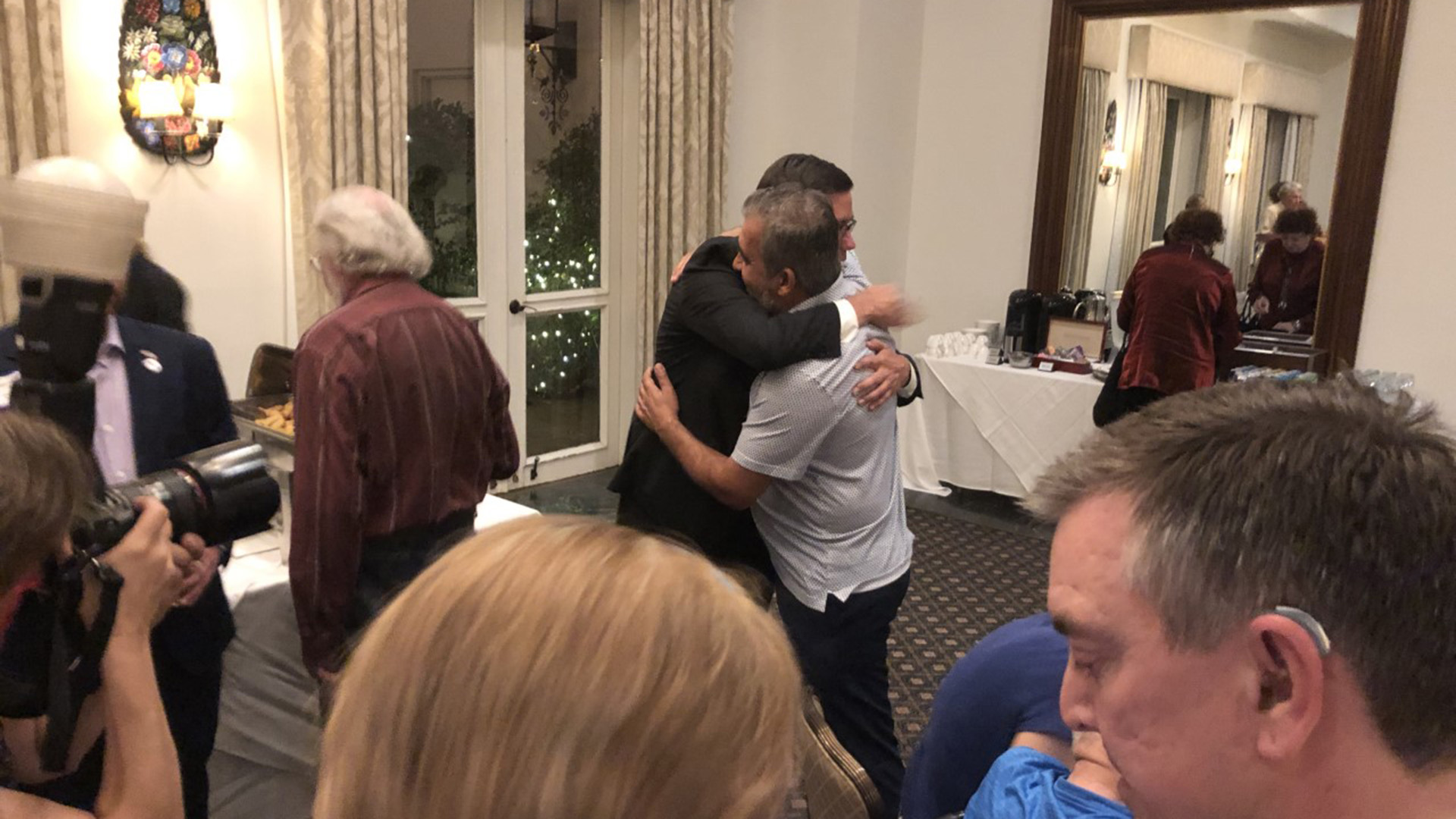 VIEW LARGER Democrat Steve Farley hugs a supporter after learning Regina Romero has won the party's primary in the race for mayor, Aug. 27, 2019.

Christopher Conover/AZPM
Ward 1
Ward 1 Democratic Primary Updated Sep 3, 2019 11:14 A.M.
| Candidate | % | Votes | |
| --- | --- | --- | --- |
| Elias, Rob DEM | 20.62% | 1,765 | |
| Hamed, Sami DEM | 15.10% | 1,292 | |
| Ortega, Miguel DEM | 20.38% | 1,744 | |
| Santa Cruz, Lane DEM | 43.76% | 3,745 | |
In Ward 1, Lane Santa Cruz was leading the race to replace Romero on the west-side council seat. Santa Cruz is a media consultant who formerly worked for Romero.
Santa Cruz is poised to advance to the general election, where she could face two other candidates who are seeking to get on the November ballot as write-in candidates on the primary ballot. They are Green Party candidate Matthew Smith and Republican Sam Nagy.
The other Democrats who ran in Ward 1 are Rob Elias, a former banker and professional baseball player who now works for the Tucson Botanical Garden; Sami Hamed, a former staffer for U.S. Rep. Raúl Grijalva; Miguel Ortega, a media consultant and aide to former City Councilwoman Karin Ulich.
November ballot
In addition to mayor and Ward 1, voters will decide in November who wins the council seats in east-side wards 2 and 4, plus an initiative about whether to define Tucson as a sanctuary city.
In Ward 2, incumbent Democrat Paul Cunningham faces a challenge from Republican Ewart Williams. In Ward 4, voters will fill the open seat Councilwoman Shirley Scott is vacating with either Democrat Nikki Lee or Republican Michael Hicks.