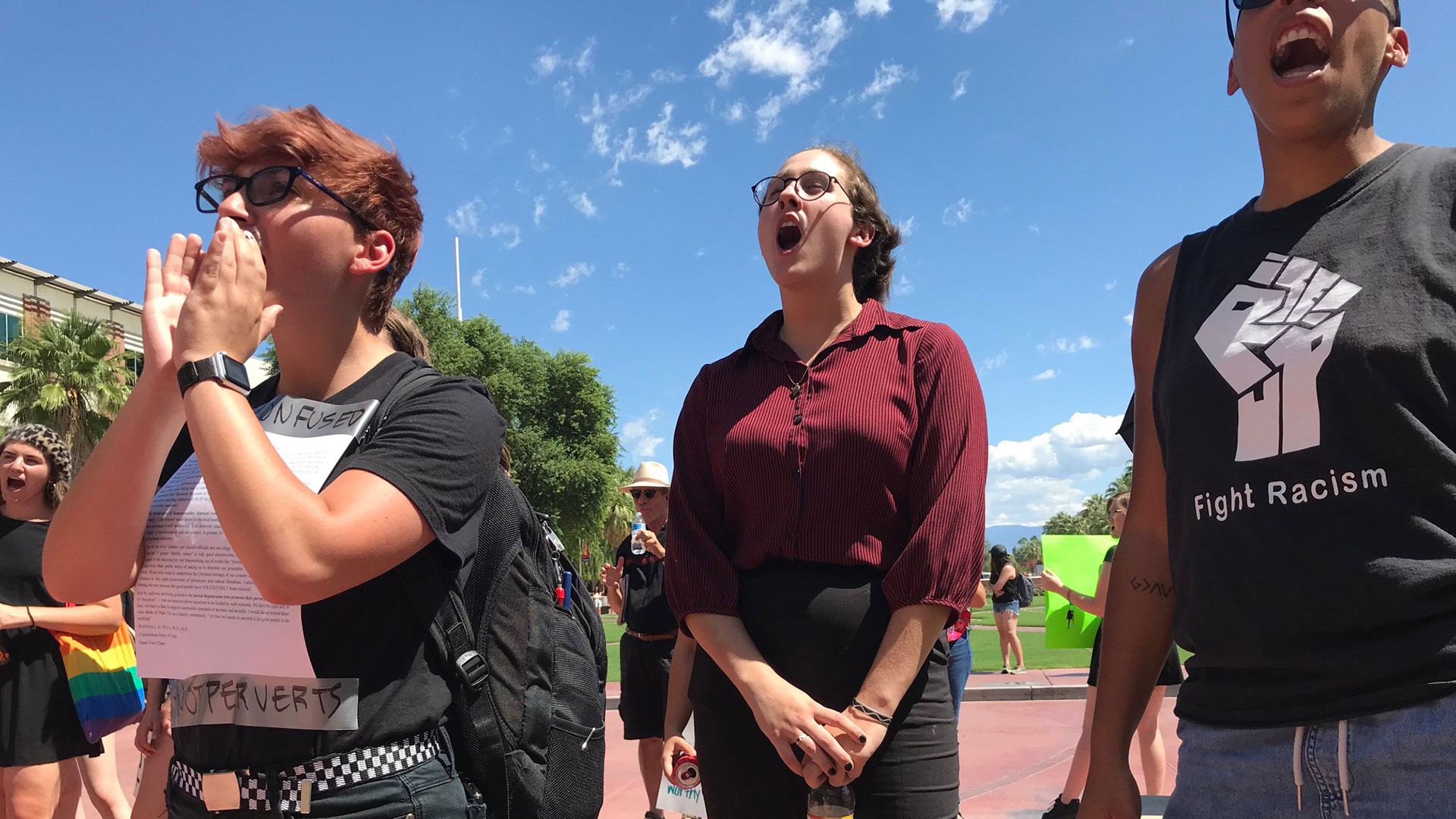 Demonstrators call for the firing of a professor at the University of Arizona over a homophobic letter, Sept. 18, 2019.
Sasha Hartzell/AZPM
Protesters led by the student group Queers United Coalition gathered at the University of Arizona on Wednesday to demand the immediate firing of Randal Dull, tenured professor and former chair of the anesthesiology department.
An overtly homophobic letter Dull wrote in 2004, titled "Keep the queers off the front page," recently resurfaced.
Chants of, "Fire Dr. Dull!" and, "Out of the closet, on to the streets!" rang across the middle of campus as demonstrators marched from the administration building, wove around Old Main, and parked in front of the stairs leading toward University President Robert Robbins' office.
"Do your job!" the protesters yelled in front of the building's doors, calling on Robbins to stand up for LGBTQ students.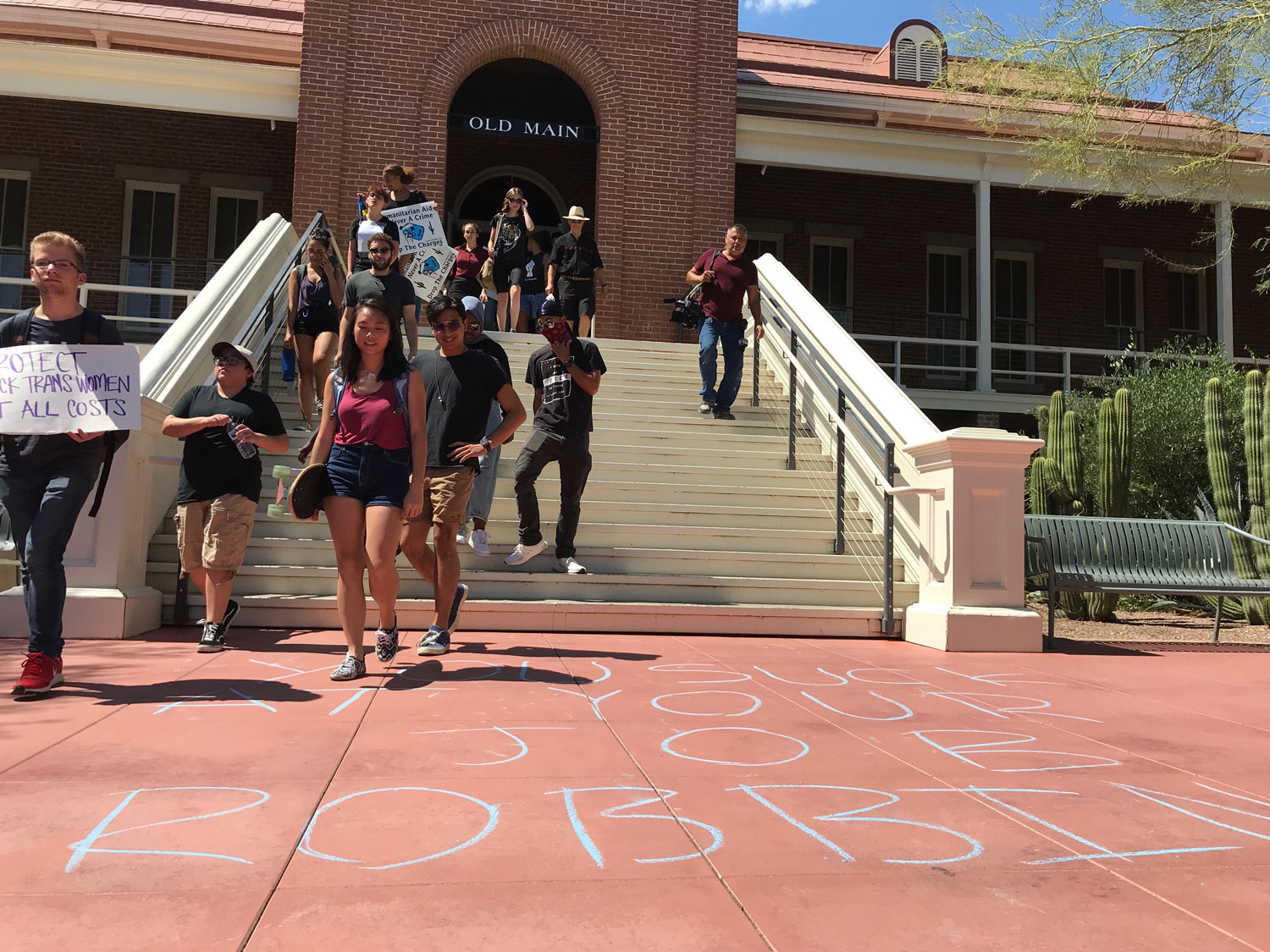 VIEW LARGER Protesters on the steps of Old Main. Demonstrators called on UA President Robert Robbins to fire a professor over homophobic comments, Sept. 18, 2019.

Sasha Hartzell/AZPM
Excerpts from Dull's letter blazed across demonstrators' signs and shirts as they spoke out against homophobia and transphobia on campus. ​Wearing a rainbow scarf and holding a sign reading, "Protect Black Trans Women at All Costs," university staff member Diana Wilson chanted alongside students. Wilson, a senior academic adviser for biomedical engineering, said she was participating in the protest as an ally.
"I'm a parent of a queer child who hopes to be a student here someday, so I want to make sure this environment is a place where he will feel supported and respected," said Wilson.
Brooklyn Richards, a member of Queers United Coalition, said she didn't feel safe on campus — a sentiment echoed by other participating students, including members of the Black Student Union and the Coalición de Derechos Humanos.
Richards wanted Robbins to dismiss Dull, terminating all benefits; issue a formal apology to students and staff on campus; and implement a better vetting process for future UA hires.
Organizers say they will not stop protesting until Dull is no longer employed at the university. The UA administration had not issued a public response as of Thursday afternoon.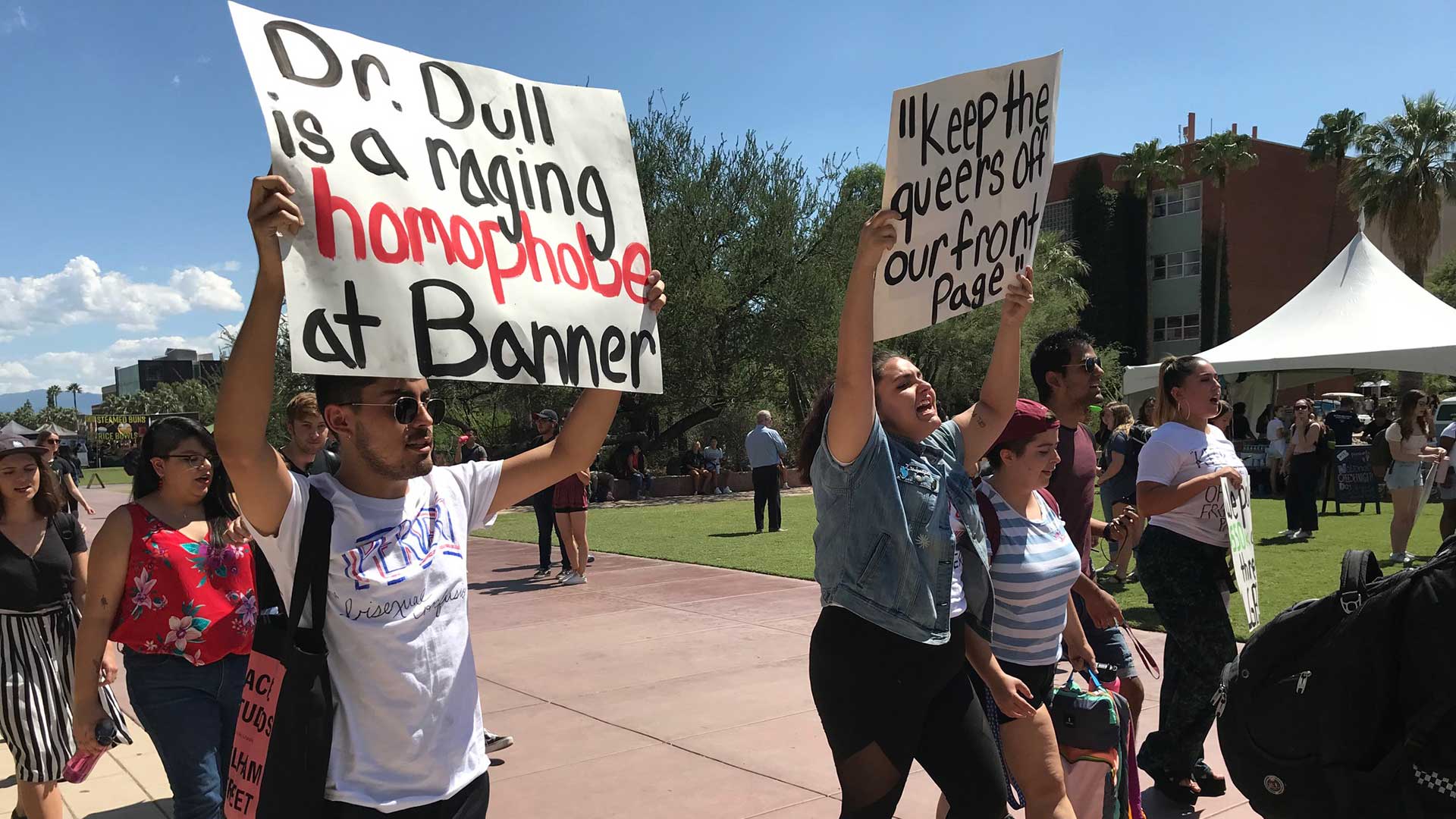 VIEW LARGER Students chanted slogans like "Fire Dr. Dull!" and, "Out of the closet, on to the streets!" on the UA campus, Sept. 18, 2019

Sasha Hartzell/AZPM
---
Sasha Hartzell is a University of Arizona journalism student and Arizona Public Media intern.