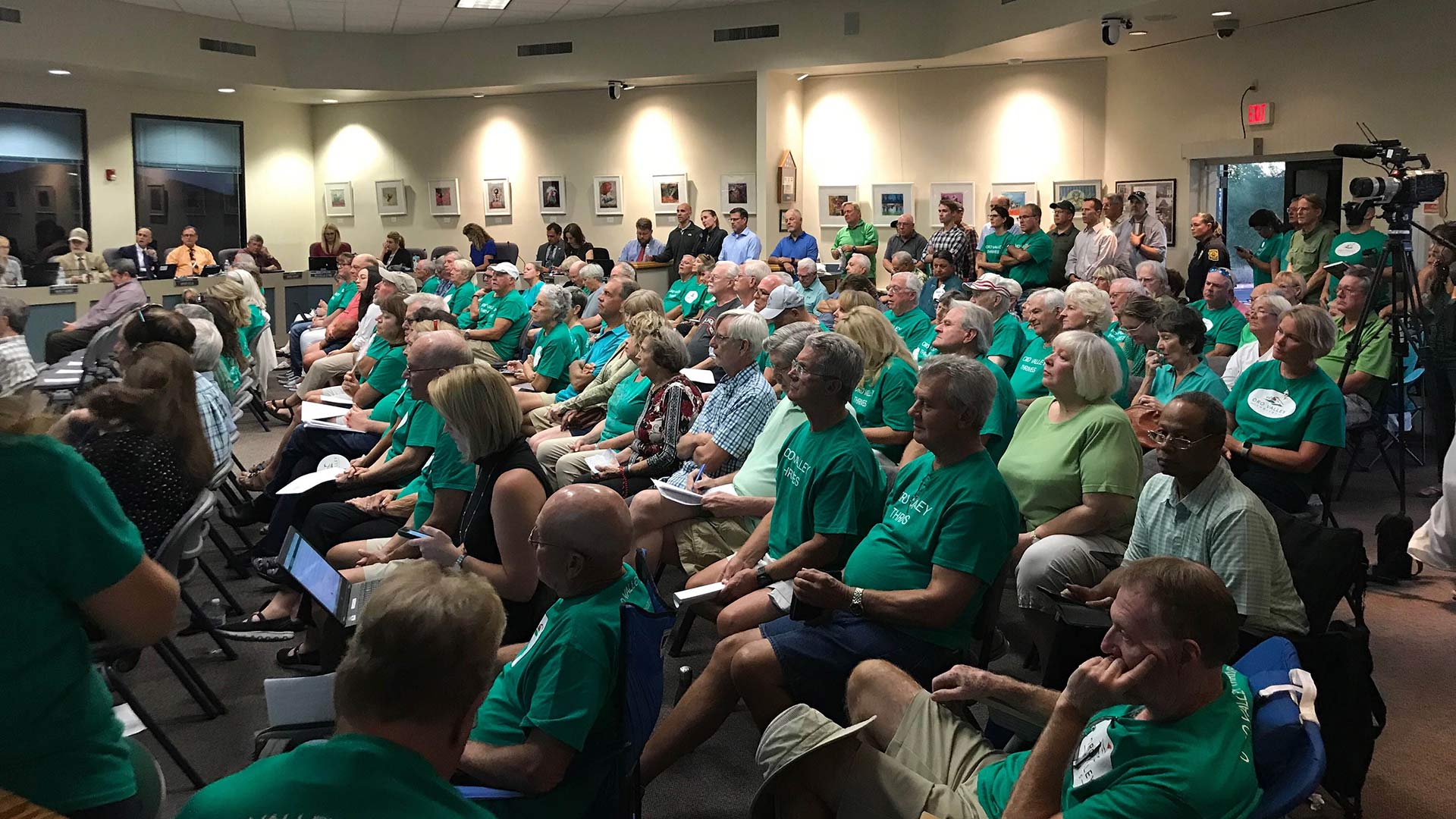 Oro Valley residents at a full-house town council meeting October 2, 2019. Supporters of a plan to keep the town-owned golf courses wore green. Some brought their own chairs.
Jake Steinberg/AZPM
The Oro Valley town hall was a sea of green Wednesday night. Supporters of El Conquistador Golf and Tennis donned the color representing the green vistas, and the green in their pockets, that they feared would vanish along with the courses.
Oro Valley ended a year of controversy last night when council members voted to continue operating two costly golf courses that the town had planned to close. The decision to close the courses concerned many homeowners who claimed it would lower their property values.
"A lot of people have been living in fear. What's going to happen? Are we going to lose fifty percent of our home values? Is this going to be a construction area? What will we be living in five years from now?" said Jennifer LeFevre, director of Oro Valley Thrives, a nonprofit formed by residents opposed to closing the golf courses.
Her organization commissioned a report by a Tempe-based real estate consultant. It found the majority of homeowners could see their property value decrease by between 4% and 18%.
The council voted 6-1 to keep the courses. They say they'll try to reduce the club's deficit by raising membership rates by 10% and developing a plan to attract more members. Adult memberships currently range between $140 and $460 per month.
The golf courses are currently subsidized by a half-cent sales tax. Two homeowner associations agreed to contribute over $100,000 to further fund the club.
The council had been considering developing some of the golf course land into a public park. Many at Wednesday's meeting spoke against that idea.
"I feel like I'm in an absurdist play," said Oro Valley resident Larry Schmidt. "You are building a park for the very people opposed to it."
The property value report did not include the impact of a new park, but it noted that proximity to parks can also increase home values.
Dave Perry, president of the Greater Oro Valley Chamber of Commerce, said closing the golf courses would hurt local business because people would stop coming to Oro Valley.
"Golf has been part of the community's brand for 40 years almost," said Perry. "It is part of who we are."