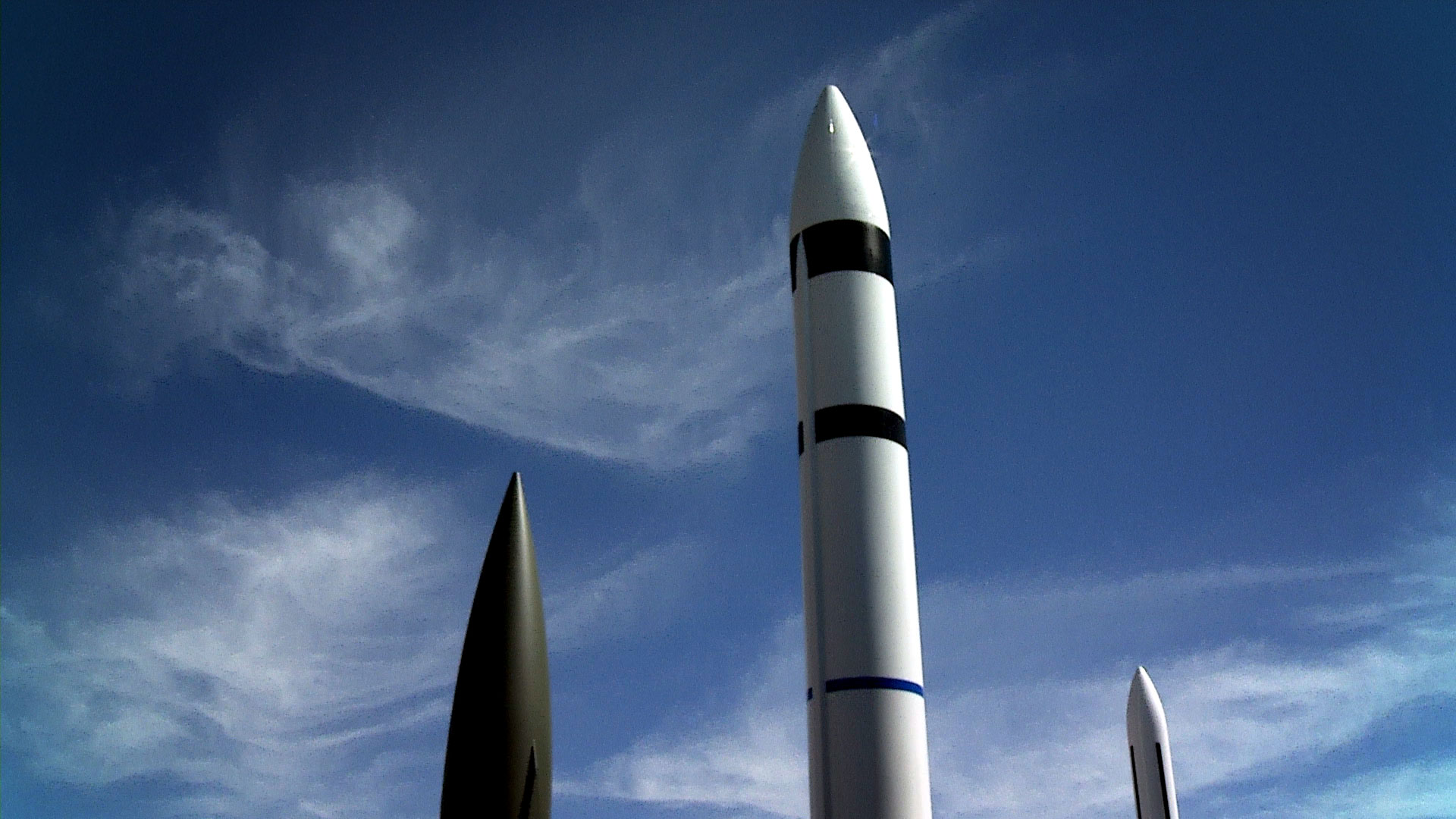 Model missiles on display during a ribbon cutting event at Raytheon Missile Systems in May 2018.
AZPM Staff
Every day, 13,000 people go to work at Raytheon Missile Systems. That includes Wes Kremer, president of the Tucson-based company.
"Raytheon, at its heart, is a technology company. And I think especially here in Tucson, it's thought of, 'Yeah, it's the missile company.' But we do much more than that," Kremer told The Buzz.
Kremer took over the company just about a year ago, and said he was excited to lead at a time of expansion.
"Not only the growth that gets talked about, of the number of employees that we've hired and that growth, but to see the new facilities here on [the Raytheon] campus and to see how many new programs that we're actually developing, with new technology to meet new war fighter needs, is absolutely amazing," he said.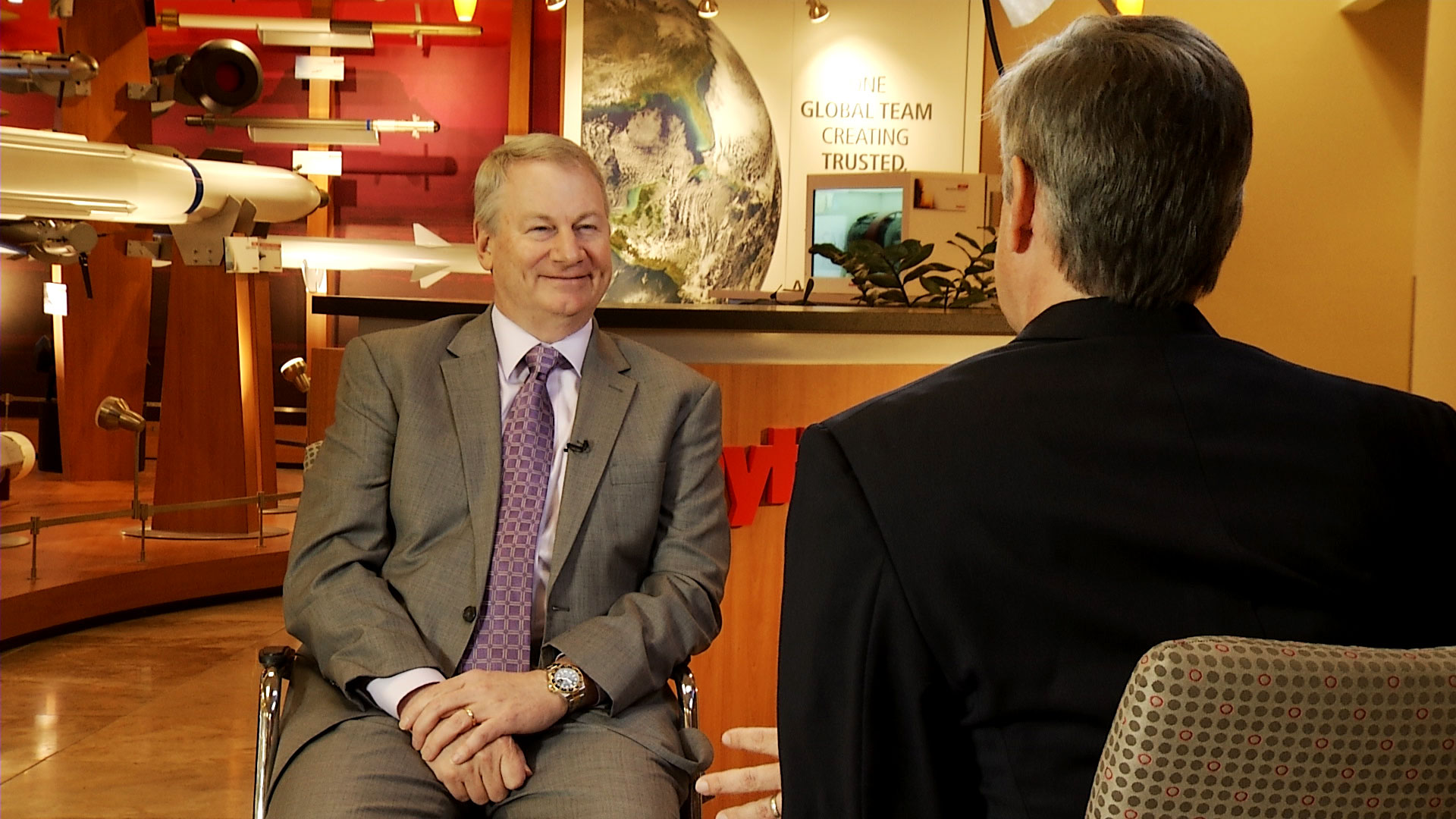 Raytheon Missile Systems President Wes Kremer sits for an interview with Christopher Conover on November 18, 2019.
Martín Rubio/AZPM Staff
Last year, Raytheon Missile Systems announced its plans to hire about 1,000 new employees. That's on top of the nearly 2,000 it has added since 2016. Raytheon has invested in mentoring programs to keep that employee attraction and diversity growing. Dani Ibarra is one of those mentors.
Ibarra is the first in her family to go to college. She said Raytheon's outreach to the University of Arizona is what brought her to the company.
"It wasn't until I got to college and started to interact with all the companies and stuff like that where I found what I wanted to do," she told The Buzz.
Ibarra said she's now giving back to the next generation of engineers as a coach and mentor.
Roman Begay, who went to Northern Arizona University and began work for Raytheon in Massachusetts before transferring to Tucson, is also involved in mentoring. He works with students at San Xavier Mission School.
"We're showing these kids that Native Americans are in these STEM fields, you know, that they can make it past high school and pursue college careers," he said.
But Kremer knows not every engineering grad is looking to go to a missile systems company like Raytheon.
"We're not for everybody. I mean, that's reality," Kremer said. "What we do, is we do national defense. We tend to see that the employees that come here and stay here for a career usually are very patriotic in nature."
---
According to the company's website, foreign sales represent 30% of Raytheon's total company sales each year.
Between January 2015 and Dec. 31, 2019, Raytheon Missile Systems was contracted for 69 weapons sales to foreign countries, totaling a little more than $24 billion, according to the Department of Defense. The dozens of foreign customers include South Korea, Ukraine, Saudi Arabia, Mexico, Chile and NATO partners.
Todd Harrison is senior fellow at the Center for Strategic and International Studies in Washington, D.C. He spoke to The Buzz about Raytheon's role on the international stage as a defense contractor.
He said companies like Raytheon are more a tool of foreign policy rather than an actor within the Pentagon or State Department.
"Defense companies basically try to anticipate the military's needs, try to anticipate what the war fighter is going to need, what senior leaders are thinking and then respond to that," Harrison told The Buzz. "They have very little, if any, influence in shaping those events and shaping how senior leaders choose or choose not to get involved in foreign conflicts."
When selling to foreign countries, companies like Raytheon have to go through the U.S. government to make a sale. During the process, the government must decide that the buyer is both friendly and secure, said Harrison.
"You can't just go out and sell a fighter jet to any country," Harrison said. "It has to go through the government and get approval, and that's where they do the vetting."
In the event of a large-scale conflict with a foreign power, the demand for weapons increases, as the U.S. uses up its supply. And as military spending increases, defense companies are there, ready to produce the weapons needed in war.
"A company like Raytheon then is well-positioned to get a lot of that work because they make a lot of the missiles and munitions that get used in conflict," Harrison said.

The Buzz
airs Fridays at 8:30 a.m. and 6 p.m. and Saturdays at 3:30 p.m. on NPR 89.1. You can subscribe to our podcast on
iTunes
and NPR One. See more from
The Buzz
.