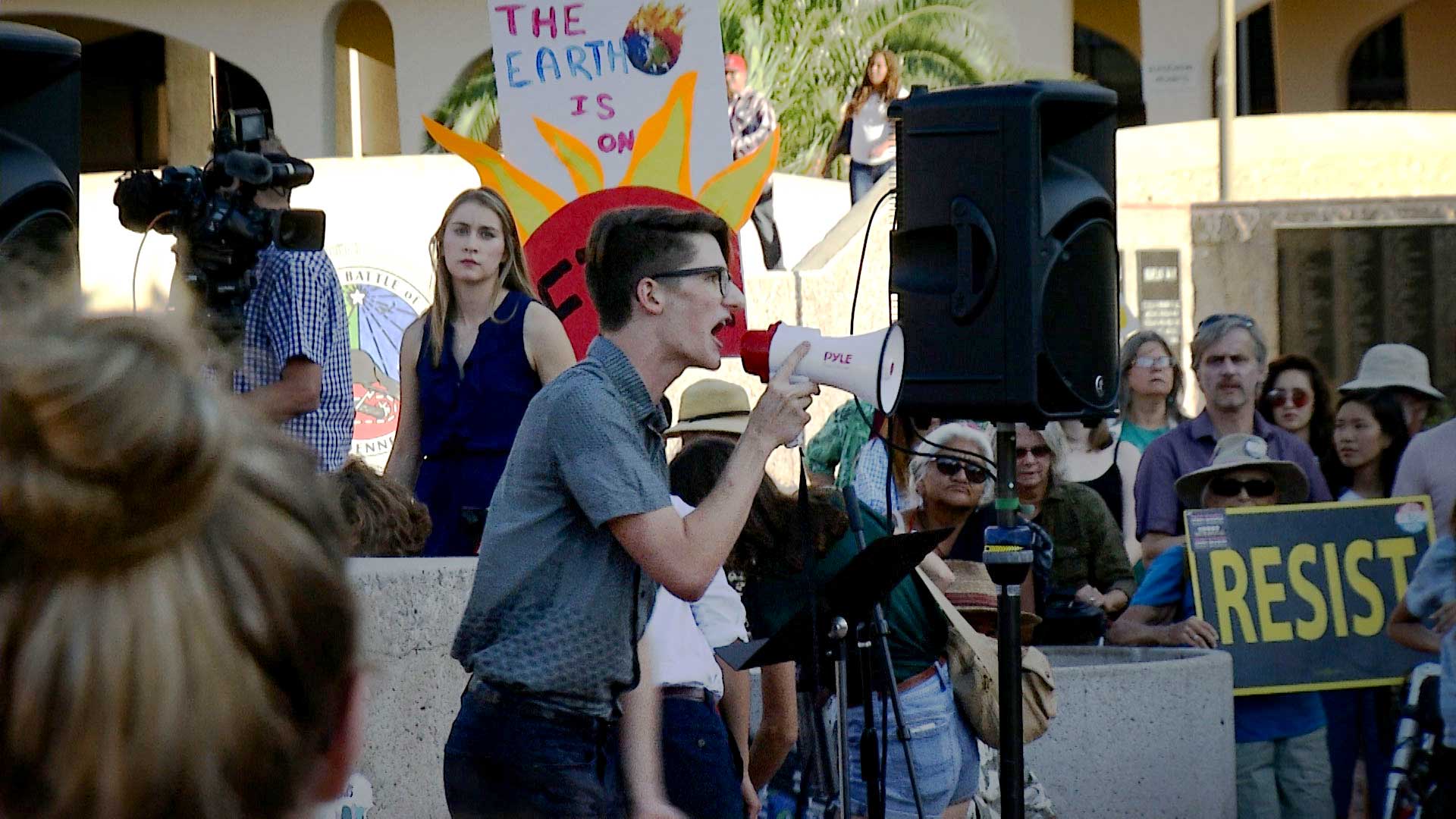 University of Arizona sophomore Kyle Kline speaks to a crowd gathered at a climate strike protest at El Presidio Park in Tucson on Sept. 20, 2019.
AZPM
Dozens of students rallied in downtown Tucson last December as part of global protests to raise awareness about the climate emergency.
The Arizona Youth Climate Strike has been organizing protests like these in the last year, demanding more action on climate change. Daniel Casanova and Stella Heflin, co-directors of the Tucson chapter, told The Buzz their movement is following the lead of Swedish activist Greta Thunberg.
Young activists, like Thunberg, have been characterized as too young and inexperienced to enact meaningful change. But Casanova said in order to reach an older, wiser future, they need to fight for it.
"I want to be old enough where the point where I get to say that, 'Oh I have the experience.' But the [Intergovernmental Panel on Climate Change] says that we only have 10 years. Maybe I won't even get there. That's why I'm fighting for my future," Casanova told The Buzz.
In addition to organizing strikes, the organization also lobbies for political change.
"Our main legislative goals are to get a climate action plan created for each city and the state of Arizona as a whole. As a step before that we would like for each city and state to declare a climate emergency," Heflin said.
The Buzz contacted the office of Tucson Mayor Regina Romero to ask if the city has made progress in creating a climate change action plan, something Romero supported as a candidate.
In a statement, Romero said she's in the process of hiring an environmental and climate policy adviser who will work with community stakeholders to draft a comprehensive climate action plan. That hire is expected to be completed in the next few weeks.
In 2018, Pima County approved a new seven-year sustainability plan. It sets targets to reduce carbon emissions within county operations by 50% by 2025.
---
In this time of climate change, Frank Sesno believes critical environmental journalism is needed more than ever.

Sesno has a long history as a journalist and storyteller. He spent 21 years with CNN, where he served as White House correspondent, anchor and Washington bureau chief. When he left CNN, Sesno said he wanted to focus on those coming up the ranks.
"I find teaching next-generation storytellers unbelievably inspiring and energizing, and I find still doing it myself very relevant and an opportunity to keep my creative hat on," Sesno told The Buzz.
Sesno now directs George Washington University's School of Media and Public Affairs. He visited the University of Arizona last fall to talk about why he created Planet Forward, a student reporting project focused on how we are dealing with the impacts of climate change.
For Sesno, good environmental journalism combines interesting storytelling with well-researched truths — an exciting challenge for him and his student reporters.
"The reason I love this story, as a story, so much, is as we think about how we're going to move forward, it's not about environmentalism or tree hugging or any of that stuff," Sesno said. "It's about, how are we going to live in a place where there are more people with less space, perhaps, and fewer resources and a hotter place, where we've urbanized? And how are we going to invent our way out of this? Are we going to invent our way out of this?"

The Buzz
airs Fridays at 8:30 a.m. and 6 p.m. and Saturdays at 3:30 p.m. on NPR 89.1. You can subscribe to our podcast on
iTunes
and NPR One. See more from
The Buzz
.