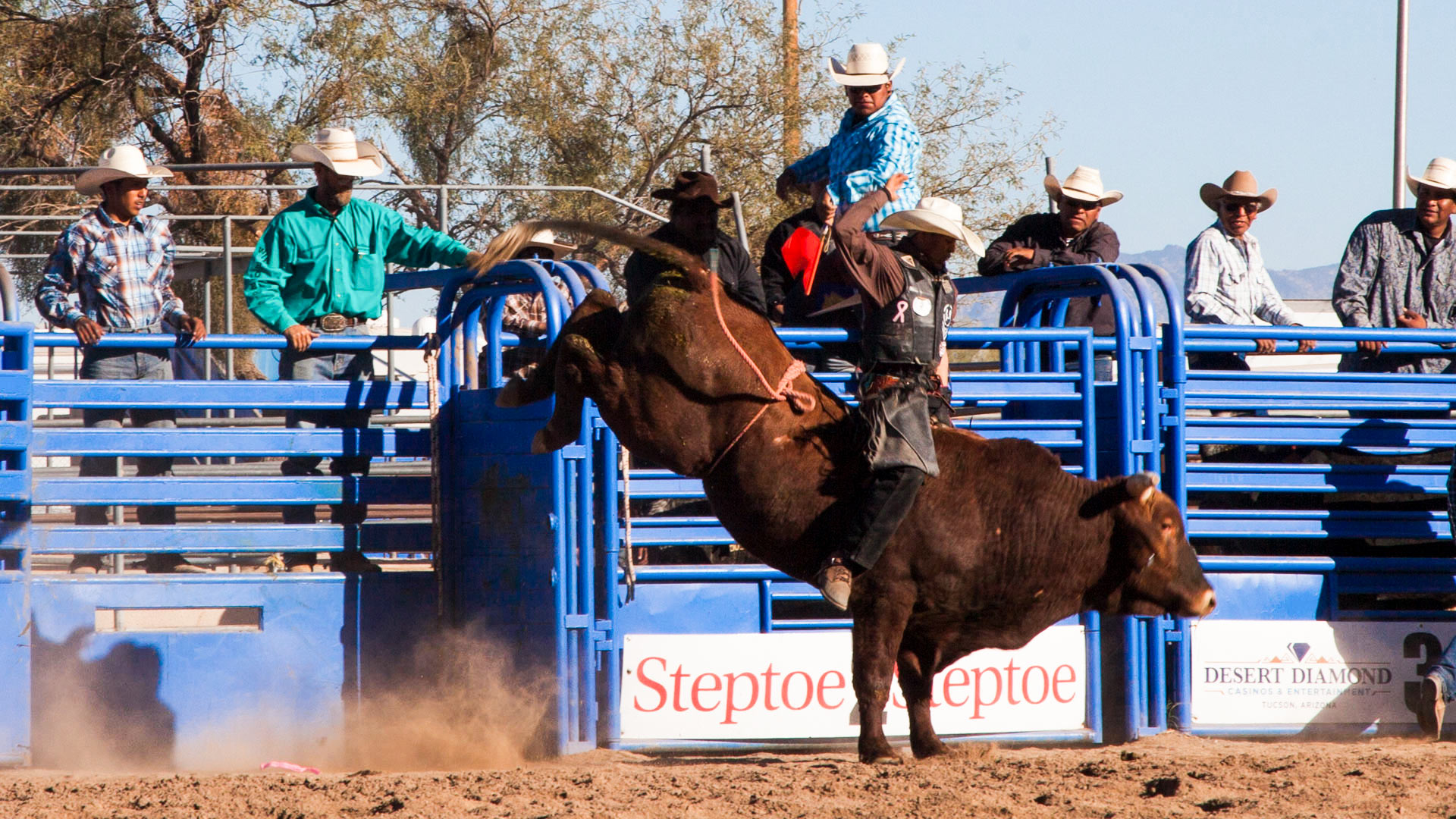 A bullrider at the Tohono O'odham Rodeo and Fair, Saturday, Feb. 3, 2018.
AC Swedbergh, AZPM
Horses, lemonade and waila dancing: These are just some of the ingredients for a fun day at the Tohono O'odham Nation Rodeo and Fair.
The whirl of pink and yellow fair rides greeted visitors as they arrived to the 82nd edition of the event that went from Jan. 30 to Feb. 2. The fair regularly draws people from every corner of the almost 3-million-acre nation, plus several tourists and former residents from around Arizona. Delbert Domingo said even though he lives in Mesa now, he still likes to take the more than two-hour drive down to Sells for the fair to see longtime friends and soak in some of his favorite activities.
"I enjoy the powwow, rodeo, the music and the dancing they have out there," Domingo said.
The lively melody of waila music, which resembles the traditional O'odham fiddler music, saturated the majority of the Eugene P. Tashquinth Sr. Livestock Complex during the rodeo, causing several participants to dance through the pathways.
Besides these spontaneous performances, there were organized dance contests for people of all ages. Other events included a girl's toka tournament.
Toka is a Tohono O'odham game that resembles field hockey, and only girls and women can play it.
Vanessa Harvey said she comes to the fair almost every year, and it's her daughter's passion for toka that brings them back. It's a family tradition.
"Her cousins, her aunties, and her grandmas — they all play with her. She lives for this game," Harvey said.
Saturday's rodeo packed the bleachers with hundreds of people who cheered on the cowboys participating in steer wrestling, bull riding and wild horse races.
Stran Gibson from New Mexico was one of the members of Team Allen, which won the second heat of the wild horse race by saddling and riding an unbroken horse across the finish line first. He said he likes the clarity he experiences during a competition: It's just him and the horse — there's no crowd.
In the end, he said it's the adrenaline rush that keeps him coming back.
"Try, it's fun. Once you get the feel of it, see it, you might want to try again. It's really fun, though," Gibson said.