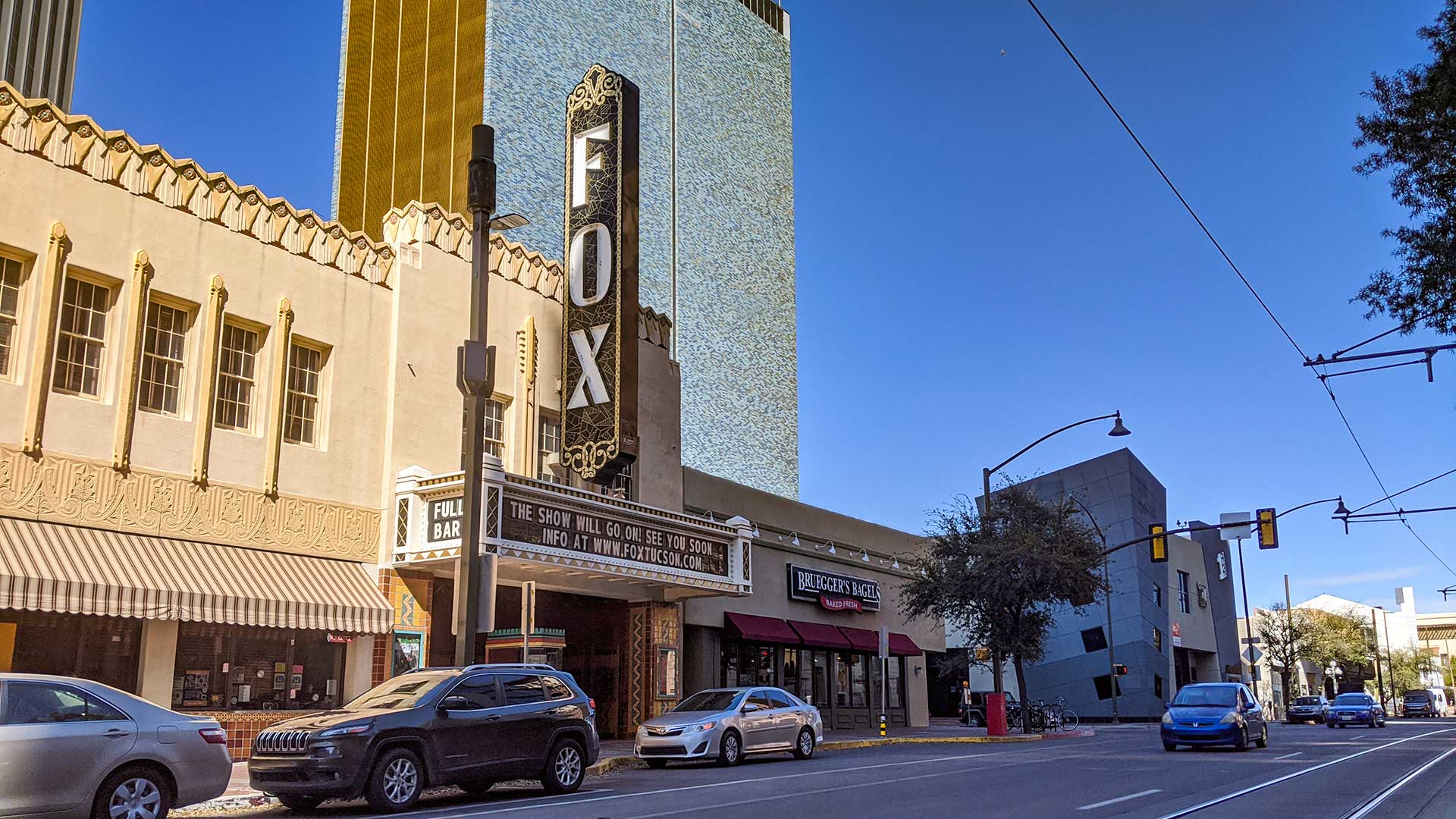 The Fox Tucson Theatre's sign on March 17 reads: "The show will go on! See you soon."
Nick O'Gara/AZPM
Leaders of the economic development district credited with helping revitalize downtown Tucson are worried the novel coronavirus and a potential recession could undo their hard work.
In an online meeting Tuesday, Rio Nuevo chair Fletcher McCusker said in his eight years on the board, it's never faced a situation like this.
"Everything that we've built downtown, everything that we've been involved with, everything that we've helped launch downtown is at huge risk," he said.
Efforts to contain the spread of COVID-19 have emptied out downtown restaurants and venues. It's the sales tax from those businesses that fund Rio Nuevo's activity. Future and ongoing projects may be jeopardized without it.
The board didn't identify specific projects at risk. But it did pass a motion McCusker said would prevent the closure of the Fox Tucson Theatre, which Rio Nuevo owns. The district will match donations the theater receives up to $250,000 and defer rent for two years, provided the Fox use the rent money on needed maintenance projects while it's empty. The district will also work to help the Fox establish a line of credit with its bank.
McCusker called the move "lifesaving."
"The entire downtown cultural scene is at risk right now and our board is committed to help," he said.
The board discussed a potential future stimulus package to help other cultural institutions shuttered by the virus. Among the organizations discussed were the Tucson Symphony Orchestra and Ballet Tucson.
Board member Edmund Marquez said it's important these organizations don't see Rio Nuevo as the solution.
"There are so many other organizations that are going to need our help," he said. "We are not the bank."
The board also agreed to a land exchange deal that clears a critical hurdle for the Bautista apartments project, a $72 million development along the Santa Cruz River in the Mission District.
The land exchange allows the developer, The Gadsden Company, to take advantage of tax incentives in the form of property tax abatement offered by Rio Nuevo under a government property lease excise tax (GPLET) agreement in addition to federal opportunity zone deferments on capital gains tax.