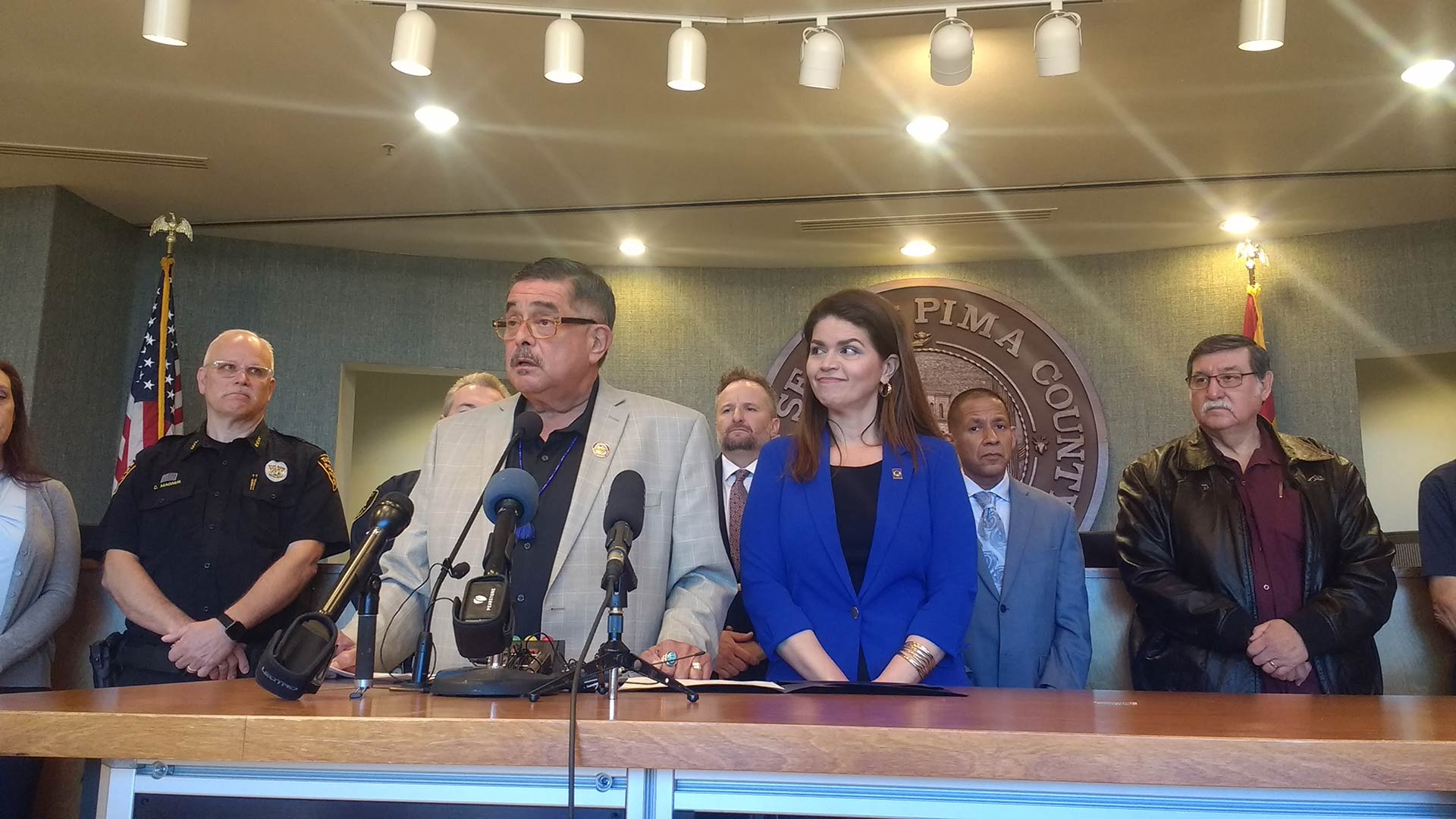 VIEW LARGER Surrounded by city and county officials, Pima County Supervisors Chairman Richard Elías and Tucson Mayor Regina Romero speak to reporters at a March 9, 2020 news conference about the local response to the spread of the novel coronavirus, which causes COVID-19.

Steve Jess/AZPM
The sudden death of the chair of the Pima County Board of Supervisors came just as the county, and the world, were grappling with the fast-moving Covid-19 pandemic. Indeed, one of Richard Elías' last acts was recording a video explaining the county's March 19 emergency declaration that ordered many businesses to close.
"This is going to cause real pain in our community. And the board knows that this will put people out of work. That is very painful to me personally, but I know that it is the right thing to do," Elías said on the video available on YouTube.

But the longtime District 5 supervisor will be remembered for many other things he did during a career of public service and non-profit work. Born in Tucson, Elías delivered copies of his father's Spanish-language newspaper as a boy, attended Salpointe Catholic High School and the University of Arizona, and ran a construction company that built low-income housing before being appointed to the Board of Supervisors in 2002.

One of the people Elías mentored along the way was Regina Romero, now the mayor of Tucson. "We were public servants, both working in Pima County, helping community development issues, and so it is a huge loss for our community to not have supervisor Elías' voice at this really critical time.":18
As it turns out, Elías didn't take his own voice all that seriously.
"As an elected official I assume that there's a lot of people in the present will have no interest in what I say, in addition to those in the future who might not have any interest in what I say," Elías told Aengus Anderson, Oral Historian at the University of Arizona Libraries, in 2016.

Elías traced his family history in Tucson all the way back to the 1700s. He says the way Chicano people view themselves is influenced by the fact that they are descended both from Spanish conquerors, and those they conquered. "A new people were created by the interactions and miscegenation between the first Americans and the conquistadors and that brings us to a rather schizophrenic view of ourselves," Elías said.
Elías saw Tucson grow and its culture change. He got his first apartment near Dodge and Speedway, an area most Tucsonans would call midtown, but one that his father and many others viewed differently.
"My dad says, 'what's it like living on the east side?' and I said, come on, man, it's not the east side. and he said no, anything on the other side of Park Avenue is the east side! As I've gotten older I look around...you clearly you can see how development really changed on the other side of Park Avenue, and I thought to myself, good lord the old man was right again," Elías said.
Elías' official biography lists him as a "vocal advocate for the Sonoran Desert" He was a native of this place, a place he described as teeming with life that is both very tough and very fragile.
"You got these great great cactus that are covered with these vicious spines that if you've ever fallen into one you will remember for the rest of your life because it just might be the some of those spines remain inside of you for the rest of your life, because there's no way to remove them. But it reminds me of how fragile they are. and so it's a great metaphor for the humans who live here," he said.
Richard Elías was 61 years old. He is survived by his wife Emily and their daughter Luz. Services are still pending.